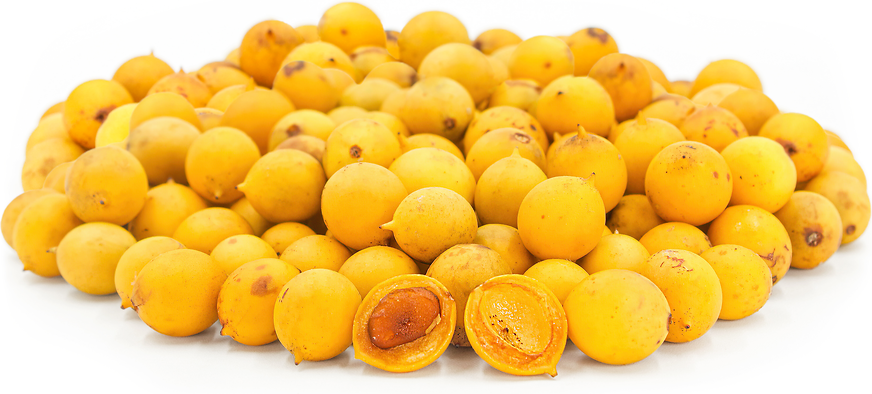 Leche Miel Fruit
Inventory, lb : 0
Description/Taste

Leche Miel are small fruits, averaging 3 to 5 centimeters in length, and have an elongated oval to ovoid shape with a broad center tapering to blunt, sometimes pointed ends. The fruit's skin is thin but tough and has a smooth, taut, and matte appearance. When ripe, Leche Miel fruits showcase a golden yellow hue with orange undertones and are occasionally covered in brown markings, scrapes, and spots. Underneath the surface, the dark yellow flesh is aqueous, thin, tender, soft, and succulent, enveloping 1 to 2 large brown seeds. It is also said that the flesh will excrete two substances that resemble honey and milk, a distinct characteristic of the fruit that also helped the species earn its name. Leche Miel fruits release a subtly sweet and tropical scent reminiscent of mangoes. The fruits are only consumed when ripe and have a sweet, fruity, mildly acidic, and refreshing taste with pineapple, mango, and citrus-like nuances.


Seasons/Availability

Leche Miel is generally available in the summer through early fall, but the exact season will vary depending on climate and region.


Current Facts

Leche Miel, botanically classified as Lacmellea edulis, is a rare South American species belonging to the Apocynaceae family. The small fruits grow on trees reaching 5 to 11 meters in height and have historically been consumed among indigenous South American populations as fresh fruit. Leche Miel roughly translates from Spanish to mean "Milk and Honey," a name derived from the fruit's milky, sweet, and honeyed liquid secreted from the flesh. The species is also known as Chicle Muyu, Mutuculicu, Lechemiel, Palo de Vaca, Prickly Vaca, Chicle con Espinas, and Palo Espino. In South American forests, especially in Colombia, the species is identified by its tree trunks covered in many thick, sharp thorns. When the fruits are in season, Leche Miel is foraged from wild trees and is consumed fresh or incorporated into various beverages to showcase the fruit's sweet taste. Leche Miel is not commercially grown, and the fruits are rare, only found in small foraged quantities in its growing region.


Nutritional Value

Leche Miel is a source of vitamin C to strengthen the immune system, calcium to build strong bones and teeth, and fiber to regulate the digestive tract. The fruits also provide potassium to balance fluid levels within the body, vitamin A to maintain healthy organ functioning, and antioxidants to protect the cells against the damage caused by free radicals. In the Amazon, portions of trees belonging to the Lacmellea genus are used in natural medicines. Latex or sap from trees is often used in tonics to soothe digestive tracts.


Applications

Leche Miel has a sweet, honeyed, and subtly acidic taste suited for fresh preparations and beverages. The fruits can be consumed straight out of hand, discarding the seed, or they can be cut in half, and the pulp scooped with a spoon. Leche Miel can also be simmered into jams, other preserves, and syrups or incorporated into various desserts as a sweet addition. In Colombia, latex from the species is used in natural chewing gums. Beyond culinary preparations, Leche Miel is traditionally used in beverages. The pulp can be blended into smoothies and shakes, pressed into juices, or added to coffee. Leche Miel fruits should be immediately consumed for the best quality and taste. The fruits are harvested from wild plants and customarily eaten after being picked from the tree. Since the fruits are not commercially grown, they are not typically stored for extended periods. The fruits will keep for a few days when stored in the refrigerator.


Ethnic/Cultural Info

In Colombia, Leche Miel is nicknamed the "Queen of the Wild Fruits" and was valued among indigenous populations for its distinct, sweet taste. The fruits were traditionally consumed when people groups were moving through the forests, and local lore among these populations has said that eating a few fruits would keep hungry travelers full for hours. Leche Miel was also used to feed animals such as birds and cattle, and in some populations, the fruits were ceremoniously used to ask the gods for rain. Well-known explorer and researcher Alexander Von Humbolt mentioned fruits thought to be Leche Miel in a record he wrote during his expedition through Central and South America from 1799 to 1804. Alexander Von Humbolt referred to the species as Arbol De La Leche or "Milk Tree," and he observed that indigenous populations would venture out at sunrise to harvest the fruits and extract liquids from the trees for medicinal and culinary use. These milky liquids were then incorporated into breakfast, and bread made from corn or cassava was soaked in the liquid as a sweet dish.


Geography/History

Leche Miel is native to Central and South America and has been growing wild since ancient times. The fruits are not commercially grown and are foraged from wild trees as a fresh crop. Leche Miel is a traditional fruit consumed among indigenous populations throughout Colombia, Brazil, Ecuador, Peru, Venezuela, and Panama, and over time, the species was introduced to other parts of Central America. Leche Miel earned its scientific name from missionaries in the 17th and 18th centuries who settled in the eastern plains of Colombia in Orinoquia. The missionaries appreciated the fruit's sweet taste and named the species for the milky, honey-like substances excreted from the flesh. Today Leche Miel has remained relatively localized to its native growing regions and thrives in tropical, subtropical, and temperate lowland forests, including the Amazon. The fruits are customarily gathered from wild trees in sold in local markets. The Leche Miel fruits featured in the photograph above were sourced from Colombia.