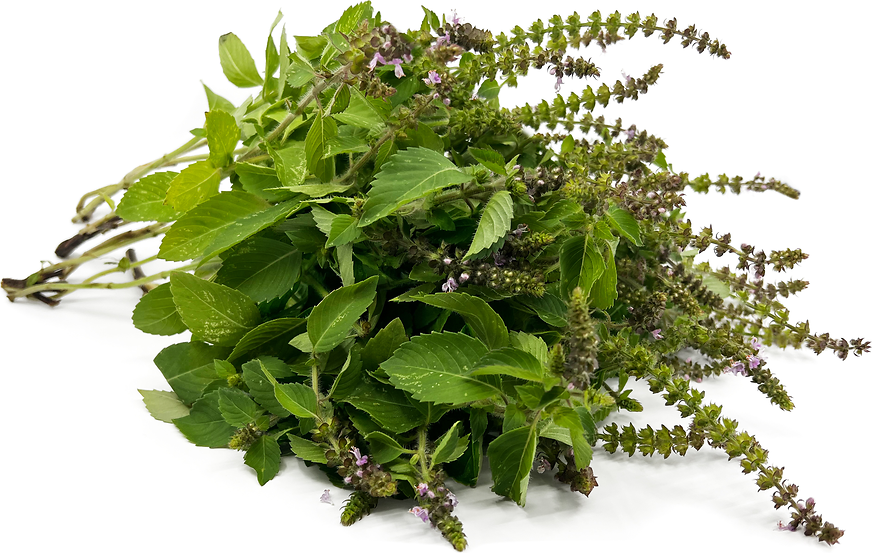 Tulsi Basil
Inventory, lb : 0
Description/Taste
Tulsi basil is an herb that grows in a shrub-like habit up to 60 centimeters or taller, depending on the variety, and develops clusters of fragrant pink or violet blossoms when mature. The ovate leaves grow opposite along thick, hairy stems, reaching an average of four centimeters long, and both the leaves and stems can range in color from green to dark purple. The leaves are highly aromatic, offering a pungent, spicy, minty scent with a hint of common sweet basil. Tulsi basil is known to have a stronger and somewhat more bitter flavor when compared to common basil. While the taste may differ slightly between varieties, it is generally likened to clove or licorice, with notes of mint and a kick of peppery spice.
Seasons/Availability
Tulsi basil is available year-round.
Current Facts
Tulsi basil, also known as Holy or Sacred basil, is a member of the Lamiaceae, or mint family. It's not just a single plant but rather one of three common types of basil: Tulsi, Thai, and sweet basil. It can be botanically classified as two different species of herbs, Ocimum gratissimum or Ocimum tenuiflorum, depending on the variety. The four prominent varieties of Tulsi basil are Krishna, Rama, Kapoor, and Vana Tulsi, each varying slightly in color, aroma, and flavor. Tulsi basil has longstanding value in Ayurvedic medicine and remains one of India's most cherished sacred plants. It is predominately used for medicinal or religious purposes, though it is commonly used for cooking in Thailand, where it is known as Bai Gkaprow or Thai Holy basil (not to be confused with Thai basil, which refers to a different type of basil cultivar). Tulsi basil is also sometimes nicknamed Hot basil thanks to its spicier flavor.
Nutritional Value
Tulsi basil is rich in vitamins A and C, calcium, zinc, and iron and is said to have strong antibacterial, antifungal, antiviral, and antioxidant properties. It is widely recognized as an adaptogen, a natural substance that can help your body manage stress, physically and mentally. Thanks to its nutritional makeup, Tulsi basil has historically been used to make healing teas, oils, and poultices for treating everything from joint pain to headaches, digestive issues, infections, skin wounds, congestion, and the flu. It has even been used to help lower cholesterol, stabilize blood sugar, and promote overall longevity. Tulsi basil is well known for its essential oils, including compounds like eugenol and limonene that possess antibacterial, anti-inflammatory, and antioxidant properties. Tulsi basil seeds are also edible, and they pack a nutritional punch of magnesium, calcium, and fiber.
Applications
Tulsi basil is most often used fresh or dried to make a calming and therapeutic tea. However, it is a popular culinary ingredient in Thai cuisine, where it is often used in stir-fries alongside garlic, fish sauce, and chilies to impart flavor into meat or seafood. It is the star ingredient in a famous street dish called gai pad grapow, traditionally made with chicken and Tulsi basil, as well as in a traditional dish called phat kraphao, made with Tulsi basil and chicken, pork, beef, or seafood, depending on the variation. Use Tulsi basil to infuse its medicinal properties and peppery, clove-like flavor into honey or ghee, or use in place of other types of basil, but note that it will be spicier, and the pungent flavor will intensify with cooking. Outside the kitchen, Tulsi basil is known as a natural insect repellent, and its leaves can be crushed or burned to repel mosquitoes, while pots of the plant can be placed around the house to deter flies. Tulsi basil is best used fresh as the leaves will lose their aroma after a few days in the refrigerator. Cut the ends of the stems and store fresh Tulsi Basil in a glass of water at room temperature, or wrap in a paper cloth and store in a bag in the refrigerator for about a week.
Ethnic/Cultural Info
Tulsi basil is known as the "elixir of life" in Ayurvedic medicine and has historically been used to promote a healthy mind, body, and spirit. The name Tulsi translates from Sanskrit as "The Incomparable One," and, according to Hindu mythology, Tulsi basil is the manifestation of Tulasi, the goddess of love and protection, hence it is also often called "The Queen of Herbs," or "The Mother Medicine of Nature." Tulsi basil has been held sacred for thousands of years in India, where it is used in religious ceremonies and rituals for spiritual health and purification, commonly displayed on home altars in traditional Hindu homes. As the herb traveled west along ancient trade routes from Asia into Europe, it became known by Christians as Sacred or Holy basil and was hailed as "The King of Herbs" instead of the queen.
Geography/History
Tulsi basil is native to the Indian subcontinent, where it has been revered and cultivated for thousands of years. It grows wild throughout tropical Southeast Asia and parts of Africa and is considered an invasive species in some areas outside its native range. Today, there are many different varieties of Tulsi basil cultivated worldwide, grown as a perennial in tropical and subtropical climates or as an annual from seed or cuttings in other regions. Fresh Tulsi basil can be found in specialty stores or farmers markets.
Recipe Ideas
Recipes that include Tulsi Basil. One

is easiest, three is harder.