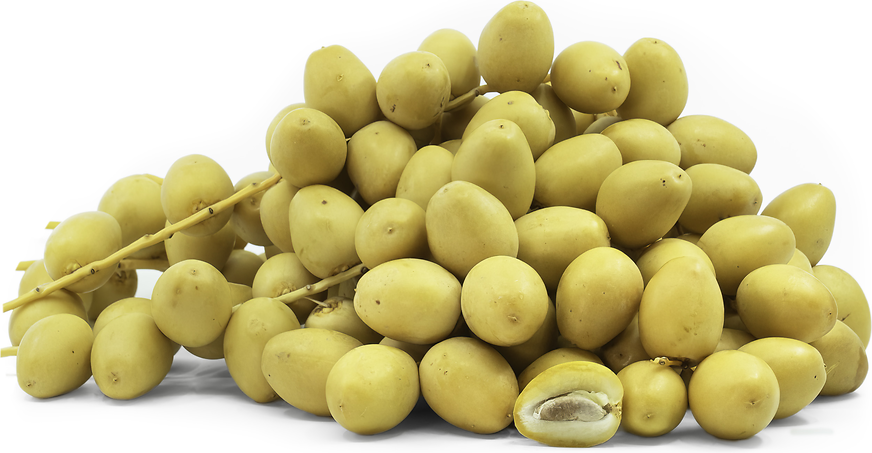 Yellow Barhi Dates
Inventory, lb : 0
Description/Taste
Yellow Barhi dates grow in long bunches attached to yellow branches and stems. The dates are small, averaging 2 to 4 centimeters in diameter and 2 to 5 centimeters in length, and have a round to oval appearance with curved, blunt ends. The date's skin is smooth, taut, and matte, showcasing a golden yellow hue. The surface is generally solid yellow, but some small brown dots may appear, indicating continued ripening. Underneath the surface, the pale-yellow flesh is firm, slightly fibrous, and aqueous with a crunchy, succulent consistency. The flesh also encases an elongated, central brown stone, known as a pit, that is inedible and should be discarded. Yellow Barhi dates have a mild, sweet, and subtly astringent flavor. The dates will vary in taste, depending on the degree of ripeness, and generally bear fruity, coconut-like notes mixed with rich but not cloying nuances of butterscotch, cinnamon, and sugar cane. Yellow Barhi dates will eventually condense and dry if left at room temperature, developing a soft, chewy, and sticky texture. The dates are also edible in these stages and will darken into shades of amber and brown.
Seasons/Availability
Yellow Barhi dates are available in the late summer through early fall.
Current Facts
Yellow Barhi dates, botanically classified as Phoenix dactylifera, are the fruits of a date palm belonging to the Arecaceae family. Barhi dates are native to Iraq and are one of the sweetest-known date varieties, containing a high sugar content, and are a part of the soft date subgroup. The dates are also known as Barhee dates, Phoenix dates, and Khalal Barhi dates and are only found through fresh markets in select hot and dry climates worldwide for a few weeks in August and September. The name Yellow Barhi dates is a descriptor for fresh, crisp, and semi-ripe dates that have not softened into a dried, sticky, creamy consistency. Barhi dates, in general, are a specialty cultivar containing low astringency that can be consumed during all three stages of ripeness. These stages include yellow and semi-ripe, known as khalal, fully ripe or rutab, and dried, wrinkled, and dark brown, known as tamr. Very few commercial varieties can be consumed in their khalal stage, and Yellow Barhi dates are primarily eaten fresh, savored as a seasonal delicacy.
Nutritional Value
Yellow Barhi dates are a source of fiber to regulate the digestive tract, potassium to balance fluid levels within the body, copper to develop connective tissues, and manganese to assist in regulating blood sugar. The dates also provide vitamin C to strengthen the immune system, iron to produce the protein hemoglobin for oxygen transport through the bloodstream, antioxidants to reduce inflammation and guard the cells against free radical damage, and other nutrients, including zinc, B vitamins, and magnesium.
Applications
Yellow Barhi dates have a sweet, subtly astringent taste suited for fresh preparations. The crunchy, semi-mature dates are primarily enjoyed out of hand, as the firm nature of the fruits only lasts for a few weeks each season. Yellow Barhi dates are a delicacy, consumed with the skin on and discarding the central pit. The dates can be served in a bowl on their own, placed on appetizer platters as a crisp addition, or thinly sliced and used as an edible garnish for ice cream, cakes, and other baked goods. They can also be chopped and tossed into salads, stirred into Greek yogurt, and mixed with fresh and dried fruits and nuts. In the Middle East, Yellow Barhi dates are cooked in a mixture of nuts, sugar, spices, and ghee to make a sweet dish known as date halwa. There are many variations of halwa, from thicker, softer recipes to firmer, crunchier recipes, depending on the region, and the confectionary is a favored dish for small-scale celebrations. If left at room temperature, Barhi dates will transition into a sticky and soft consistency, turning brown in their rutab and tamr stages. The date's color change indicates its changes in maturity, and the creamy mature dates are popularly incorporated into jams, spreads, and pastes, used for baked goods, or served with soft cheeses. Mature Barhi dates can also be stuffed, blended into shakes, cooked into cobblers and crumbles, or used as a thickener in desserts. Yellow Barhi dates pair well with fruits such as apples, kiwis, coconut, bananas, pineapples, apricots, and gooseberries, nuts including cashews, almonds, and pistachios, spices such as cardamom, saffron, and cinnamon, maple syrup, cream, raisins, and chocolate. Yellow Barhi dates will keep for a few days at room temperature, but it is important to note that the dates will continue ripening if left out. The fruits are best eaten within 3 to 4 days for optimal flavor and consistency. It is recommended to store the dates in the refrigerator, as the young yellow dates are more perishable than dried versions, only lasting for 4 to 5 days.
Ethnic/Cultural Info
The name Barhi is derived from the Arabic word "barh," translating to mean "a hot wind." This blustery moniker was created from the warm, arid winds that blow through Basra, Iraq, and the winds are said to help the dates ripen, developing their concentrated sugary flavor. Historically, Barhi dates are a favored ingredient served during Rosh Hashanah, also known as the Jewish New Year. The annual holiday is determined by the Hebrew calendar and is typically held in the fall. During the New Year celebration, the world's creation is remembered, and a time of repentance and reflection is enacted, ending in Yom Kippur or the holy Day of Atonement. After religious gatherings, it is common for families to prepare symbolic meals to honor the holiday, including the consumption of Yellow Barhi dates and mature Barhi dates. Yellow Barhi dates are typically displayed on their branches, artfully arranged on appetizer platters with dried dates, grapes, and figs.
Geography/History
Barhi dates are believed by experts to be native to Iraq and have been cultivated for centuries as a rich food and nutritional source. The variety was selected for cultivation due to its low astringency and sweet, fruity flavor, being one of the few dates that can be consumed in all three ripeness stages. Over time, Barhi dates were spread across trade routes into Asia, North Africa, and other regions of the Middle East and were planted in warm climates. In 1913, agricultural explorer Paul Popenoe introduced Barhi dates into the United States. Popenoe's father owned a nursery in Altadena, California, and sent Paul and his brother Wilson to collect date palms for the nursery in 1911. The Popenoe brothers gathered over 9,000 palm offshoots from Southern Iraq and Baghdad, including the Barhi date, and planted them in California. Barhi dates were an initially overlooked variety, but over time, they became a favored culinary ingredient for their sweet and astringent flavor and versatility. By 1946, more than 900 Barhi palms had been planted in the Coachella Valley, a region in California known for its arid climate and ample underground water. The Coachella Valley was designated as a date planting site in the early 20th century, and in the modern day, it is the center of date production in the United States. Barhi dates are the only variety in the United States that can be commercially grown for their khalal stage and have earned the nickname of "honey ball" among growers in California. Today Barhi dates are a specialty cultivar grown and distributed to local fresh markets in the Middle East, Africa, India, Southeast Asia, Mexico, and in California of the United States. The cultivar may also be grown in home gardens throughout Texas and Arizona. Yellow Barhi dates are only available for a few weeks in the late summer and early fall and are mainly sold through farmers markets, online retailers, and select distributors.
Recipe Ideas
Recipes that include Yellow Barhi Dates. One

is easiest, three is harder.
Podcasts