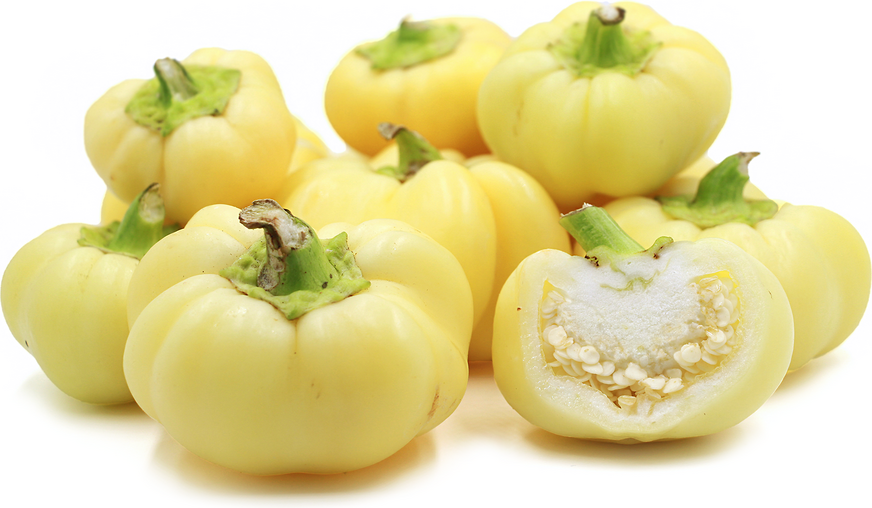 Alma Paprika Chile Peppers
Inventory, lb : 0
Description/Taste

Alma paprika chile peppers are small, squat pods, averaging 7 to 10 centimeters in length and 5 to 7 centimeters in width, and have a round to slightly flattened shape with thick green stems. The pods bear many lobes, and the skin is smooth, taut, and shiny, ripening from white, orange, to red when mature. Underneath the surface, the flesh is thick, crisp, and aqueous, encasing a central cavity filled with many round and flat, cream-colored seeds. Alma paprika chile peppers have a sweet flavor mixed with a mild to moderate level of spice depending on maturity. When fully ripe, the heat is slightly more noticeable, but generally has a pleasant and manageable burn.


Seasons/Availability

Alma paprika chile peppers are available in the summer through fall.


Current Facts

Alma paprika chile peppers, botanically classified as Capsicum annuum, are an heirloom, pimento-type peppers that belong to the Solanaceae or nightshade family. Also known as the Sweet Apple paprika pepper, the word alma in Hungarian translates to mean apple, which is a name given for the pepper's round shape. Alma paprika chile peppers contain a mild heat, ranging 1,000-3,000 SHU on the Scoville scale, and are primarily known for their role in making the dried spice paprika. Alma paprika chile peppers have yet to gain global popularity as a fresh market pepper and are only consumed raw on a local scale in the region where the peppers are grown.


Nutritional Value

Alma paprika peppers contain vitamins A and C, which are antioxidants that can protect the body against free radicals by boosting the immune system. The peppers also contain folate and vitamin K, which can help support healthy blood functions.


Applications

Alma paprika chile peppers are best suited for fresh, cooked, and dried applications. When raw, the peppers can be sliced into salads or tossed into pasta, and in cooked applications, they can be stuffed with cheeses, meats, and grains and then baked or roasted as a side dish. Alma paprika chile peppers can also be chopped and mixed into casseroles and roasts, stirred into soups, stews, and chili, grilled for a smoky flavor, sautéed with eggs, or pickled in a vinegar brine and preserved for extended use. In addition to raw and cooked preparations, the pepper can be dried and ground into a powder for use as a flavorful spice. Paprika is commonly sprinkled over pasta and potato salads, mixed into a filling for pastries, whipped into deviled eggs, or topped as a finishing element over soups. Alma paprika chile peppers pair well with legumes, carrots, potatoes, meats such as beef, poultry, sausage, prosciutto, and veal, seafood, cheeses such as cream cheese and mozzarella, and herbs such as parsley, rosemary, oregano, and thyme. Fresh peppers will keep up to one week when loosely stored whole and unwashed in plastic in the refrigerator. Paprika powder will keep 3-4 years when stored in a cool, dry, and dark place.


Ethnic/Cultural Info

Alma paprika chile peppers are one of the common varieties used to make the famous spice paprika. There are many different versions of paprika, depending on the peppers used, and the spice can range in color and heat levels from sweet and mild, smoky, to hot. Different kinds of paprika are also produced around the world, especially in Spain, Hungary, Turkey, California, South Africa, China, and South America. In Hungary, chile peppers such as the Alma paprika are grown along the Danube river in home gardens and are dried in the sun to make the powdered spice. Paprika has become one of the essential flavorings in Hungarian kitchens and is an essential ingredient in Hungarian goulash, or gulyás, which is the country's national dish. Paprika is also used in pörkölt, which is a meat stew, and paprikás, which is chicken served with paprika. Many Hungarians choose to make their own paprika to create the precise combination of flavors, and Alma paprika chile peppers are used in their mature state to make paprika with a sweet taste with mild heat.


Geography/History

Alma paprika chile peppers are descendants of peppers native to Central and South America that were introduced to Europe via Spanish and Portuguese explorers during the 15th and 16th centuries. Since their introduction, many different varieties of peppers have been spread across Europe and Asia along trade routes, and Alma paprika chile peppers were believed to have been introduced to Hungary by the Turks sometime during the 16th and 17th centuries. In Hungary, the peppers were first grown as an ornamental plant, but as shepherds and peasants began using the peppers in a dried, spice form, the flavoring widely increased in popularity and became a staple ingredient in the 19th century. Today Alma paprika chile peppers are found fresh through farmer's markets and small farms in Europe, China, South America, Africa, and the United States and are sold through online seed catalogs for home garden use. The dried and ground powder version is available for purchase in grocers around the world.