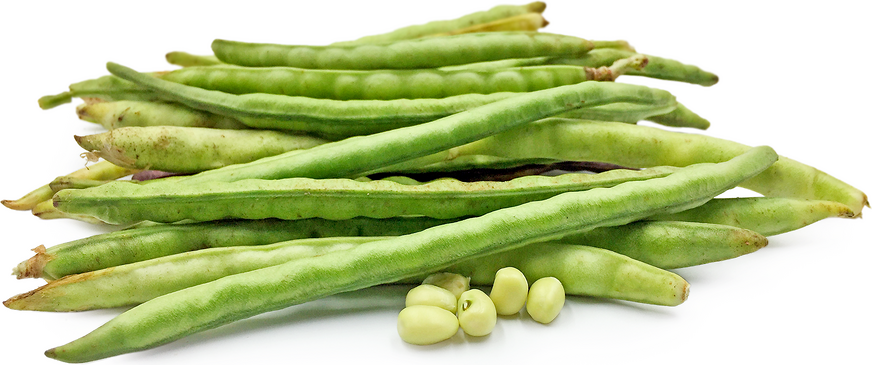 White Acre Peas
Inventory, lb : 0
Description/Taste
White Acre peas grow on small-statured, bushy plants. The pods develop at the very top of the plant, and grow to be anywhere from 17 to 22 centimeters (7 to 9 inches) in length. When young, the pods are green and the peas within are very small. White Acre peas are a pale green when young and mature to a tan color. Their shape is somewhat kidney-shaped to a squared-oval, from the crowding in the pod. White Acre peas are a bit smaller than a black-eyed pea, but larger than the cream pea 'lady' variety. White Acre peas have a mild nutty flavor with a tender, creamy texture.
Seasons/Availability
White Acre peas are an early variety and are available in the summer and the first month of fall.
Current Facts
White Acre peas are a variety of Vigna unguiculata known as Southern peas. White Acre peas are considered a cream or semi-crowder pea, because the seeds are somewhat crowded in the pod, but not nearly as much as other crowder pea varieties. They are also commonly referred to as field peas or cowpeas and are related to black-eyed, pink-eyed, and purple-hulled peas. White Acre peas are not really peas, but are botanically identified as legumes. White Acre peas are an heirloom variety from the mid-Atlantic region of the United States.
Nutritional Value
White Acre peas are a good source of fiber and protein, as well as the minerals calcium and iron. Southern peas like the White Acre variety contain the amino acids tryptophan and lysine, which are essential to the human diet. Lysine helps the body absorb calcium and produce collagen, while tryptophan is converted to serotonin, which helps mood-regulation and sleep. White Acre peas are rich in vitamins B1, B2 and B3 (thiamine, riboflavin, and niacin) and have a small amount of vitamin C.
Applications
White Acre peas are a staple in the kitchens of the Southern United States. White Acre peas can be eaten young, in the pod, like green beans. Sautee the pods in oil or butter with salt and pepper and serve as a side dish. In most of the South, the peas are most commonly prepared shelled and slowly simmered in water with a little onion, salt and pepper and a piece of pork or bacon. Traditionally, the dish is served with a piece of cornbread or a biscuit. White Acre peas pair well with butter and onions, or some stewed greens. Some recipes call for cooking the peas with okra, as a thickener as well as for a "grassy" flavor. When White Acre peas are left on the plant to dry, the pods are plucked and peas shelled for later use. They can be soaked overnight to reconstitute. To store fresh peas, shuck, blanch and freeze for up to six months.
Ethnic/Cultural Info
In the small community of Emerson, Arkansas, the humble field pea is celebrated in the "Purple Hull Pea Festival" every year since 1990. The festival was the brain-child of Glen Eades, who decided his small community (which wasn't even big enough for its own police officer or park) needed a little "shaking up." Since 1990, the festival has put the little community of Emerson on the map for unusual or weird festivals, and celebrates the small pea that is a popular staple in every Emerson kitchen. The festival takes place at the end of June each year and includes a 'Big Daddy's Hot Water Cornbread Great Purple Hull Peas and Cornbread Cookoff,' a 'World Championship Rotary Tiller Race,' as well as the 'World Cup Purple Hull Pea Shelling Competition.'
Geography/History
Crowder peas originated in Africa, and are still widely grown there, as well as in Latin America, the southern United States and in Southeast Asia. They were brought to the United States during colonial times, along with the slave trade. The peas grow well in the humid heat and in most soil conditions, so they became a resilient crop during hard times such as war or drought. The name 'field peas' or 'cowpeas' comes from a time when the peas were used primarily for animal feed, and were planted as a rotation field crop helping to restore nitrogen to soil where it had been robbed by other commercial crops. White Acre peas are considered the "cream of the crop" in the Southeastern United States and are commercially sold frozen or dry. White Acre peas are mostly found in markets from the Carolinas to Louisiana along with several other named varieties.
Recipe Ideas
Recipes that include White Acre Peas. One

is easiest, three is harder.