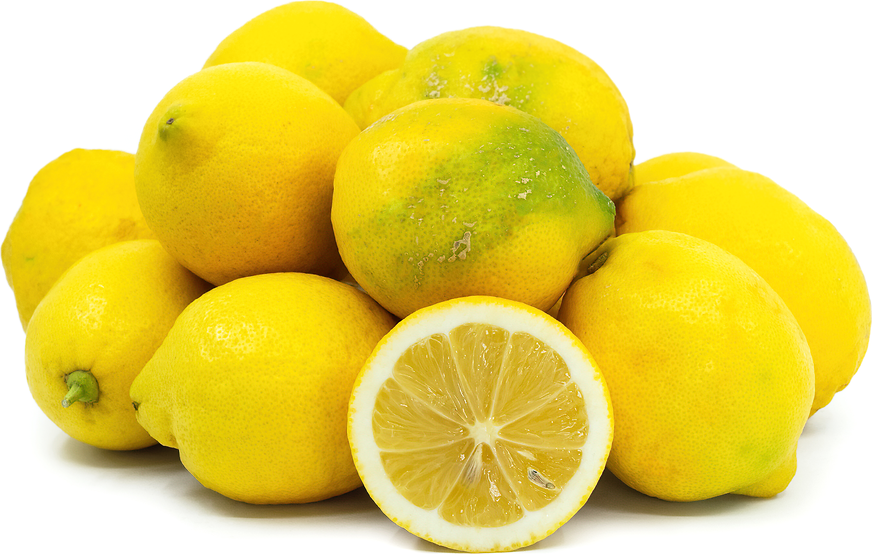 Sicilian Lemons
Inventory, lb : 0
Description/Taste

Sicilian lemons widely vary in size, shape, and appearance, depending on the variety. The fruits range from small to large in size and have an ovate, ellipsoidal, to oblong shape with tapered and pointed, curved ends. The rind, also known as the peel, is generally pale green, light yellow, to bright yellow and bears many small pores or glands, releasing aromatic essential oils. The surface can also be smooth and glossy to heavily textured and pitted. Underneath the rind, a semi-thin to thick, white pith envelops the flesh and has a spongy, cotton-like consistency, encasing soft, tender flesh segments. The pale-yellow flesh is comprised of translucent sacs filled with juice and pulp, and some Sicilian lemon varieties contain a few seeds, while other cultivars are found seedless. Sicilian lemons will vary in texture and flavor, depending on the variety, but the fruits are known for their complex, bright, and sweet-tart flavors with floral, tangy, and refreshing undertones.


Seasons/Availability

Sicilian lemons are available year-round.


Current Facts

Sicilian lemons, botanically a part of the Citrus genus, are a category of multiple lemon varieties belonging to the Rutaceae family. Sicily is the largest island in the Mediterranean and is a region in Italy known for its citrus production. Lemons have been grown on the island since the 10th century, and throughout history, many varieties of lemons have been cultivated on the island, generally labeled under the Sicilian lemon name. Sicilian lemons have developed a reputation for quality, and the region is nicknamed the Lemon Riviera, as the island's terroir produces lemons with a sweet taste and mild acidity. Under the category of Sicilian lemons, the main varieties include Femminello, Internato, Lunario, and Monachello lemons. Femminello lemons are the most cultivated type of lemon on the island, and there are several regional Femminello types with variable names. Each region of Sicily has its choice of variety of lemon, and some cultivars come into season multiple times a year. Sicilian lemons are a way of life in Sicily, and most Sicilians describe their homegrown lemons as the best in the world. The phrase "They are not real lemons unless they are Sicilian" is widely expressed throughout Sicily, and Sicilian lemons are a treasured ingredient utilized in culinary, medicinal, and cultural practices.


Nutritional Value

Sicilian lemons are a source of vitamin C to strengthen the immune system while reducing inflammation, fiber to stimulate the digestive tract, and potassium to balance fluid levels within the body. The fruits also provide copper to develop connective tissue, iron to produce the protein hemoglobin to transport oxygen through the bloodstream, calcium to build strong bones and teeth, and other nutrients, including vitamin B6, zinc, and magnesium. In addition to vitamins and minerals, Sicilian lemons are customarily squeezed into the water as they contain antioxidants to protect the cells against the effects of damage caused by free radicals. Lemons are also used in natural beauty remedies to lighten nails, treat the scalp, and improve complexion.


Applications

Sicilian lemons generally have a sweet-tart taste with mild to moderate acidity suited for fresh and cooked preparations. There are several varieties of lemons produced throughout the island with varying flavors and uses, and lemons, in general, are used in marinades for poultry and seafood. Sicilian lemons can also be squeezed over grain dishes, mixed into salad dressings, or added to sauces. In addition to savory culinary dishes, Sicilian lemons are popularly incorporated into baked goods and desserts. Both the zest of the rind and juice are used in cakes, muffins, bread, bars, and cookies, and the fruits can be simmered into marmalade, jellies, and jams. Sicilian lemon juice can also be blended and frozen into ice cream, granita, and sorbet. One of the most traditional uses of lemons in Sicily is drinking water with sliced lemons in the morning to boost digestion and then drinking herbal tea with lemons in the afternoon. Some Sicilian lemon varieties are also used to make limoncello, a famous liqueur from Italy. Sicilian lemons pair well with fresh herbs such as thyme, mint, parsley, and rosemary, vanilla, fruits including stone fruit, strawberries, figs, and guavas, and cheeses such as parmesan, mozzarella, and gruyere. Whole, unwashed Sicilian lemons will keep for a couple of days at room temperature and for 1 to 2 weeks when stored in a plastic bag in the crisper drawer of the refrigerator. Freshly squeezed juice will also last up to 2 weeks in the fridge. When frozen, the juice will keep for three months.


Ethnic/Cultural Info

"I'll make him an offer he can't refuse." This famous phrase spoken in the 1972 movie The Godfather embodies Hollywood's depiction of The Mafia throughout the 20th century, but there is some truth in the saying that can be found in the history of lemon cultivation in Sicily. The name Mafia is derived from the Sicilian dialect and was initially used to describe someone "suspicious of authority" or a "protector of the common people against the powerful." The Mafia was not always viewed as a corrupt group, but over time, money, power, and greed consumed the organization, transforming it into the infamous group it is today. The rise of The Mafia can be traced to the citrus boom launched by the need to combat scurvy. In the mid-18th century, Scottish physician James Lind conducted several trials on board ships of the British Royal Navy and discovered that fresh fruits, specifically lemons, could help cure and prevent scurvy. Lind's published findings were ignored until the 1790s when the Sick and Hurt Commissioners of the Royal Navy declared the lemon's prominence and began recommending sailors drink lemon juice to protect against scurvy. The British Royal Navy's decree launched the European-wide boom for lemons, but most areas throughout the Mediterranean could not keep up with increasing demand. Sicily was one of the few regions that could meet the rising demand for lemons as the climate and land were suited for lemon cultivation almost year-round. By the mid-19th century, millions of cases of lemons were being exported from Sicily to markets worldwide. Sicilian citrus growers welcomed the business, but due to poverty and a lack of laws and political structure on the island, lemon growers began encountering problems with thieves and crop sabotage. Tall walls were constructed around the terraced orchards, and growers began hiring paid protectors to guard their fields at night. These contracted men began banding together and eventually formed the initial workings of The Mafia, extorting citrus growers for their protection. By the 1870s, The Mafia infiltrated all parts of citrus production, including growing, packing, and shipping, causing the organization to rise in power and corruption. The Mafia also bought out Sicilian citrus farms, especially in the Bay of Palermo, where Mafia members used the ancient irrigation underground tunnels known as qanats to evade police. Lemon production in Sicily helped launch the Sicilian Mafia, and this group is often considered one of the most successful Mafia groups in worldwide history. In the late 19th century, Sicily was hit with horrible droughts. The Italian citrus industry also suffered from the rise of the Florida citrus market. These debilitating factors led many Sicilians to leave Sicily and move to the United States, and with this move came Sicilian Mafia members, who eventually settled in New York, Boston, and Chicago, combining with other Mafia groups to create the American Mafia.


Geography/History

Lemons were introduced from Asia to Sicily in the 9th and 10th centuries through Islamic armies. The island had been recently conquered by the Arabs, and through commercial trade routes from the Middle East, Egypt, and other regions of North Africa, lemons were planted throughout Sicily. The Arabs ruled from 827 to 1061 CE, and during their reign, lemon orchards were constructed on staggered terraces and open fields to produce several types of lemons and other citrus. Sicily is ideal for citrus production as it features cold nights, hot days, and a climate where the ground never freezes. The island is also home to Mount Etna, one of the most active volcanoes in the world, which has helped fill the soil with nutrients, creating a fertile and rich landscape for lemon production. Historically, lemons were reserved as a luxury food in Sicily. In the 17th century, Jesuit Fathers began extensively cultivating citrus and developing larger farms and orchards for increased production. Sicily's citrus industry experienced its largest boom in the 19th century after the British Royal Navy began sourcing lemons from Sicily to combat scurvy on their ships. This sharp rise in demand allowed lemons to become 60 times more profitable than other Sicilian crops, such as grapes, olives, and wheat, and Sicilian lemons were being exported to countries throughout Europe, Asia, and North America. Despite the increased demand, Sicilian citrus growers eventually experienced seasons of drought and unfavorable weather, allowing other citrus growing regions to compete for international marketspace. This influx of competition, especially from Florida citrus production, led Sicily to a decline in lemon production in the 20th century. Today Sicily is still responsible for producing the majority of lemons sold in Italian markets in the present day, and there are many types of lemons generally labeled under the Sicilian name. Sicilian lemons can be found through fresh markets, select retailers, and distributors throughout Italy. The lemons are also exported to other European markets and occasionally to the United States.