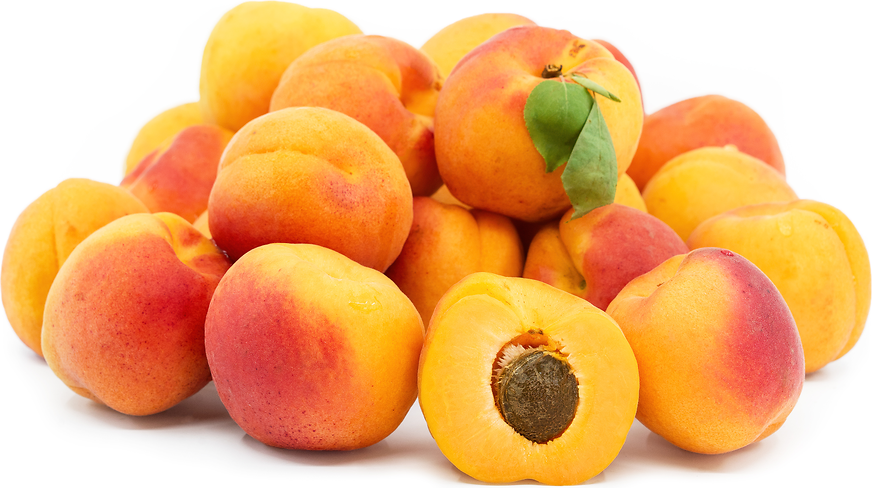 Apricots
Inventory, 120 ct : 0
Description/Taste
Apricots are petite, round to slightly oblong fruits with smooth and velvety skin. The skin often has a rosy blush, and can range in color from pale yellow, to golden, to a burnt orange, depending on the variety and how ripe they are. The flesh is smooth, juicy, tender, and sweet, with just a bit of tartness at the end. The flavor is often described as being somewhere between a peach and a plum. Apricots are classified as stone fruits or drupes, characterized by their thin skin, pulpy middle, and single, hard, central shell enclosing a pit or stone.
Seasons/Availability
Apricots are available in the late spring through summer.
Current Facts
Apricots are members of the rose family, closely related to the plum, peach, cherry and almond. Their full botanically name, Prunus armeniaca, is a reference to Armenia, where the ancient Greeks believed the apricot came from. There are many different varieties of apricots bred for different traits, from early, mid to late ripening, to superior flavor, to coloring, and even the ability to withstand long-term shipping. Popular apricot cultivars include Blenheim, Sungold, Autum Royal, Moorpark, and Royal Rosa. The apricot is also a parent fruit for successful hybrids, such as the apricot-plum crossing called a pluot, aprium, or plumcot. Most New World apricots are actually of European or Western origin, while central Asian or Eastern apricots are still relatively new to the US and other North American growers. This may be due to the fact that Eastern apricots typically required colder winters, but also because they are less plump than Western varieties, making them visually less appealing, and yet Eastern varieties are often considered to be the most delicious in flavor and texture.
Nutritional Value
Apricots are a good source of vitamins A and C, potassium, calcium, iron and beta-carotenes. At one time or another, apricots have been acclaimed to treat cancer, tumors, swelling, ulcers, heart disease, and more. Historically, they have played a significant role in Chinese medicine where they are thought to regenerate and detoxify the body.
Applications
Apricots can be used in both raw and cooked applications, and in every type of dish from appetizer to dessert. They can be roasted, grilled, baked, broiled, poached, cooked into jams and preserves, made into ice cream or gelato, or pureed for use in sauce or dressings. They are often found preserved by canning or drying because the fresh fruits are so highly perishable, and they are even utilized to flavor liqueurs like apricot brandy. Apricots pair well with other stone fruit, including cherries, almonds and plums, as well as with hazelnut, pistachio, vanilla bean, honey, egg custards, soft cheeses, lemon zest, orange zest, white chocolate, and light, sweet white wines. Their skin is edible, thin, and tender, and it can help the fruit hold its shape in cooking and baking. However, if you prefer to peel them, you can blanch apricots in boiling water for about 20 seconds, submerge in ice water, allow them to cool, and you'll easily be able to peel off the skin. Even the seed or kernel of a few Eastern apricot varieties is sweet, similar in flavor and appearance to an almond, and full of protein and fiber. However, it is important to note that these kernels MAY BE TOXIC until roasted. Apricots also make a good substitute for peaches, although depending on how sweet your apricots are, you may consider adding sugar to the recipe to make up the difference. Store Apricots on the counter at room temperature until ripe and soft to the touch. Apricots should be eaten once ripe, or they can then be stored in the refrigerator and eaten within a couple days. When storing, be careful not to stack or pile them as they bruise easily. For longer storage, you can blanch, slice, remove the pit, and freeze Apricots for up to 3 months.
Ethnic/Cultural Info
Apricots have a unique connection to an ancient people that live in the Hunza valley in the mountain peaks of the Himalayas of Northeastern Pakistan. The Hunza people claim they are descended from three soldiers of Alexander the Great who lost their way in one of the steep gorges of the Himalayas, and they are purported to have many centenarians among them, living long, healthy, completely disease-free lives. Their diet consists primarily of grains, fruits, nuts and vegetables, with meat and dairy in smaller portions, and wouldn't you know it – apricots are one of their main crops! The fruit is eaten fresh and dried, and the kernels are ground for their oil, or roasted and eaten like you would almonds. There are many theories that Apricots and their kernels are key factors to such incredible longevity, although scientists also accredit the facts that the Hunza people are active, do not eat any processed foods, have very little sugar in their diet, and have access to mineral-rich mountain water.
Geography/History
Apricots are believed to have originated in China. However, they have also been cultivated in Armenia and India since antiquity, so it may be safer to say that apricots originated in China and central Asia, being cultivated as early as 2000 BCE. The exact center of domestication is uncertain, or at least debated, thanks to the fruit's widespread distribution from extensive, prehistoric cultivation. With the help of trade routes like the Silk Road, the apricot spread from Asia into Europe, and eventually the New World. They arrived in Europe via Armenia, which is why the apricot was given the scientific name, Prunus armenaica. Alexander the Great is credited with introducing apricots to Greece, while King Henry VIII's gardener brought them to England from Italy. The apricot eventually made its way to Virginia with English settlors circa 1720, while Spanish missionaries introduced it to the American west coast later on in the 18th century, which is considered its true arrival to the US market. The California climate is perfectly suited for growing apricots, and even today, cultivation in the US is primarily based in orchards of California.
Recipe Ideas
Recipes that include Apricots. One

is easiest, three is harder.
the other 47...
Podcasts