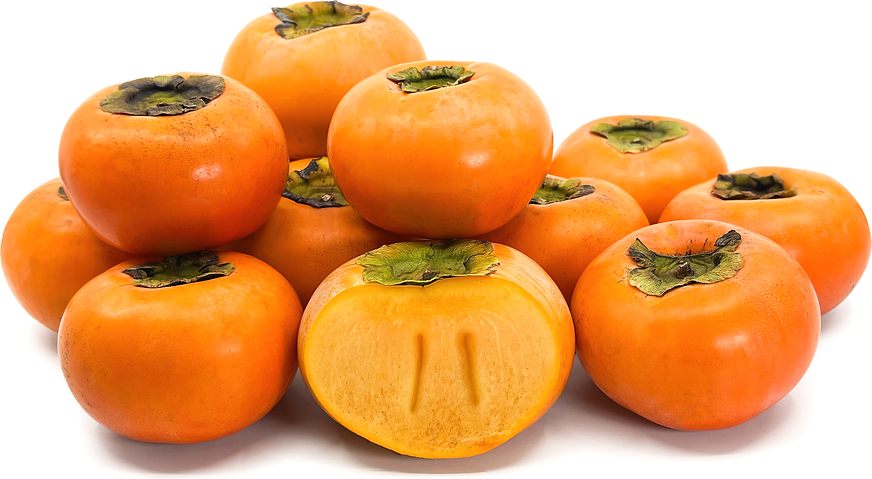 Kitaro Persimmons
Inventory, lb : 0
Description/Taste

Kitaro persimmons are a large varietal, averaging 300 to 500 grams in weight, and are often bigger than the common fuyu persimmons sold in Japanese markets. Each persimmon has a characteristically round to ovate shape and is known for its smooth, curved appearance. The persimmon's skin is thin, taut, and bright orange at maturity, showcasing occasional red blush and a soft sheen. The fruits are also topped with a green-brown calyx consisting of four broad and flat, papery leaves. Underneath the surface, the pale golden-orange flesh is firm, dense, and smooth with a moist, fibreless texture. Most Kitaro persimmons are found seedless, but some varieties may have a few thin, brown seeds. The flesh also sometimes features small black spots or cavities in the fruit's core, caused by a concentration of tannins. These spots are normal and are not a sign of decay. Kitaro persimmons are favored for their smooth consistency and high sugar content, ranging from 16 to 17 Brix, while most other persimmon varieties reach around 14 to 15 Brix. The persimmons offer a mellow, sweet, and sugary flavor.


Seasons/Availability

Kitaro persimmons are available for a short season in the late summer through early fall.


Current Facts

Kitaro persimmons, botanically classified as Diospyros kaki, are an early-season variety belonging to the Ebenaceae family. The round and sweet persimmons are a modern cultivar developed in Japan and were released commercially in the early 21st century. Kitaro persimmons are also known as Kaki Kitaro and are a non-astringent variety that can be consumed immediately after harvest. The persimmons are an early-maturing variety, arriving in markets before other commercial cultivars, and are only available for a short season, limiting their availability. Kitaro persimmons are luxury persimmons marketed as a rare fruit, sometimes costing as much as 500 yen per persimmon. When in season, Kitaro persimmons are commonly wrapped in protective foam netting or individually enclosed in cellophane to protect the fruit's delicate nature.


Nutritional Value

Kitaro persimmons are an excellent source of fiber to regulate the digestive tract and vitamin A to improve skin complexion, protect against vision loss, and maintain healthy organ functioning. The persimmons are also a good source of vitamin C to strengthen the immune system while reducing inflammation, provide potassium to balance fluid levels within the body, calcium to protect bones and teeth, and contain other nutrients, including vitamins B6, E, and K, folate, manganese, phosphorus, and copper.


Applications

Kitaro persimmons have a sweet flavor well suited for fresh, cooked, and dried preparations. The fruits are traditionally served raw, consumed in their firm state, or they can be sliced and displayed on charcuterie plates, tossed into salads, or mixed into fruit bowls. Try wrapping slices of the crisp fruit in thin pieces of meat as a savory-sweet appetizer, chop the fruits into salsa, or layer pieces of persimmon over brie toast. Persimmons are also consumed at any point in the day, stirred into yogurt, used as a fresh topping over pancakes or waffles, served as an afternoon snack or accompaniment to tea, or eaten as an after-dinner healthy dessert. In addition to fresh preparations, Kitaro persimmons can be quartered and paired with roasted meats, steamed into a pudding, or simmered into sauces and syrups. The persimmons can also be incorporated into desserts such as ice cream, tarts, and pies, frozen and consumed as an icy custard, poached in spiced syrup, or dried for extended use. Kitaro persimmons pair well with watercress, arugula, collard greens, cheeses such as manchego, brie, feta, and goat, meats including pork, poultry, and fish, maple syrup, cinnamon, and nuts such as hazelnuts, walnuts, and almonds. Whole, unwashed Kitaro persimmons will keep 4 to 10 days at room temperature to soften, or they can be stored in the refrigerator for several weeks to maintain a crisper texture.


Ethnic/Cultural Info

Kitaro persimmons are named after a manga series known as GeGeGe No Kitaro, created by Shigeru Mizuki. The graphic novel series was released in 1960 and told the story of Kitaro and his fight for peace between humans and mythological creatures known as yokai. The manga series has been produced into several films and anime shows since its release, and the plotline of the series often directly references traditional stories, myths, and legends taken from Japanese history. Kitaro persimmons were named after the series because the author, Shigeru Mizuki, was from the Tottori Prefecture in Sakaiminato City, the region where Kitaro persimmons were also created. Shigeru Mizuki was the prefecture's most famous cartoonist and yokai researcher. The prefecture has a museum dedicated to the cartoonist, a road named after him, and several statues are found throughout the region of his characters, including a Kitaro character statue in front of the Nakaura Fish Market. One of the characters in the series, the reincarnated spirit of Kitaro's father, takes the form of an eyeball, a shape that is rumored to have also inspired the naming of the persimmon, as Kitaro persimmons are very round and contain black spots in their flesh that are said to resemble eyeballs.


Geography/History

Kitaro persimmons are native to Japan and were developed in the Tottori Prefecture, a coastal region on Honshu Island, Japan's largest and main island. The variety was created in the late 20th century from a cross between soda hayao and akitsu no. 14 persimmons at the Kawahara test site of the Tottori Prefectural Horticultural Experiment Station. Kitaro persimmons were officially registered in 2010 and were test-grown in the Chugoku region in 2012, an area encompassing Tottori, Shimane, Yamaguchi, Hiroshima, and Okayama Prefectures. Today Kitaro persimmons are a modern variety grown on a limited scale in southern Japan, specifically Yazu town, Yonago city, and Nambu town. The fruits are only available for a short time and are considered rare, sold through select markets, growers, and distributors.