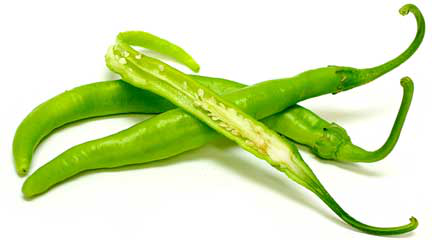 Sigaretta Dolce Chile Peppers
Inventory, lb : 0
Description/Taste

Sigaretta Dolce chile peppers are elongated, slender pods, averaging 10 to 15 centimeters in length, and have a cylindrical shape that slightly tapers to a point on the non-stem end. The pods may appear straight, curved, or twisted, and the skin is wrinkled and glossy, ripening from green to red-orange when mature. Underneath the thin skin, the flesh is crisp and pale green or red, depending on maturity, encasing a central cavity filled with small, round, and flat cream-colored seeds. Sigaretta Dolce chile peppers have a vegetal, earthy, and subtly sweet flavor with a mild level of spice.


Seasons/Availability

Sigaretta Dolce chile peppers are available in the late summer through early fall.


Current Facts

Sigaretta Dolce chile peppers, botanically classified as Capsicum annuum, are an Italian heirloom that belongs to the Solanaceae or nightshade family. Translating from Italian to mean "sweet cigarette peppers," the slender peppers are an early-maturing variety favored as a home garden cultivar for its compact size and high yields. Also known as Cigarette peppers and Cigar peppers, the pepper's full name, Sigaretta di Bergamo or Dolce di Bergamo, is a nod to its thin cigar shape and its Italian hometown of origin, Bergamo. Sigaretta Dolce chile peppers are sought after for their exceptional pickling or sott'aceto properties. In Italian cuisine, the pepper is utilized as an Italian fryer and as pepperoncini type pepper, which are descriptions that are popularly used to describe the ways the peppers can be cooked in culinary applications. Sigaretta Dolce chile peppers are not commercially cultivated and are primarily available fresh, typically in their young green state.


Nutritional Value

Sigaretta Dolce chile peppers are an excellent source of vitamin C, which is an antioxidant that can help build collagen in the body and boost the immune system. The peppers also contain potassium, calcium, phosphorus, vitamin A, folate, manganese, and vitamin K.


Applications

Sigaretta Dolce chile peppers are best suited for both raw and cooked applications such as frying, roasting, and grilling. The peppers can be sliced and added to green salads, consumed fresh, out-of-hand as a snack, displayed on appetizer plates and used as a crisp dipping vessel, sliced on top of pizza, or blended into sauces and salsas. They can also be wrapped in bacon and cooked, roasted for a smoky flavor, tossed into soups and stews, or layered into sandwiches, cooked into omelets, stirred into pasta, and mixed into casseroles. In Italy, Sigaretta Dolce chile peppers are popularly fried whole and served as a light, crisp side dish to cooked meats or as an appetizer served with cheeses. Sigaretta Dolce chile peppers pair well with herbs such as parsley, thyme, oregano, and basil, cheeses such as blue, parmesan, gruyere, and feta, kalamata olives, tomatoes, and meats such as bacon, prosciutto, beef, and poultry. The fresh pepper will keep 1-2 weeks when stored whole and unwashed in a paper or plastic bag in the refrigerator.


Ethnic/Cultural Info

Bergamo, Italy, is a small city in Northern Italy that is well-known for its unique agricultural industry and cuisine. Growing produce such as mushrooms, root vegetables, and corn, Bergamo has established a reputation for its heartier, comfort-style cooking with rich, deep flavors. The city is also known for its cattle industry, celebrating by-products of the business, including cheese, cream, and butter. With the city's love of cheese, Sigaretta Dolce chile peppers are often dipped in cheesy sauces or are sprinkled in parmesan as an appetizer and are favored for their vegetal crunch paired with the rich and salty taste of the cheese. The peppers are also traditionally picked in vinegar, known as sott'aceto, and are preserved for extended use. In Italian cuisine, pickled peppers are highly used as an appetizer with meats and cheeses and are also served as a condiment.


Geography/History

Sigaretta Dolce chile peppers are native to Bergamo, which is a small town within the Lombardy region of Northern Italy. The variety was created from selective breeding of original pepper varieties that were introduced from South America into Italy in the early 16th century. Once established, the original peppers were highly cultivated and bred over time to produce new varieties such as the Sigaretta Dolce. Today Sigaretta Dolce chile peppers are not commercially cultivated and are found through small farms and home gardeners in Italy. The peppers are also available in limited quantities through specialty growers in other regions of Europe and in the United States.