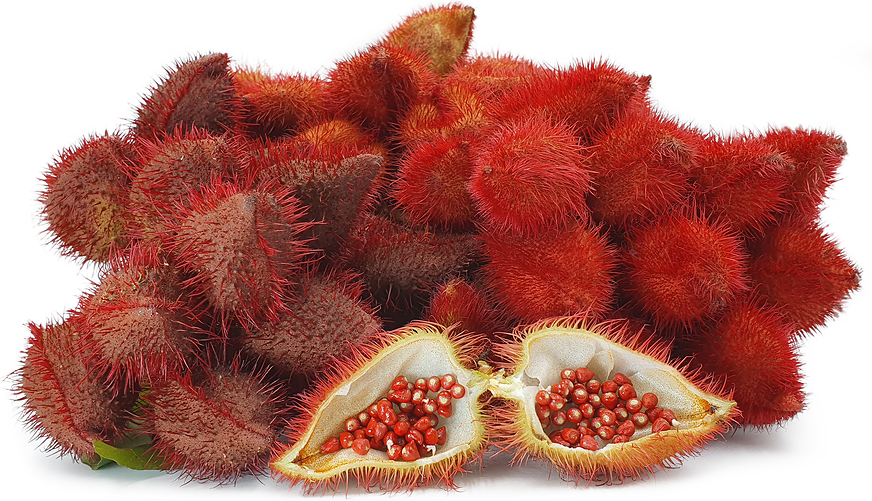 Annatto Seeds
Inventory, 1 oz : 0
Description/Taste
Annatto seeds develop in small, teardrop to conical-shaped pods measuring approximately 1 to 3 centimeters in diameter and taper to a distinct point opposite the curved stem end. The pods are bulbous with thin skin and display a slight give when squeezed, especially when the pods are in their bright red, immature state. One of the defining features of the pods is their hairy, soft spines. The entire pod is enveloped in these long bristles, and the pods grow in clusters, forming brightly colored, spikey groupings throughout the shrub. As the pods mature, they darken into a red-brown to dark brown, almost black hue, hardening and splitting open to reveal the seeds. Each pod can hold anywhere from 8 to 40 seeds, and the seeds are oval to pyramidal, covered in a brick red, waxy, smooth aril. This protective layer surrounds a dark brown seed encased in an oily sheen. When handled, the seeds excrete a red-orange residue that easily dyes hands, fabric, and other surfaces. Annatto seeds are tough, making them difficult to cut and grind the seeds. The seeds bear a musty aroma with a subtle peppermint finish, creating a nose-tingling sensation when inhaled deeply. Annatto seeds have a very mild, almost nonexistent flavor with smokey, peppery, citrusy nuances. Some consumers also detect faint notes of peppermint, chocolate, and nutmeg, often described as lingering lightly on the palate.
Seasons/Availability
Annatto seeds are available year-round.
Current Facts
Annatto seeds are harvested from the bristled, tapered pods of the Bixa orellana shrub, a tropical to subtropical plant belonging to the Bixaceae family. The shrubs are native to Mexico, Central, and South America and generally reach 6 to 10 meters in height. The Bixa Orellana shrub is prolific and ornamental, producing clusters of brightly colored pods. As the pods mature, they turn brown and eventually explode, expelling red seeds in every direction. Annatto seeds are the most used portion of the plant and have become one of the prevalent naturally sourced food dyes worldwide. The seeds are also known as Achiote, Atsuwete, Achuete, Bixa, Urucú, and Urucul and contain a waxy aril that creates a yellow, orange, or red hue depending on the amount used, binding ingredients, and extraction. Annatto as a food colorant became widely known in the 1980s, as several countries banned synthetic food dyes. Since its introduction as a natural coloring, Annatto seeds have also been used to color cosmetics, fabrics, body care products, paints, and pharmaceutical coatings.
Nutritional Value
Annatto seeds are a significant source of carotenoids and bixin, a powerful antioxidant, which gives the seed its brick red color and is the main component harvested for coloring food and textiles. Annatto seeds are also rich in calcium to strengthen bones and teeth, fiber to regulate the digestive tract, and vitamin C to boost the immune system while reducing inflammation. The seeds have antimicrobial properties due to their high level of antioxidants and have been used to aid in the healing of wounds, skincare, and relieve stomach issues.
Applications
Annatto seeds release a pigmented coloring that is primarily unscented and used for adding hues to butter, margarine, and cheeses like cheddar, edam, and muenster. The seeds are typically steeped in hot water to extract the coloring, and the mixture can be stirred into Mexican rice, used as a food coloring, or incorporated into candies, chocolates, and other desserts. Annatto seeds are the main component in Achiote paste, a mixture of the seeds with aromatics, including cumin, coriander, citrus juice, or vinegar. Achiote pastes are popular in Latin and Caribbean cuisine and are incorporated into marinades and sauces for added flavor and coloring. Annatto seeds are also mixed into sazón, a condiment made from dried and ground seeds and stirred into fish dishes, slow-braised meats, soups, and stews. In Asia, the seeds are common in many Filipino dishes, and the Vietnamese incorporate the seeds into bun bo hue, a soup infused with Annatto seeds to impart an umami flavor. Annatto seeds pair well with rice, meats such as beef, poultry, and fish, aromatics including onions, garlic, and chile peppers, and spices such as coriander seeds, cumin, and bay leaves. Whole Annatto seeds can be stored in an air-tight container in a dry, dark place for up to three years. Annatto seed paste can be kept for three months when stored in the refrigerator.
Ethnic/Cultural Info
Bixin pigment found within Annatto seeds has given the Bixa orellana plant another common name, the Lipstick tree. This cosmetic moniker highlights the Annatto seed's primary use as a pigmented coloring. Historically, Annatto seeds were crushed and mixed with water or boiled and stirred into oils to create a red paint. Experts believe red is one of the oldest colors known to humans, and the vibrant hue often represents life force, energy, and blood. Throughout Central and South America, indigenous peoples traditionally created custom dyes from Annatto seeds, using these colors for face paint, body paint, and food coloring. Tribes throughout the Amazon covered their skin with paste from the Annatto seeds and lips in the belief that the brightly colored paint would protect against deadly diseases brought by the Spanish invaders in the 18th century. This practice led to several tribes being nicknamed 'Colorado,' meaning 'reddish colored,' and the pigment was commonly mixed with rubber tree sap to allow the paint to last longer on the skin. The Mayans used Annatto seeds to create war paint for male fighters, placing it onto the face and body to show rankings, family background, and create camouflage when walking through the jungles. The Mayans also consumed Annatto seeds in a drink known as xocalatl, a chocolate-like beverage colored with Annatto. This drink recipe was eventually shared with the Aztecs, where it became a drink to symbolize blood offerings to the gods.
Geography/History
The Bixa orellana shrub is native to tropical regions of Mexico, Central America, South America, and the Caribbean. The earliest uses of the seeds, referred to as Achiotl in ancient Latin cultures, can be traced back to the indigenous populations found through the Amazon and were later noted in the Mayan, Aztec, and Incan civilizations. Annatto seeds were brought to Asia from Mexico in the 17th century through Sephardic Jewish trade routes. The use of Annatto seeds to dye food began when settlers arrived in the Americas and could not find saffron to use as coloring in their recipes. Annatto seeds were soon referred to as 'poor man's saffron,' and their popularity in Europe grew immensely, leading to the commercial cultivation of the spice in India by 1787. The seeds continued to expand in use as European cheesemakers added dye derived from the seeds to low-quality cheeses to mimic the yellowish hue that higher-quality grass-fed cheeses would produce. This tradition continues in the present day with many different kinds of cheese and dairy products. Today Bixa orellana shrubs can be found in wild and cultivated populations throughout their native habitat in Central and South America and thrive in tropical to subtropical climates. Peru, Brazil, the Philippines, and Kenya are among the top exporters of Annatto seeds, and the United States, Western Europe, and Japan are the leading importers of the spice. Although Annatto seeds are widely used in many cultures, it can still be challenging to locate the whole seeds in supermarkets. The seeds can be most easily be found in Latin and Caribbean markets, through spice vendors, or specialized retailers throughout Southeast Asia.
Recipe Ideas
Recipes that include Annatto Seeds. One

is easiest, three is harder.