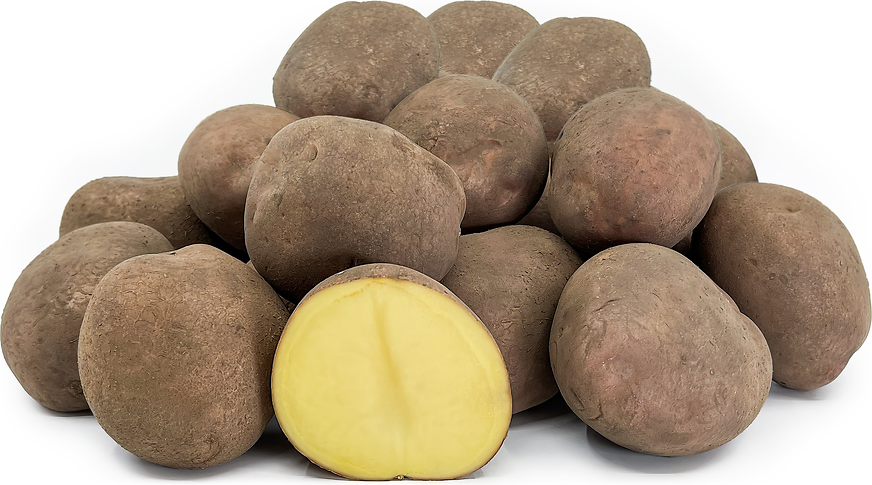 Laura Potatoes
Inventory, lb : 0
Description/Taste

Laura potatoes are a medium to large varietal, averaging 7 to 8 centimeters in length and 90 to 150 grams in weight, and have a uniform, round to oval shape. The potato's skin is semi-thin, smooth, taut, and firm, showcasing red to dark red-pink hues. There are also a few small, superficial eyes that are shallow and do not affect the shape or surface of the tuber. In fresh markets, Laura potatoes are often sold with a layer of soil covering the skin, giving the tubers a dark brown appearance. Underneath the skin, the golden yellow flesh is saturated in color, dense, starchy, and slippery when raw. Once the flesh is cooked, it develops a creamy, sticky, fine-grained consistency that holds its shape well. The flesh and skin also retain their coloring when cooked, a unique feature of the variety. Laura potatoes have an aromatic nature when cooked and a mild, subtly sweet, nutty, and earthy flavor.


Seasons/Availability

Laura potatoes are available year-round, with a peak season in the fall and winter.


Current Facts

Laura potatoes, botanically classified as Solanum tuberosum, are a German variety belonging to the Solanaceae or nightshade family. The red-skinned potatoes are a medium early to main crop variety that grows beneath bushy plants reaching 40 to 70 centimeters in height and are commercially produced and planted in home gardens throughout Europe. In Germany, potatoes are generally sorted under three main categories: festkochend, vorwiegend festkochend, or mehlig kochend, translating to mean waxy, somewhat waxy, or starchy. Varieties developed in Germany are also customarily given women names, a distinct trait determined by marketing companies to appeal to German consumers. Laura potatoes are considered a vorwiegend festkochend or primarily waxy cultivar, allowing the tubers to be versatile and used in various cooked dishes. Growers favor Laura potatoes for their disease resistance, extended storage capabilities, and high yields, producing tubers within 70 to 90 days from sowing. One plant can produce around twenty tubers in a season, and the potatoes are sold in commercial markets as a versatile table variety. Laura potatoes are nicknamed the "queen of red-skin potatoes" and are among the most popular varieties in German markets.


Nutritional Value

Laura potatoes are a source of fiber to regulate the digestive tract, phosphorus to repair cellular tissue, and potassium to balance fluid levels within the body. The tubers also provide vitamin C to strengthen the immune system while reducing inflammation, calcium to build strong bones and teeth, and other nutrients, including B vitamins, iron, and folate. The red pigments in the potato's skin indicate the presence of anthocyanins that contain antioxidant-like properties to protect the cells against the damage caused by oxidative stress and free radicals.


Applications

Laura potatoes have a rich, earthy, and nutty flavor suited for cooked preparations. The variety is traditionally used in recipes where the potatoes can hold their shape as the flesh is starchy, creating a firm but tender consistency. Laura potatoes can be boiled and added to salads with fresh herbs, tossed into roasted side dishes, or mashed into a creamy, dense dish. The potatoes can also be made into French fries, baked into gratins, simmered into soups and stews, or used in croquettes. Try baking Laura potatoes whole or stuffing the tubers with various ingredients. In Germany, Laura potatoes are used in everyday preparations, including potato dumplings, salads, fritters, and cooked with cabbage as savory side dishes to roasted meats. Laura potatoes pair well with herbs such as parsley, rosemary, chives, and thyme, aromatics including garlic, shallots, and onions, and meats such as pork, beef, and poultry. Whole, unwashed Laura potatoes will keep for several weeks when stored in a cool, dry, and dark place.


Ethnic/Cultural Info

The story of potatoes in Germany often intertwines with Frederick the Great, the former King of Prussia, in the 18th century. During the Austrian Wars of Succession, Frederick the Great recognized the potential of potatoes as a crop to fight against famine. He passed an order that every farm should have a plot of potatoes, but his subjects were initially wary and somewhat resistant to the idea of eating the tubers. Frederick the Great eventually convinced his subjects by serving potatoes in the royal court and spreading a campaign centered around "potatoes instead of truffles!" During his campaign, there were also a few rumors of Frederick eating potatoes loudly in front of guests in his court to draw their attention to the tubers or threatening to cut off the tongues and ears of people who refused to plant potatoes, but many of these are simply fables that have evolved. In contrast to the stark resistance of farmers in the 18th century, potatoes have become so common in German households in the modern day that they are the subject of several figures of speech. The most famous saying "die dümmsten bauern haben die dicksten kartoffeln!" translates to "the dumbest farmers have the fattest potatoes." This phrase is used to describe people who are lucky or achieve success without any effort on their own. It also describes people who overthink a situation, leading them to stand in the way of their own success.


Geography/History

Laura potatoes are native to Germany and were developed by Europlant Pflanzenzucht GmbH in the late 20th century. The variety was created from a cross between Rosella and Stamm 6140-12 potatoes in 1989 in Kaltenberg, Germany, and was selected for commercial cultivation as a replacement for the low-producing Scarlett potatoes. Laura potatoes were released and grown in Germany and Austria by 1998, and the variety became a popular red-skin cultivar for its high productivity and extended storage properties. Today Laura potatoes are grown in commercial and home gardens throughout Europe, especially in Germany, Poland, Lithuania, Estonia, and Latvia, and are also planted in northwestern and central regions of Russia. The variety is sold in local fresh markets, select retailers and grocers, or sent to companies for commercial processing.