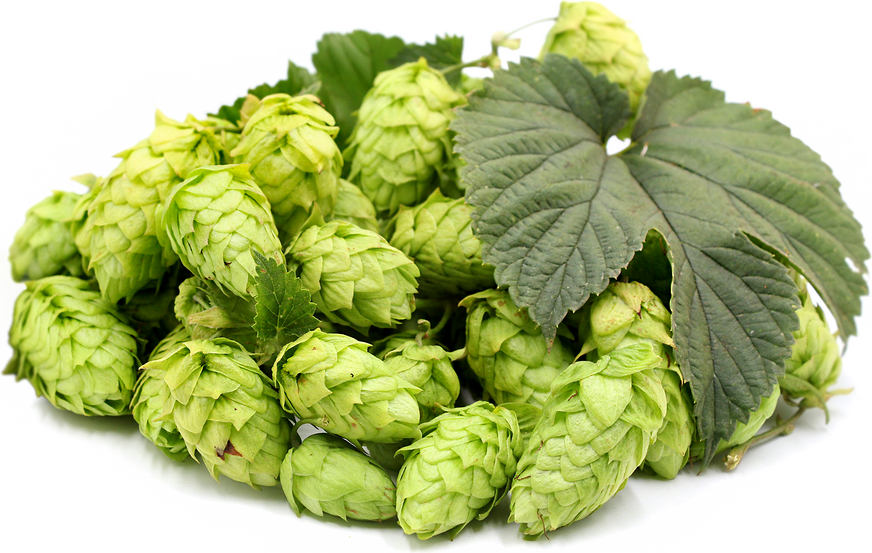 Hops
Inventory, lb : 0
Description/Taste
Hop flowers, known as strobiles, grow on long bines which are flexible, twisting and climbing stems. Unlike vines, which use tendrils or other means to climb, bines have small stiff hairs which allow them to grip trestles, ropes, or other vertical structures. Hop bines can sometimes reach up to 6 meters in length. Hop flowers are cone-shaped, measuring 3 to 4 centimeters long, with bright green overlapping, papery bracts. Beneath the bracts, concentrated around the core of the flower lies a yellow powdery substance containing resins, bitter acids, and volatile oils. Hops will impart a floral, earthy, peppery, and citrusy flavor to dishes or beverages.
Seasons/Availability
Hops are available in the late summer and fall months. Dried Hops are available year-round.
Current Facts
Hops are botanically known as Humulus lupulus and as members of the Cannabaceae family are related to both stinging nettles and cannabis. They have been used as an ingredient in beer since the 9th century and were used medicinally for thousands of years prior to that. Hops are perennial plants that will return every year, some living for up to 50 years.
Nutritional Value
Hops contain the bitter alpha acid humulone, which along with polyphenols, flavonoids (plant pigment), and volatile oils (terpenes) are powerful antioxidants. Hops have antimicrobial properties, which contribute to their use as a preservative.
Applications
Hops are used as a preservative and add bitter aromas and flavors to beer, masking any sweetness from the fermentation process. Beer companies use a mixture of different varieties of Hops to obtain certain flavors; the same can be said for their use in culinary applications. Hops can be used to infuse sauces, custards, ice creams, honey and other condiments. They can be used either fresh or dried and ground for soups, stews, marinades or pastas. Hops need to be stored in a dark, airtight container and will keep in the refrigerator for a few days. They can be frozen for up to a year.
Ethnic/Cultural Info
Hops and beer have been associated for centuries, though hops were also used for medicinal purposes. Monks in 15th century Germany prescribed hop tea to promote relaxation and sleep in young men, with the intention of helping them remain chaste. Healers during ancient times used Hops to treat foot odor, digestive issues, and to purify the blood. Today, Hops are being studied for their pharmaceutical uses and are more commonly used in cosmetic and beauty products.
Geography/History
Hops are native to Southeast Asia and Eastern Europe. They spread across Europe and the Mediterranean via the Silk Road and were first cultivated in Germany during the 8th century. In 1158 CE the German abess and botanist, Hildegard von Bingen, recommended Hops as an ingredient to extend the shelf life of beer brewed by the Abby. Since the 15th century, they've been used world-wide and are grown throughout the Northern Hemisphere. The main Hops producing countries are Germany, the United States, China and the Czech Republic. In the United States, Hops are primarily grown in Washington and Oregon. They are popularly grown by home brewers and small-batch craft beer companies and may be spotted at farmer's markets or specialty stores when in season.
Recipe Ideas
Recipes that include Hops. One

is easiest, three is harder.