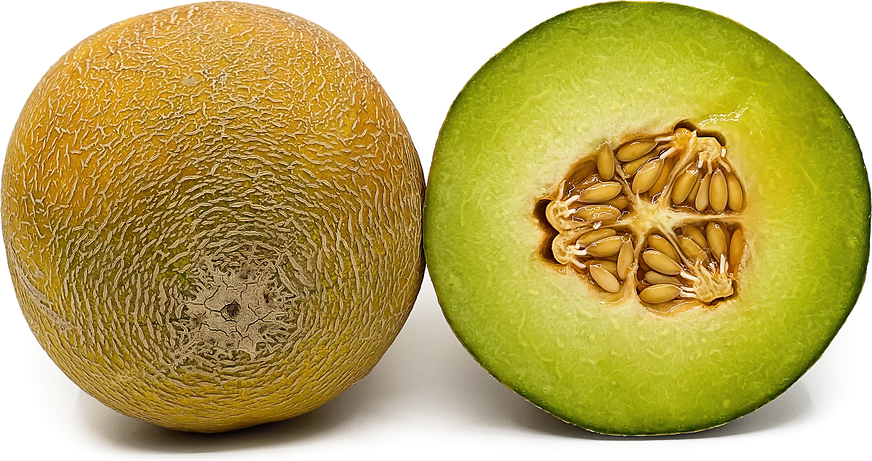 Khandalak Melons
Inventory, lb : 0
Description/Taste

Khandalak melons are a medium to large varietal, averaging 10 to 15 centimeters in diameter and .8 to 2 kilograms in weight, and have a round to slightly flattened shape. The melon's rind is thin, being easily damaged, and covered in a raised, fine, tan netting, creating a textured feel. The rind also ripens from a grey-green hue to shades of yellow-green and golden yellow. Depending on the variety of Khandalak, the rind may be striped or solid. Underneath the surface, the flesh ranges in color from green, yellow, to white, varying with the specific cultivar, and generally has a dense, soft, aqueous, and succulent consistency. The flesh also encases a central cavity filled with flat, tear-drop-shaped seeds encompassed in a gelatinous coating and suspended in stringy fibers. Khandalak melons release a musky, honeyed aroma when ripe. In Central Asia, it is said the melon variety can only be deemed ripe by its coloring. Khandalak melons with a golden rind are ready to be eaten, while melons with a green hue should be left to ripen for a few more days on the vine. Khandalak melons have a sweet, refreshing, and sugary taste.


Seasons/Availability

Khandalak melons are available in the late spring through early summer.


Current Facts

Khandalak melons, botanically classified as Cucumis melo Chandalak, are a Central Asian variety belonging to the Cucurbitaceae family. The melons grow on herbaceous vines and are favored for their sweet taste, juicy nature, and limited availability. The name Khandalak is a general descriptor for several early-season melon varieties grown throughout Uzbekistan and Tajikistan, and Khandalak is spelled with variations, including Khandallyak, Khandalyak, Chandalak, and Handalak. Khandalak-type melons ripen in the spring and generally mature 58 to 62 days after sowing. These early-season melons cannot withstand being shipped long distances and are primarily consumed in their growing regions rather than exported. Due to their delicate nature, Khandalak melons are cultivated in small quantities and are challenging to produce as they are susceptible to diseases. Despite their low quantities, Khandalak melons are one of the favored melons early in the season and are purchased by melon enthusiasts for their refreshing, sweet, and hydrating nature. In Central Asia, it is also said that the variety must be picked in the evening as the fruits are asleep in the morning and mid-day. After the heat of the day, the melons bear the best flavor and are harvested in the cool of the evening to lock the honeyed sweetness within the flesh.


Nutritional Value

Khandalak melons have not been extensively studied for their nutritional properties. Like other melons, they are a source of vitamin C to strengthen the immune system, fiber to regulate the digestive tract, and vitamin K to assist in faster wound healing. The melons also provide potassium to balance fluid levels within the body, vitamin A to maintain healthy organ functioning, and other nutrients, including folate, iron, calcium, phosphorus, B vitamins, manganese, and folic acid.


Applications

Khandalak melons have a sweet, aromatic taste suited for fresh and cooked preparations. The variety is traditionally consumed straight out of hand and is valued for its refreshing nature. The flesh is popularly mixed into fruit dishes, tossed into salads, or combined with fresh herbs and cheeses as an appetizer. Khandalak melons can also be served with cured meats, used as an edible topping for breakfast dishes, or served as a healthy dessert. In Uzbekistan, local farmers eat Khandalak melons with sliced bread or chill the flesh as a source of hydration on hot days. The melons can also be added to rice pilaf. In addition to fresh dishes, the melon variety can be simmered into marmalades, jams, and preserves or blended into juices and smoothies. It can also be dried into strips and eaten as a chewy snack, chopped and mixed into granola, or sliced and served as a topping over ice cream, desserts, or cereal. Beyond the flesh, some consumers choose to roast and salt melon seeds as a crunchy snack. Khandalak melons pair well with honey, cucumbers, other fruits such as blueberries, strawberries, and grapes, and dried fruits such as raisins. Whole, unwashed Khandalak melons should be immediately consumed once ripe for the best quality and flavor. Sliced portions of the melon will keep for 1 to 3 days when stored in a sealed container in the refrigerator.


Ethnic/Cultural Info

Khandalak melons are celebrated at an annual melon festival in Uzbekistan in the late summer or early fall. Kovun Sayli, also written as Kovun Soili, is an ancient gathering of melon farmers, or dehkans, who meet to discuss growing techniques and exchange seeds. This gathering encouraged the spread of knowledge surrounding melon cultivation and allowed farmers to find new varieties, learn new farming methods, and reignite their passion for melon production. Favored melon cultivars, such as Khandalak, were also exchanged between growers for increased production nationwide. Melons are an integral food and hydration source throughout Uzbekistan, and there is a famous saying roughly translated from Uzbek that states, "Melon makes cheeks ruddy, teeth stronger, hair silkier, and eyes younger." Over time, melons remained prominent throughout Uzbek culture, and Kovun Sayli evolved into a festival where growers would also invite family and friends to present their best melons at the event. The celebration expanded to large gatherings of visitors, and each year, melons are arranged in large piles to display their beauty and size. Along with sampling various melon varieties, modern-day Kovun Sayli events feature live music, dancing, and other entertainment, and at the end of the festival, growers return to their land to continue their melon production.


Geography/History

Khandalak melons are native to Central Asia and have been growing wild since ancient times. Much of the variety's history is unknown, but the melons are well-established in Uzbekistan, where they are produced as a delicacy. There are over 160 varieties of melons cultivated in Uzbekistan, and there are six central growing regions: Bukhara, Tashkent, Fergana, Khorezm, Samarkand, and South zones. Khandalak melons are found throughout these regions and are typically grown using restricted water to increase the flesh's sugar content. Khandalak melons are also cultivated in the Khatlon province of Tajikistan. Today Khandalak melons are prized for their limited availability, sweet flesh, and delicate nature. The melons are localized to their growing regions and are only seasonally sold through fresh markets and direct from growers. The Khandalak melons featured in the photograph above were sourced through the Central Market of Dushanbe in Tajikistan.