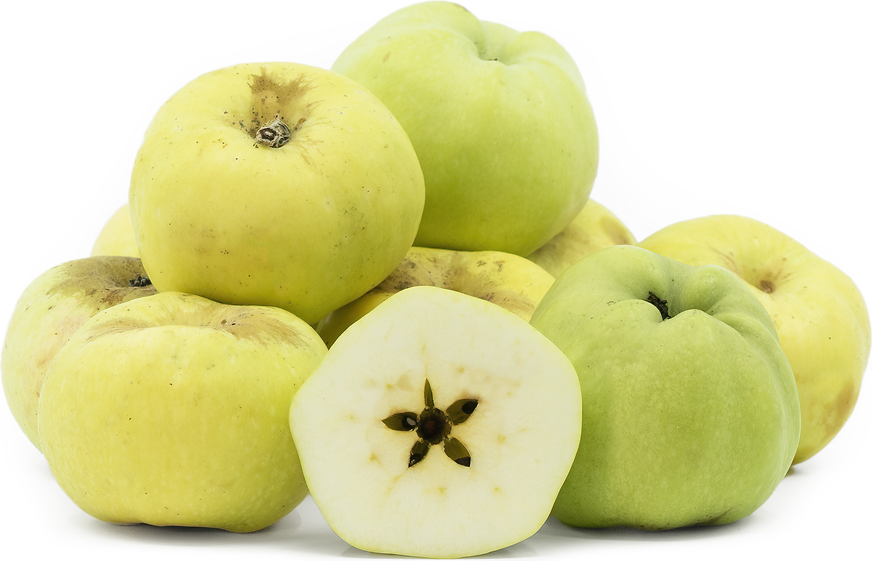 Calville Blanc d'Hiver Apples
Inventory, lb : 0
Description/Taste
Calville Blanc d'Hiver apples are a medium to large varietal with an irregularly oblate, angular, and flattened shape. The apples exhibit uneven ribbing giving the surface a lumpy appearance, with the most prominent ribbing found around the eye. The skin is thin, smooth, and taut, ranging in color from pale green, ivory, to yellow. The skin is also covered in grey-brown lenticels, patches of pale red-orange blush and striping, and has a dark brown, rough russet in the stem cavity cascading onto the apple's shoulders. Underneath the surface, the ivory to cream-colored flesh is fine-grained, firm, and tender with an effervescent quality. Calville Blanc d'Hiver apples are aromatic, and some consumers note a banana-like scent. The apples are initially tart with a biting acidity when freshly harvested. As the variety is kept in storage, the skin transitions into a golden yellow hue, and the flavor mellows, becoming sweeter with tangy, tropical, and spice-filled nuances.
Seasons/Availability
Calville Blanc d'Hiver apples are harvested in the fall and can be stored through the winter.
Current Facts
Calville Blanc d'Hiver apples, botanically classified as Malus domestica, are an heirloom variety belonging to the Rosaceae family. The rare apples are native to Europe and were one of France's most popular cooking apples in the 16th and 17th centuries. Calville Blanc d'Hiver apples translate from French to White Winter Calville and are known by several names, including Calville Blanc, Blanche de Zurich, and Calleville. Historically, the variety was favored by estate growers for the tree's vigorous nature and ability to produce large crops. Over time, the Calville Blanc d'Hiver apples were replaced by modern varieties in orchards due to their susceptibility to disease and tendency to drop their fruits prematurely. Despite their widespread disappearance, Calville Blanc d'Hiver apples are still grown on a small-scale through apple enthusiasts and specialty farms throughout Europe and the United States in the present. The apples are highly favored for their sweet-tart, subtly spiced nature and dense, fine-grained flesh, holding their shape in baked goods, sauces, and other dessert preparations.
Nutritional Value
Calville Blanc d'Hiver apples are a source of vitamin C to strengthen the immune system, fiber to regulate the digestive tract, and potassium to balance fluid levels within the body. The apples also provide some vitamin A to maintain healthy organ functioning, antioxidants to protect the cells against free radical damage, vitamin E to reduce inflammation, calcium to build strong bones and teeth, copper to develop connective tissues, and lower amounts of manganese, iron, vitamin K, zinc, phosphorus, and boron.
Applications
Calville Blanc d'Hiver apples have an acidic, subtly sweet, and spice-filled flavor suited for fresh and cooked preparations. The apples were once consumed as a dessert variety, eaten out of hand as a sweet and tangy snack, but the variety must be stored for at least a month before it is ready for fresh eating. Calville Blanc d'Hiver apples can be chopped into salads, shredded into slaws, or used as a tart component on appetizer platters served with soft cheeses and nuts. The variety can also be blended into smoothies, dipped into nut butter, or layered in sandwiches. In addition to fresh preparations, Calville Blanc d'Hiver apples are most popularly utilized as a cooking apple. The variety holds its shape well when heated, allowing it to be sliced into pies, tarts, and tarte tatin, France's famous upside-down tart, also known as tarte aux pommes. Calville Blanc d'Hiver apples can be baked into bread, muffins, scones, and dumplings or stuffed, wrapped in pastry, and baked whole. Beyond baking, Calville Blanc d'Hiver apples can be cooked down into sharp, textured puree and are also used for sauces, jams, and jellies. In France, Calville Blanc d'Hiver apples are still prominent in restaurants throughout the country and are considered one of the favored cooking apples for culinary preparations. The variety is also used to add acidity and aroma to cider blends or infused into cider vinegar. Calville Blanc d'Hiver apples pair well with herbs such as basil, parsley, mint, and rosemary, spices including cinnamon, cloves, nutmeg, and ginger, vanilla, maple syrup, chocolate, and nuts such as pecans, almonds, and walnuts. Whole, unwashed Calville Blanc d'Hiver apples will keep for 1 to 5 months in proper cold storage. The apples develop their best flavor after about one month of storage and can be kept in the refrigerator's crisper drawer.
Ethnic/Cultural Info
Calville Blanc d'Hiver apples were featured in several still life paintings created by impressionist painter Claude Monet. The French artist was renowned for his ability to paint subjects in nature and often depicted the same scene in his works with different lighting at various points in the day and during different seasons. Monet was the first painter to develop the style known as impressionism, which was a term taken from his painting title, "Impression, Soleil Levant," meaning "Impression, Sunrise," in 1874. In 1879, Monet painted three still life works known as "Apples and Grapes." The paintings depict a basket of red and green apples intermixed with black grapes sitting on a table. There are prominent yellow-green apples in each painting that are lightly blushed with orange and red hues, and the apples are characteristically ridged and angular, a defining feature of Calville Blanc d'Hiver apples. Monet's stepdaughter Marthe Hoschede recorded notes surrounding Monet's still life pieces, mentioning that he began working on these pieces when a period of bad weather forced the artist to work indoors. Monet completed the three tabletop still life paintings using oil on canvas, and the paintings are famous for their detail, complexity, and depiction of shadows and light.
Geography/History
Calville Blanc d'Hiver apples are native to Europe and are an heirloom variety first documented in the late 16th century. Much of the apple's history is unknown, with only a few written accounts pointing to two main sites of possible origin. In 1598, Swiss botanist Jean Bauhin labeled the variety as the Blanche de Zurich in his "Historia fontis et balnei Bollensis," referring to Switzerland as the apple's site of origin. French pomologist Andre Leroy, in his "Dictionnaire de Pomologie: Pommes," in 1873, also supported this theory of Swiss origins in the Zurich region. In 1628, French botanist Le Lectier changed the variety's name to Calville Blanc d'Hiiver in his "Catalogue," naming the apple after a commune in the Normandy region of northwestern France. Experts thought that Lectier chose the name as the variety was prevalent in the Normandy region at the time. Calville Blanc d'Hiver apples were notably planted in the estate gardens of King Louis XIII. Le Lectier, the king's procurer, planted the variety in the gardens of the king's residence in Orleans, a city in north-central France. Calville Blanc d'Hiver apples were grown throughout France, Switzerland, and Germany as a favored cooking apple in the 16th and 17th centuries. By the 18th century, the variety had been introduced to the New World, where it was planted in Thomas Jefferson's Monticello estate garden. Over time, Calville Blanc d'Hiver apples faded from popularity as modern apples with improved cultivation traits were planted in place of the disease-prone heirloom variety. Today Calville Blanc d'Hiver apples are a rare variety grown through select specialty orchards in Europe, the United Kingdom, and North America. They are also occasionally found in the gardens of apple enthusiasts. When in season, the apples are found in orchards and farmer's markets.
Recipe Ideas
Recipes that include Calville Blanc d'Hiver Apples. One

is easiest, three is harder.