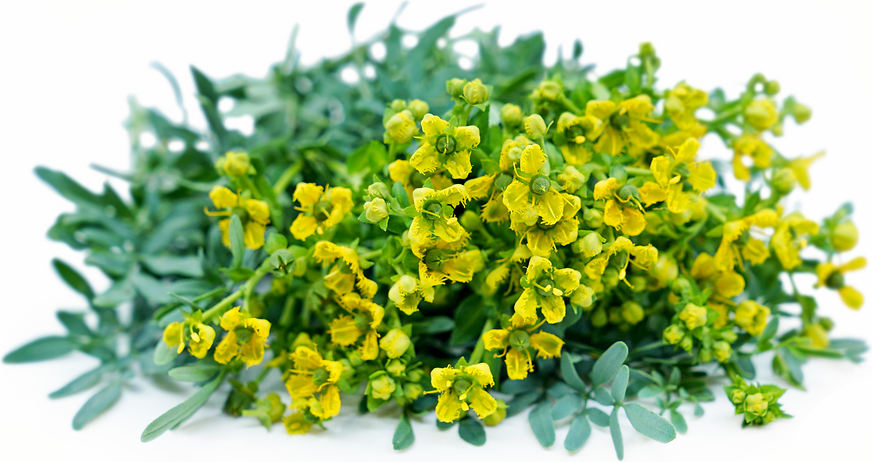 Rue Flowers
Inventory, lb : 0
Description/Taste

Rue flowers are small blooms, averaging less than three centimeters in diameter, and grow from upright stems on a shrub-like plant with blue-gray, elongated leaves. The bright yellow flowers contain up to five delicate and symmetrical petals, each separated from the others with frayed, curved edges, giving the flower a frilled appearance. Rue flowers also have a green center that will eventually form a pod if left to mature, and the pod will split, releasing several dark seeds. Rue plants are known for emitting a strong, acrid odor, and the flower buds have a bitter, astringent, and green flavor. Caution should be taken before consuming Rue flowers as the plant is considered toxic in large quantities. Consult an expert before ingesting any part of the Rue plant.


Seasons/Availability

Rue flowers are available in the late spring through summer.


Current Facts

Rue flowers, botanically classified as Ruta graveolens, grow on a small, perennial evergreen shrub that belongs to the Rutaceae family. The ancient plant is native to the Mediterranean and Western Asia, growing in poor soils throughout hot and dry climates. Rue plants have been traditionally incorporated into medicinal and culinary applications for thousands of years and were once a favored herb during the Roman empire. Historically, the young leaves were the primary element used from the plants, selected for their bitter flavor, but the unopened flower buds were also utilized on a smaller scale and were considered a delicacy. In the modern-day, Rue plants have faded from herbal popularity due to changing consumer palates. The bitter, pungent plant is primarily grown as an ornamental, used for its strong scent to naturally repel pests from gardens. Rue flowers are also used to attract beneficial pollinators such as butterflies and wasps. It is important to note that Rue plants secrete an oil that can cause photodermatitis on the skin when activated by sunlight. This allergic reaction can be caused by merely brushing the plant on a sunny day and has a response similar to poison ivy. Protective gloves and clothing should be worn when handling Rue plants.


Nutritional Value

Rue plants have been traditionally used in European folk medicine to aid in digestion, reduce symptoms associated with headaches, and increase circulation. The leaves were also historically believed to provide anti-inflammatory and antibacterial properties. Despite the herb's popularity in ancient times as a medicinal ingredient, the plant has fallen out of favor due to its potentially toxic nature. Consultation with a physician should always be conducted before using the plant for medicinal applications.


Applications

All parts of the Rue plant are considered toxic when ingested in large quantities, and it is vital to consult with an expert as every individual reacts differently to the plant. Rue flowers are used sparingly in culinary applications when the buds are unopened. In many Mediterranean cultures, the young leaves and flower buds are eaten in minimal quantities, sometimes only placing a leaf or two in culinary dishes to add a bitter and acrid flavor. If too much of the plant is consumed, it can cause extreme intestinal irritation. Rue flower buds can be incorporated into salads, finely chopped and added to seafood, minced and stirred into spreads and cheeses, or used to flavor sauces. They can also be cooked into eggs, used in pickled vegetable brine, mixed sparingly into gumbo, soups, and stews, or stirred into creamy casseroles. In addition to culinary preparations, Rue flowers are sometimes dried and steeped in boiling water with the leaves to make a tea. In Ethiopia, Rue flowers are occasionally dried with the leaves and used in home kitchens to make the national spice mix berbere. The leaves are also used to flavor traditional Ethiopian coffee. Rue flowers pair well with meats such as sausages, poultry, beef, and fish, rice, potatoes, leafy greens, and other herbs such as lovage, marjoram, and basil. Cut sprigs of the plant will keep up to one week when stored in a glass of water or wrapped in a damp paper towel and kept in a sealed plastic bag in the refrigerator.


Ethnic/Cultural Info

Europeans used rue flowers and leaves to ward off the plague during the 14th century. Fresh leaves were commonly scattered across the floors of homes, and ointments, oils, and pastes of dried leaves and flowers were applied topically to the skin. Experts believe the strong scent of Rue helped to deter pests such as fleas and rats, which were the primary carriers of the plague. Over time, Rue continued to be seen as a protective herb and was also historically used by the Roman Catholic church in the 16th century. Priests would take sprigs of the plant, dip it in holy water, and lightly shake the branches to sprinkle the water as a blessing over people, objects such as rosaries, and places. The practice of sprinkling holy water was a symbol of renouncing sin, and the Rue plant was once believed to have purifying and disinfecting properties, earning it the name Herb of Grace.


Geography/History

Rue plants are native to the Mediterranean and select regions of Western Asia, where they have been cultivated since ancient times. The hardy plants grow in many different soil types, including rocky, limestone, and sandy, and have aggressive tendencies, eventually escaping gardens and spreading naturally throughout Southern Europe. Rue plants have also been introduced into gardens in North America, Australia, Africa, Asia, and South America. The plants are sometimes considered an invasive weed in specific climates. Rue flowers are not sold commercially and are only available through home gardens and select specialty growers.