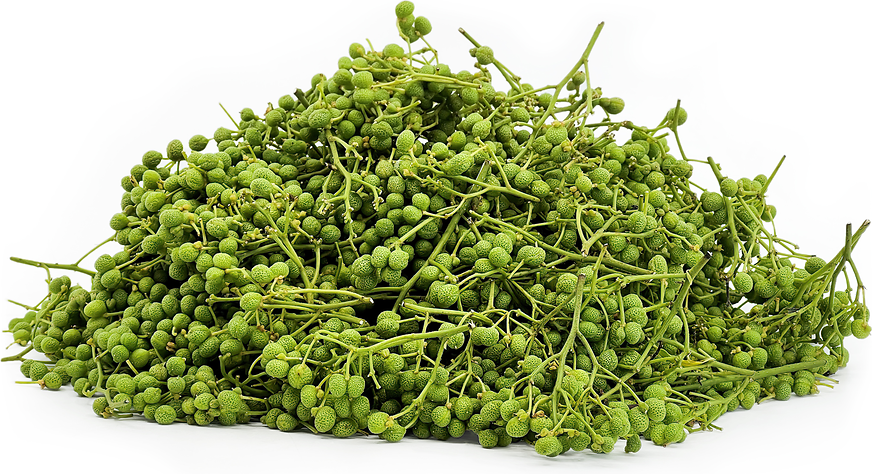 Sansho
Inventory, lb : 0
Description/Taste
Sansho grows in dense clusters of small fruits, similar to grape bunches, and the fruits have a round to oval shape, averaging 3 to 5 millimeters in diameter. Each fruit has a pale to lime green hue when young, eventually transitioning into shades of red and pink with maturity. The fruits also showcase smooth to bumpy, pocked skin, depending on ripeness, and the surface is generally taught, semi-thin, and firm. When young, Sansho fruits have a crisp and crunchy consistency, and as the fruits mature, they grow hard and tough, lessening in aroma and taste. Mature fruits will eventually split open, dispersing tiny black seeds. For culinary use, only fruits with a smooth and light green hue should be harvested. Look for fruits that are still attached to fresh, plump branches. Sansho is aromatic and has a pungent, peppery, and refreshing citrusy flavor. The fruits impart an immediate tingling to numbing sensation on the palate, similar to Sichuan peppercorns, and as the sensation slowly fades, a fruity and citrusy taste can be detected with nuances of lemon, citronella, yuzu, and mint.
Seasons/Availability
Sansho fruits are available in the late spring through early fall, with a peak season in May through July.
Current Facts
Sansho, botanically classified as Zanthoxylum piperitum, are the fruits of a deciduous tree belonging to the Rutaceae family. Sansho trees, also known as Prickly Ash trees, are small in size, reaching 3 to 4 meters in height, and the fruits, sometimes referred to as berries, grow in clusters throughout the wide-spreading canopy. The species is native to East Asia, and the fruits, leaves, and roots have been utilized in medicinal and culinary preparations since ancient times. Sansho translates from Japanese to mean "mountain pepper," and the fruits are also known as Japanese Pepper in English and Chopi in Korean. In Japan, Sansho fruits are valued for their peppery, tingly, and refreshing taste and are used as a robust condiment and spice. Dried, ground Sansho berries are considered one of the oldest spices utilized in Japanese cuisine, and there are four main varieties commercially produced, including Asakura, Budo, Takahara, and Kogen Sansho. In the modern day, Sansho fruits are harvested by hand from wild and domesticated trees and are a seasonal delicacy only available fresh for a few months each year.
Nutritional Value
Sansho fruits are a source of fiber to regulate the digestive tract, iron to develop the protein hemoglobin for oxygen transport through the bloodstream, calcium to build strong bones and teeth, and other nutrients, including B vitamins, potassium, vitamin A, and phosphorus. The fruits also provide sanshool, a compound responsible for the spicy, mouth-numbing sensation. This compound is also found in Sichuan peppercorns, another ingredient used in culinary preparations for its robust, piquant flavor. In natural medicines historically practiced throughout Asia, Sansho fruits were used as a digestive aid, consumed to warm the body to fight fevers and parasites. The fruits were also utilized as an antiseptic.
Applications
Sansho has a fruity, citrusy, and mouth-numbing taste suited for fresh, pickled, and dried preparations. The fruits are primarily used as a condiment and are popularly pickled with soy sauce. Pickled green Sansho fruits can be mixed into rice, mashed and spread on toast, or incorporated into dips and spreads. Sansho can also be simmered with soy sauce and dried sardines in a dish called Chirimen Sansho and used as a topping over rice. In addition to soy-sauce-based simmering, Sansho fruits can be infused into oils or liquors to impart their numbing flavor or used as a natural preservative for meat and fish. Beyond fresh preparations, Sansho is most notably dried and ground into a spice. This spice has been incorporated into Japanese recipes for centuries and is often served with mapo tofu, stews, soups, sushi, and eel dishes. Sansho spice can also be stirred into salt, simmered into sauces and marinades, or sprinkled over grilled meats and fresh cheeses. In Japan, chefs use Sansho spice beyond its traditional uses and incorporate it into various desserts, including cakes, chocolate, and custards. Sansho spice has also expanded outside of Asia, used as an experimental seasoning in KFC chicken specials and in French cuisine, added to foie gras. The two most famous preparations that incorporate Sansho spice are a seven-spice mix known as shichimi, sold commercially throughout Japan, and toso, a ceremonial Sansho-infused wine consumed during New Year celebrations. Whole, unwashed fresh Sansho should be immediately pickled, dried, or prepared for the best quality and flavor and will only keep for a few days when stored in a sealed container in the refrigerator. Sansho fruits can also be boiled and frozen for up to one year.
Ethnic/Cultural Info
Sansho is used in a well-known Japanese proverb to teach listeners about the importance of not underestimating people based on their size and stature. The saying goes, "Even though the fruits of Sansho are small, they are very spicy." This proverb is used throughout Japan to describe a small or slender person who is strong, sharp, and talented in nature. Often people may be underestimated due to their size, but like Sansho fruits, they can be powerful and punchy. Sansho was chosen for the subject of the proverb as it was a common ingredient seen throughout the prefectures in Japan, and many people are familiar with the fruit's spicy, tingly nature, further emphasizing the message of the saying.
Geography/History
Sansho is native to China, Japan, and parts of the southern Korean peninsula and has been growing wild since ancient times. Much of the history of Sansho is unknown, but one of the first records of the species dates back to the Jomon period in Japan, from 14,000 to 300 BCE when remnants of seeds were found in earthenware. Sansho was also recorded in Chinese texts in the 3rd century. Throughout history, Sansho was utilized in medicinal preparations in East Asia, and the fruits and young leaves were eventually used in culinary preparations, reaching large-scale cultivation in the 19th and 20th centuries. Sansho trees naturally grow along slopes, fields, and on mountainsides with well-draining soil and ample air circulation. The trees are also commercially produced, and in Japan, almost 80% of the fruits are grown and harvested in the Wakayama Prefecture, followed by Nara, Hyogo, and Kochi Prefectures. When in season, fresh Sansho fruits are sold through local markets and direct from farms and foragers in China, Korea, and Japan.
Recipe Ideas
Recipes that include Sansho. One

is easiest, three is harder.