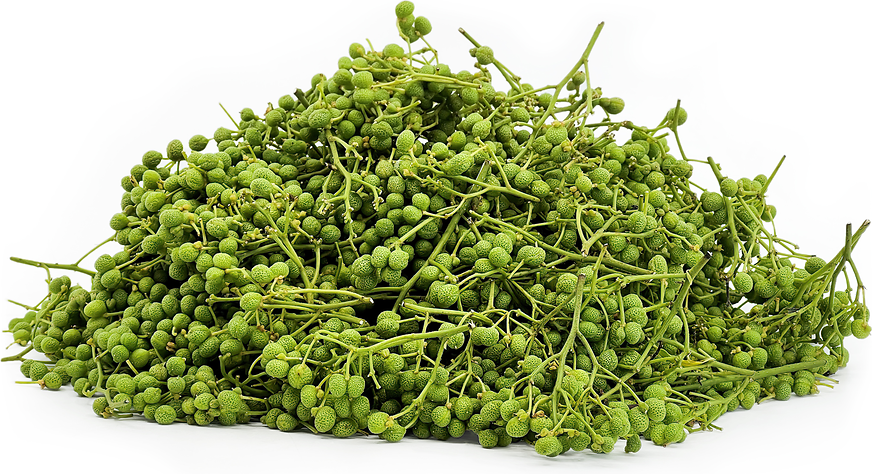 Sansho
Inventory, lb : 0
Description/Taste
Sansho are the berries of the Japanese prickly ash tree. Sansho berries have pocked, bumpy skin, and are vibrant green in color. They resemble a caper in size, measuring around 5mm in diameter each. Sansho berries have a strong, peppery, citrus flavor that has been compared to lemon, yuzu and grapefruit. When eaten, Sansho has a numbing, tingling effect on the tongue, akin to the Sichuan pepper. They should be eaten fresh in the late spring, before their seeds get too hard. Sansho berries grow on the prickly-stemmed Sansho tree, which bears serrated leaves that grow to around 15cm long. Sansho trees are relatively short, typically growing to just 3 meters tall, with a wide-spreading canopy.
Seasons/Availability
Fresh Sansho berries are available from late spring to early fall.
Current Facts
Sansho is a relative of the Sichuan pepper, and is botanically classified as Zanthoxylum piperitum, belonging to the Rutaceae or citrus family. The aromatic leaves, root and bark of the Sansho tree are all edible, but the name Sansho refers to the berri, specifically. Sansho is a ubiquitous part of Japanese culture, where its use is widespread, so much so that visitors to Japan often take home Sansho powder as a souvenir. Sansho powder is used to top any number of Japanese dishes, and is used in Japan's popular seven-spice mix, called shichimi togarashi. Sansho is also used in the ceremonial wine known as toso, drunk in Japan to celebrate the New Year. Sansho is catching on as an ingredient in other parts of the world, where it may be served with cheese or even foie gras. KFC has even used Sansho in a seasonal, limited-edition Shoyu Sansho Chicken.
Nutritional Value
Sansho berries contain oils including gerinol, which is useful as a natural insect repellant, dipentene and citral. Sansho contains sanshool, a molecule that makes the berries pungent and is responsible for the numbing effect on the tongue when eaten. Sansho also contains flavonoids, such as quercetin and hesperidin. Sansho is a rich source of vitamin A, calcium, phosphorous and potassium.
Applications
Sansho berries are most commonly dried, then ground to make Sansho spice. High-grade Sansho spice-makers will remove the seed of the berry, which can dilute the berry's citrus-like taste. The dried berry husks are then milled, producing a vivid greenpice. Sansho spice powder is an essential ingredient in Japan's seven-spice mix, shichimi, and is also served as a flavoring for eel, fish, grilled meats, fried dishes, and even sushi and ramen. Sansho may be used as a flavoring for broths and sauces, or used as an accompanying condiment for cheese and foie gras. Unripe Sansho berries can be pickled and eaten with soy sauce, and fresh Sansho berries can be used to infuse oils and soy sauce, or even to flavor liquor. Modern chefs in Tokyo are experimenting with Sansho and using it in desserts, such as chocolate-covered candied orange peels. Fresh Sansho should be stored in the refrigerator in an air-tight container. Sansho powder may be stored in the freezer.
Ethnic/Cultural Info
In China, Sansho has historically been used as an antiseptic and as a digestive aid that was thought to benefit the spleen and stomach. The spicy, warming herb was also used for intestinal parasites, colds, fevers, and as an anti-fungal. In Korea, the berries are used in temple food dishes, referring to vegetarian meals that are served in Buddhist temples, which aid meditative practices. In Japan, Sansho found favor as a cooking ingredient that could help remove strong odours from food, such as fish dishes. In fact, Sansho has been used as a condiment for grilled eel in Japan since the Heian era (794 to 1184). Sansho is used fresh mostly in the Kyoto region, where one may find dishes such as cooked tea leaves and Sansho, or even toast with olive oilpped with Sansho berries. Sansho is so known throughout the country that the Japanese have a saying that relates to Sansho: "Even if the seeds are small, they are very spicy." This refers to a person who might be small in stature, but who possesses a sharp, intelligent mind.
Geography/History
Sansho is native to China, Japan and Korea. Plants in the Zanthoxylum family have a scanty history, and the exact origins of Sansho remain unknown. However, Sansho grows wild in many areas of Japan, and documentation of Sansho there dates back to the Jon period (14,000 to 300 BCE). Large-scale Sansho farming began in Japan in the Meiji era (1868 to 1912). Today, most of Japan's Sansho is produced in the Wakayama area. Sansho has also been recorded in Chinese historical documents, which say it has been found in the wild since around the 3rd Century. The deciduous Sansho plant prefers loamy soil and full sun or semi-shade.
Recipe Ideas
Recipes that include Sansho. One

is easiest, three is harder.