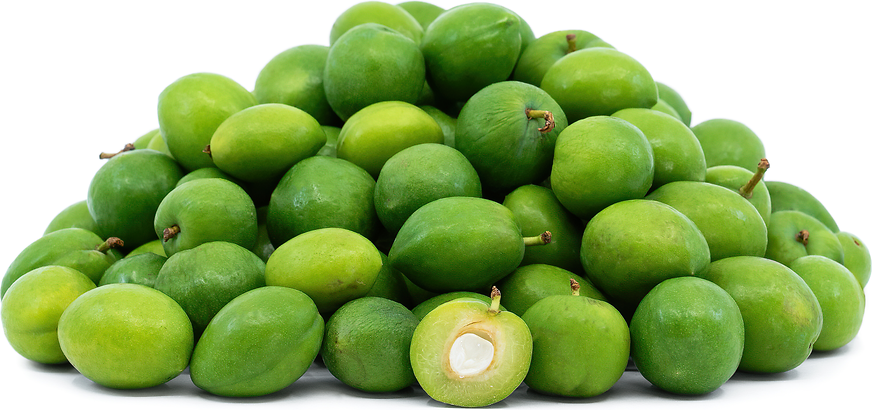 Ume Plums
Inventory, lb : 0
Description/Taste
Ume plums are small, averaging 2 to 3 centimeters in diameter, and have a round to oval shape featuring a prominent suture line extending from the stem cavity down to the pointed tip at the fruit's base. When young, the skin is firm, bright green, and smooth, and as it matures, the surface will develop a lightly fuzzy, matte coating, transitioning into a yellow hue with peach-colored blush. Underneath the skin, Ume plums are pale green to yellow, dense, dry, and crunchy. The plums are inedible and sour when young, known to cause indigestion if consumed, and mature plums are considered edible but not pleasant. Mature Ume plums have a very sour, astringent, and bitter flavor and are only consumed once fermented or pickled to develop a palatable taste. In addition to the fruits, the Ume tree also showcases small white, pink, to red blossoms in the early spring. The flowers average 2 to 3 centimeters in diameter and are highly favored for their showy nature and fragrant scent.
Seasons/Availability
Ume plums have a very short growing season, appearing in the early spring and ripening in the late spring through the beginning of summer.
Current Facts
Ume plums, botanically classified as Prunus mume, are small sour fruits belonging to the Rosaceae family. The fruits grow on large deciduous trees that can reach up to 10 meters in height and are widely cultivated throughout Asia and the Middle East. Ume plums are referred to as plums in commercial markets, but the fruits are actually closely related to apricots. The plums are a seasonal fruit that is highly favored for pickling, fermenting, and cooking. In addition to the fruits, Ume plum trees are valued for their delicate blossoms that appear at the end of winter, a colorful display signifying that winter is ending and spring is coming.
Nutritional Value
Ume plums contain very few vitamins and minerals when raw. However, when pickled, the plums provide potassium to balance fluid levels within the body, fiber to regulate the digestive tract, and lower amounts of manganese and vitamins B1 and B2. In some eastern medicinal philosophies, Ume plums are believed to contribute an alkalinizing effect on the body, neutralizing fatigue, stimulating digestion, and promoting the elimination of toxins.
Applications
Ume plums are not recommended to be eaten raw as the fruits contain an unpalatable flavor and can upset the stomach if unripe. The fruits are customarily pickled, fermented, or cooked and are widely utilized throughout Asia. In Japan, Ume plums are incorporated into umeshu, a sweet plum wine. The fruits are fermented in sugar mixed with the Japanese liquor shochu, and after one year of fermenting, the liqueur is extracted and consumed as an aromatic drink. Ume plums can also be simmered into jams or cooked into syrup, used for sparkling beverages and dessert filling. In addition to beverages and sweets, Ume plums are most popularly pickled in a process known as umeboshi. The fruits can be stored in salt and left to develop a softer texture and tangy-sweet flavor. The pickled plums can be consumed as a snack, condiment, shredded into soups, or used as a garnish to impart a sour taste to rice, pasta, and other dishes. From the umeboshi, the liquid surrounding the pickled plums can be incorporated into a plum vinegar, frequently mixed into salad dressing, sauces, pastes, and lightly drizzled over sushi. In Japan, Ume is such a famous flavoring that many commercial ice cream, pastries, jams, and teas try to capture the pickled plum's flavor. Ume plums add a salty umami essence into dishes and pair well with strawberries, coconut, squash, cucumber, maple syrup, ginger, meats such as poultry, beef, and pork, and blue cheese. Whole, unwashed Ume plums should be immediately processed to preserve the fruit. Once fermented or pickled, the wrinkled fruits will keep for several years when stored in a cool, dry, and dark place away from direct sunlight.
Ethnic/Cultural Info
Umeboshi is a traditional food in Japan, celebrated for its nutritional and antibacterial properties, and the dried plums have been prepared since the Middle Ages. To make umeboshi, Ume plums are layered in salt or pickled in brine and are sometimes combined with shiso leaves for added coloring. Once the plums have been immersed in the brine for the desired period of time, they are left to dry in the sun, developing a concentrated flavor. The name umeboshi is derived from "ume," meaning "plum" and "boshi," translating from Japanese to mean "dry." The sour, salty, and subtly sweet plums are an acquired taste and have historically been served with onigiri or Japanese rice balls, sushi, tea, or in bento boxes. Legend has it that samurais would consume umeboshi in the belief that the dried plums would prevent fatigue to allow the warriors to serve for longer periods of time. The plums were also consumed to aid in digestion and protect against common illnesses. In the modern-day, Minabe, a town in the Wakayama prefecture in Japan, is the top producing region for umeboshi in Japan. The town offers seasonal tours and overnight experiences for visitors to learn about umeboshi production. Some experiences also allow visitors to make their own umeboshi, or they can purchase premade jars as souvenirs.
Geography/History
Ume plums are native to mountainous areas of Southwestern China, specifically near the Yangtze River by Sichuan, and have been growing wild since ancient times. The plums were later spread to Japan, Korea, Vietnam, and Taiwan, where they were widely cultivated, and the oldest Japanese record of pickling Ume plums is in a medical text written about 1000 years ago. Today Ume plums are still prevalent throughout Asia and are also found in the Middle East and temperate climates worldwide, including the United States. Fresh Ume plums are sold through farmer's markets, specialty distributors, and Korean, Chinese, and Japanese markets. Pickled Ume plums can be found through local markets and online retailers.
Recipe Ideas
Recipes that include Ume Plums. One

is easiest, three is harder.
Podcasts