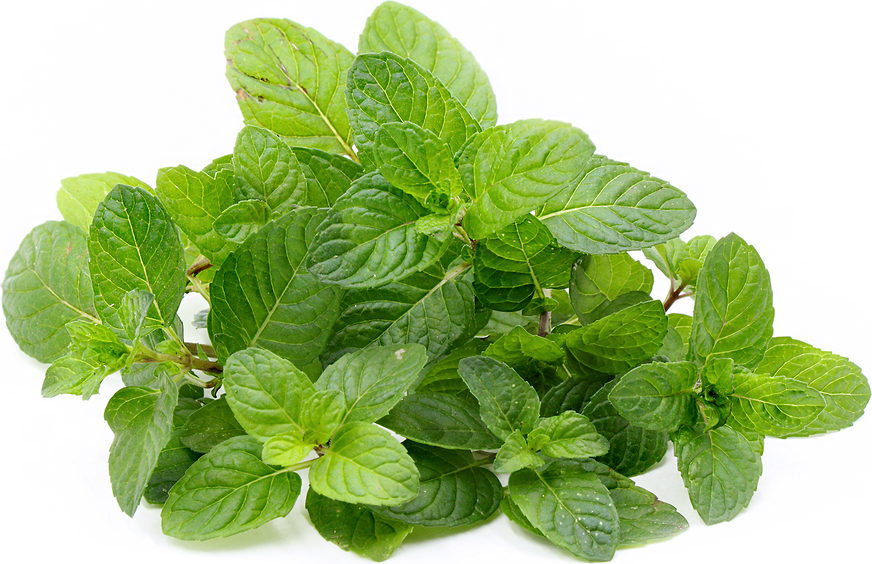 Berries and Cream Mint
Inventory, bunch : 0
Description/Taste
Berries and Cream mint is a vigorous, compact perennial herb that reaches about 40 to 60 centimeters tall and 30 to 40 centimeters wide. The plant has small, dark-green, blunt, ovate-shaped leaves that grow to about 2 to 3 centimeters in length, and it produces tightly-clustered spikes of mauve flowers in late summer. The leaves offer a mild, fruity menthol aroma and a minty, sweet yet subtle berry-like flavor.
Seasons/Availability
Berries and Cream mint is available in the summer.
Current Facts
Berries and Cream mint is a hybrid variety in the Mentha genus of the Lamiaceae or mint family. It is one of a handful of named varieties hybridized by renowned mint breeder Jim Westerfield, who by the time of his death in 2013 had created over 60 different mints. Like all of Westerfield's creations, Berries and Cream mint is considered a culinary variety as Westerfield prioritized unique flavors—from notes of berry to hazelnut and oregano to thyme—over more commercially-favored traits, like higher essential oil content or better disease resistance.
Nutritional Value
Like other mint varieties, Berries and Cream mint is a decent source of fiber, iron, potassium, magnesium, calcium, phosphorus, and vitamins A and C. Mint is a rich source of antioxidants and is also known to contain antimicrobial properties. Essential oil from mint is often used in aromatherapy, as well as in commercial products. Fresh or dried mint leaves have long been used medicinally and can be steeped in hot water as a tea to alleviate nausea or stomach aches.
Applications
Berries and Cream mint leaves are best used fresh and young when they are most tender and flavorful. Their fruity scent and taste make them a perfect garnish for fruit dishes and summer cocktails, like mint juleps or mojitos, and they can even be used in potpourri. Blend leaves into fruit smoothies, steep in hot water to make tea, or finely chop for use in sauces or drizzles for ice cream and desserts. You can even use Berries and Cream mint to add a mild, fruity mint flavor to baked goods like chocolate chip cookies or muffins. Mint can be added to savory dishes and is known for complimenting lamb, beef, cucumber, green onion, avocado, pistachio, basil, oregano, and thyme. Note that it is best to add mint leaves toward the end of cooking to retain the most flavor. As the name implies, Berries and Cream mint also pairs nicely with both berries and cream, as well as figs, dates, chocolate, jelly or jam, melon, and goat or feta cheese. To store, trim the ends and place the mint in a glass with about three centimeters of water and store as-is at room temperature for about a week, or cover the leaves with a loose-fitting plastic bag and refrigerate for up to two or three weeks. You can also wrap mint leaves in slightly damp paper towels, place them in a zip-top bag without fully sealing, and refrigerate for up to three weeks. Additionally, Berries and Cream mint can be dried or frozen, either in ice cubes or using a baking sheet to prolong its use.
Ethnic/Cultural Info
Berries and Cream mint was created by culinary gardener and amateur botanist Jim Westerfield, who experimented with many uniquely-flavored mint varieties at the Westerfield House, a bed and breakfast in the farmlands of Illinois that he ran with his wife before their retirement. His favorite, and his only patented variety, is called Hilary's sweet lemon mint, which arose from a cross between apple and lime mint after seven years of experimentation. It was named for the First Lady at the time, Hilary Clinton, and was actually delivered to the White House in 1993 by Illinois Representative Jerry Costello, who was a regular at the Westerfield House. The First Lady extended her gratitude for the gift in a letter to Westerfield, and the mint was subsequently planted in the White House Garden.
Geography/History
Berries and Cream mint is a hybrid variety created by James Westerfield of Illinois and was introduced around 2003. Mint plants are known for taking over garden beds and lawns, and they readily cross with other mints, hence there are hundreds of mint varieties around the world. Westerfield took advantage of mint's naturally promiscuous habit to create new and exciting hybrid mints, many of which emerged after years of experimenting. Berries and Cream mint grows best in temperate climates and is recommended for planting in a container as they can otherwise run away and become difficult to remove once established in a garden. Berries and Cream mint is a rare variety sold through a few select seed companies and is most likely found in home gardens or specialty markets.
Podcast