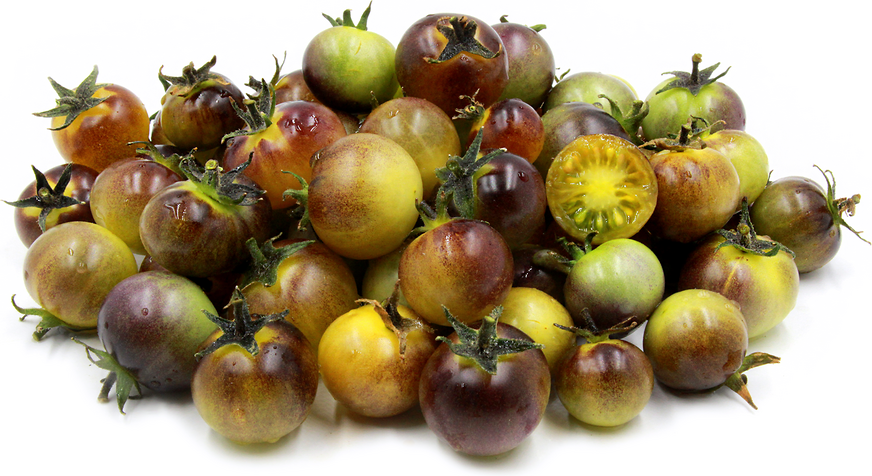 Indigo Cream Berries Cherry Tomatoes
Inventory, bskt : 0
Description/Taste
Indigo Cream Berries cherry tomatoes are cream colored with deep-purple shoulders, and they are known to be sunburn and crack-resistant. They have a complex super-sweet tomato flavor and fairly low acidity. The plants are an indeterminate variety, meaning that they will grow vertically, often requiring staking, and they produce fruit right up until frost. Indigo Cream Berries cherry tomato plants are extremely productive and the fruit holds up well on the plant once ripened, and they even have an impressive shelf life once picked. Blue tomato varieties, like the Indigo Cream Berries, are best harvested when they are very ripe because allowing proper time to develop the sugars and acids will result in the best flavor. As a broad rule, once the fruit looks ripe, leave it for a few more days before picking it from the vine. As the purple color only develops where the skin is exposed to the sun, another good way to check the ripeness is to look at the very bottom of the tomato to see if the skin indicates a ripened interior flesh color.
Seasons/Availability
Indigo Cream Berries cherry tomatoes are available midsummer.
Current Facts
Indigo Cream Berries cherry tomatoes are a created heirloom variety. They were specifically bred using heirloom genetics and mutations as a foundation, with a focus on combining unusual and attractive color, traditional beloved heirloom tomato flavor, and antioxidant properties, all of which has made blue tomatoes like the Indigo Cream Berries unique and popular in the market place. Like all tomatoes, Indigo Cream Berries cherry tomatoes are members of the nightshade family. Tomatoes are botanically referred to as Lycopersicon esculentum, although modern evidence is promoting a return to the original classification, Solanum lycopersicum. Indigo Cream Berries cherry tomatoes may also be known as Indigo Amethyst Cream cherry tomatoes.
Nutritional Value
Indigo Cream Berries cherry tomatoes are of course known to have high levels of anthocyanin, a naturally occurring antioxidant found also in blueberries, which reveals itself in the tomato's vibrant purple pigmentation. Research suggests that anthocyanins have strong healing properties and may have disease-fighting compounds that could help fight cancer, reduce inflammation, and slow the aging process. In addition, tomatoes are rich in vitamin C, and they also contain vitamins B and A. They are a good source of calcium and iron, and have decent amounts of phosphorus, sulfur, and potassium. Tomatoes are also known for their concentration of lycopene, yet another naturally occurring antioxidant being studied for its ability to combat certain types of cancer.
Applications
Indigo Cream Berries cherry tomatoes make a beautiful topper for salads, and their candy-sweet flavor lends to fresh eating as-is, or even in a fresh salsa. However, they can also replace cherry tomatoes in any recipe, hot or cold, and can even be cooked and processed to make compotes and jams. Like other cherry tomato varieties, they pair well with citrus, especially lemon and lime, mild and bitter salad greens, olive oil, vinaigrettes, young and milky cheeses, eggs, cream, hazelnuts, pine nuts, avocados, basil, pineapple, mint, cilantro, scallops, shrimp, crab, fish, and grilled or roasted meats and poultry. Store Indigo Cream Berries cherry tomatoes at room temperature until ripe, after which refrigeration can be used to slow the process of decay. Before serving raw, allow the chilled tomatoes to sit out and reach room temperature.
Ethnic/Cultural Info
Indigo Cream Berries cherry tomatoes are in the Indigo series, which is a class of open-pollinated and hybrid tomatoes that are bred not only for their great flavor, but also for their high levels of anthocyanin, a powerful antioxidant with disease fighting properties. Dr. Jim Myers of Oregon State University pioneered this class of tomato with the Indigo Rose, which hit the market in 2011. Oregon State University and other independent breeders, notably Brad Gates of Wild Boar Farms, who developed the Indigo Cream Berries variety and is known in the California Bay Area as "the tomato guy", have since developed several other cultivars in the Indigo series such as Indigo blue beauty and Indigo blue berries cherry tomatoes.
Geography/History
Indigo Cream Berries cherry tomatoes were developed by Brad Gates and released in 2014 by Wild Boar Farms. Blue tomato varieties are known to perform exceptionally well for home and market gardeners, even in slightly more challenging climates. Like many tomatoes, they require full sun and moderate water.
Podcast