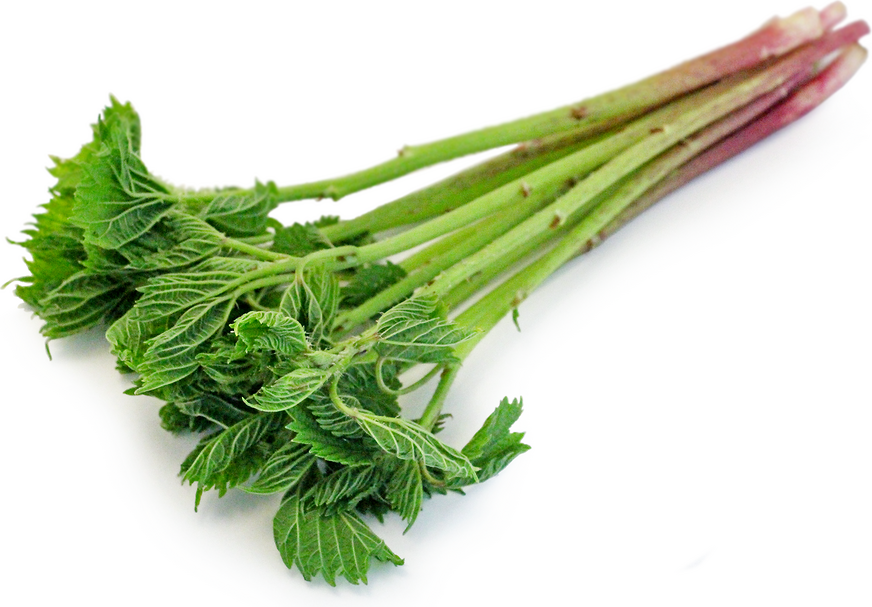 Miyamairakusa
Inventory, lb : 0
Description/Taste
Miyamairakusa is a wild plant comprised of upright, slender stems topped with small oval to cordate-shaped leaves that taper to a point. The stems are fibrous, fleshy, and elongated, averaging 40 to 80 centimeters in height, and are generally pale green, darkening into a maroon hue at the stem's base. The leaves average 6 to 15 centimeters in length and are broad, textured, and dark green with prominent veining and deeply toothed or serrated edges. It is important to note that Miyamairakusa stems and leaves are covered in thorns and fine, sharp spines that will irritate on contact. The stinging spines contain histamines and acetylcholine, chemicals that create a burning and itching sensation that can last for several hours. Gloves must be worn when harvesting or handling raw Miyamairakusa. It is also of note that the stems and leaves must be cooked before consumption, as heat removes the irritating spines and thorns. Cooked Miyamairakusa develops a crisp, chewy, and somewhat tender consistency and a subtly sweet, earthy, and mild vegetal flavor.
Seasons/Availability
Miyamairakusa is available in the early spring.
Current Facts
Miyamairakusa, botanically classified as Laportea cuspidata, is an herbaceous plant belonging to the Urticaceae family. The perennial grows in small, upright clusters reaching 90 to 100 centimeters in height and is a type of wood nettle native to eastern Asia. Miyamairakusa is the Japanese name for the plant, with "miyami" meaning "deep mountain" and "irakusa" meaning "stinging plant." The leafy stems are also known as Ai Ma and Laortea Ai Mai in Chinese, Keun Sswae Gi Pul in Korean, Aitake, Miyama Urticaceae, and Aiko. In Japan, the plants are nicknamed the "Queen of Wild Vegetables" for their lack of bitterness, a trait common in other Japanese mountain vegetables, and is seasonally sought after for its young stems and leaves. Miyamairakusa is a wild, foraged green gathered for a few weeks in the spring. The plants are not commercially cultivated and are a seasonal delicacy utilized in cooked preparations. The young stems are the preferred portion of the plant for culinary dishes, but the leaves are also used as a secondary ingredient. Miyamairakusa is favored for its mild flavor, crisp texture, and high nutritional properties.
Nutritional Value
Miyamairakusa stems and leaves are a source of vitamin E to protect the cells against free radical damage, vitamin A to maintain healthy organ functioning, and vitamin C to strengthen the immune system while reducing inflammation. The greens also provide iron to develop the protein hemoglobin for oxygen transport through the bloodstream and calcium to build strong bones and teeth. Beyond nutritional content, Miyamairakusa has been utilized in traditional eastern medicines to reduce muscle and joint pain and arthritis symptoms. The plants are believed to have anti-inflammatory properties, used to lessen pain in the body.
Applications
Miyamairakusa has a mild, earthy, and vegetal flavor suited for various cooked preparations. The stems and leaves must be cooked before consumption to neutralize their stinging spines and are typically boiled in hot water. The skin of the stems is also often peeled after softening in the boiling water. If contact with the irritating spines occurs, the area should be cleaned under running water and rubbed with a mixture of baking soda and water, vinegar, or slices of the plant's root. Miyamairakusa has a flavor similar to spinach, and the stems are the preferred portion of the plant for recipes. The stems can be boiled and fried into tempura, tossed into soups and stews, stir-fried with other vegetables, or boiled and served as a side dish. In Japan, Miyamairakusa is prepared seasonally in karashi-ae, a dish of boiled stems coated in a soy sauce and mustard dressing, and ohitashi, vegetables steeped in a dashi broth. The stems can also be pickled as a tangy condiment. In addition to the stems, the leaves are sometimes utilized in preparations and are valued for their nutritional content. The leaves are stirred into soups, especially miso, cooked into omelets, blended into sauces such as pesto, or sauteed as a simple green. Chopped leaves and stems can also be steeped into a tea, and dried plants can be ground into a powder and consumed as a dietary supplement. Miyamairakusa pairs well with flavorings such as soy sauce, miso, vinegar, mustard, mayonnaise, and broths, sesame seeds, peanuts, walnuts, meats such as beef, poultry, and pork, tofu, and bonito flakes. Miyamairakusa will keep for 7 to 10 days when wrapped in paper towels or newspaper and stored in the refrigerator's crisper drawer. The leaves and stems can also be blanched and frozen for extended use.
Ethnic/Cultural Info
Miyamairakusa is a wild mountain vegetable used by the Ainu, an indigenous people group residing in Hokkaido, Japan's northernmost island. The plant is known as Aiko among the Ainu, a moniker derived from "ai," meaning "stab," and "ko," representing a locally used nickname. The Ainu traditionally uses Aiko stems to make fibers for weaving rope, cloth, and paper. The Ainu harvest the stems, soak them in water, stretch them by hand, and scrape the surface until the fiber is extracted. The strands of fiber are often separated using a fingernail, illustrating their narrow nature, and each strand is left to air dry to create the threads for weaving into various items. Historically, gathering Aiko stems was difficult as the sharp spines often gave foragers many skin irritations, and wild insects would hover and bite. Aiko fibers were made into various mats, clothing, rope, and other materials and were a staple fiber for the Ainu people. The fibers produced sturdy material favored for daily survival purposes, but its texture never became a valued product in the luxury textile market. Despite the fiber's past popularity, the practice of making textiles from Aiko has faded from everyday life and has almost disappeared completely, remaining a localizing tradition to a few elders in the people group.
Geography/History
Miyamairakusa is native to eastern Asia, spanning across forests of Japan, Central and South China, South Korea, Myanmar, and Tibet. The wild plants thrive deep in the mountains and are typically foraged alongside damp, shaded hillsides, swamps, forest undergrowth, and along forest edges. Miyamairakusa has been naturally growing since ancient times and is an easy-to-harvest plant, traditionally gathered in the spring as a delicacy. The species has not been commercially cultivated and has remained localized to its native growing regions. Today Miramairakusa is foraged from areas of the Kyushu, Honshu, Hokkaido, and Shikoku Prefectures in Japan and Chinese provinces, including Yunnan, Sichuan, Yunnan, Guizhou, Hubei, and Guanxi. The plants are also gathered in their other native regions of Myanmar, Tibet, Japan, and South Korea and are sold through local markets.
Recipe Ideas
Recipes that include Miyamairakusa. One

is easiest, three is harder.