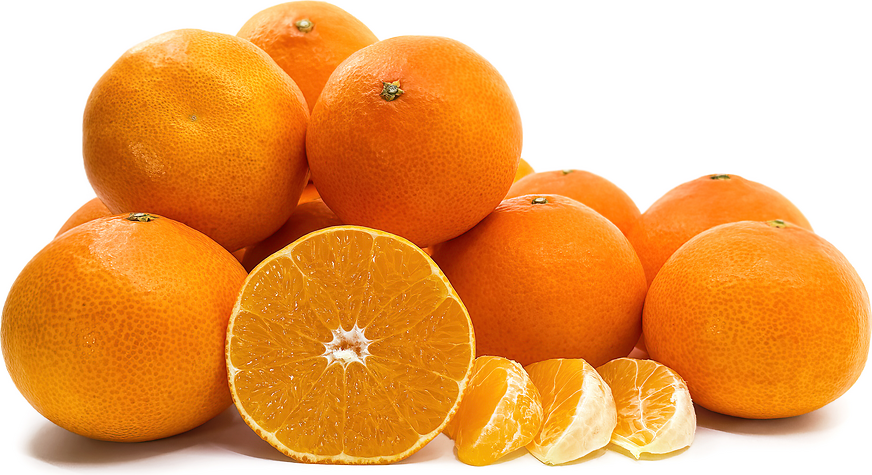 Amakusa Oranges
Inventory, lb : 0
Description/Taste

Amakusa oranges are a medium to large varietal, averaging 7 to 9 centimeters in diameter, and have a round to oblate shape with a slightly flattened appearance tapering to a small point on the stem end. The orange's skin is dark orange, sometimes blushed with red hues, and is thin, glossy, and smooth, covered in oil glands creating a pebbled texture. Despite the fruit's thin skin, the rind is tightly adhered to the flesh, making it difficult to peel by hand. The orange flesh is divided by thin, barely noticeable membranes into 10 to 11 segments and has an aqueous, soft, tender, and succulent consistency. The flesh is also seedless with a semi-hollow, pithy center. Amakusa oranges should feel heavy for their size and release a faint, citrusy fragrance when sliced. The flesh has a high sugar content and low acidity, creating a sweet, subtly tangy, and refreshing flavor.


Seasons/Availability

Amakusa oranges grown in greenhouses are available in the early winter, while open-air fruits are available in the mid to late winter.


Current Facts

Amakusa oranges, botanically classified as Citrus reticulata x sinensis, are a hybrid variety belonging to the Rutaceae or citrus family. The early-season cultivar was developed in the late 20th century and is a hybrid of a sweet orange and mandarin orange, grouping it as a type of tangor. Amakusa oranges were bred to be an improved citrus variety and were selected for their thin skin, soft flesh, and high juice and sugar content. The cultivar is named after the Amakusa Islands, a grouping of islands that could be seen from the Kuchinotsu Fruit Tree Research Station, the orange's original creation site in Minamishimabara City in the Nagasaki Prefecture. Amakusa translates to "heaven's grass" and was given to the islands for their natural beauty and hilly terrain. In the modern-day, Amakusa oranges are cultivated throughout Japan as a specialty citrus, and the fruits are traditionally given as gifts, produced under rigorous standards to ensure consistent quality and flavor.


Nutritional Value

Amakusa oranges are an excellent source of potassium to balance fluid levels in the body, fiber to regulate the digestive tract, and vitamin C to strengthen the immune system while boosting collagen production within the skin. The oranges also contain calcium to build strong bones and teeth, vitamin A to maintain healthy organ functioning, antioxidants to protect the cells against the damage caused by free radicals, and other amounts of copper, folate, zinc, and iron.


Applications

Amakusa oranges have a sweet, subtly tangy flavor well suited for fresh preparations. The oranges have thin skin tightly adhered to the flesh, making them challenging to peel by hand. It is recommended to slice the oranges rather than peeling, and the membranes around the segments do not need to be removed as they are very thin and are unnoticeable when consumed. Amakusa oranges are juicy, preferred as a fresh eating variety, and can be tossed into salads, mixed into fruit bowls, or layered into parfaits. The oranges can also be used as a fresh topping over smoothie bowls, ice cream, or cakes. In addition to the flesh, Amakusa oranges can be pressed into juices, cocktails, and carbonated beverages or simmered into jams, marmalades, sauces, and glazes. The fruits can also be zested to add a bright flavor on roasted vegetables or used to flavor baked goods and other desserts. Amakusa oranges pair well with vanilla, chocolate, caramel, fruits such as strawberries, blueberries, mangoes, bananas, and pineapple, and spices including cardamom, coriander, thyme, ginger, and cumin. Whole, unpeeled Amakusa oranges will keep 5 to 7 days when stored in a plastic bag in the refrigerator's crisper drawer.


Ethnic/Cultural Info

Amakusa oranges are sold under the premium brand name Miko, specifically cultivated oranges in Kitsuki City of the Oita Prefecture. The oranges are grown in climate-controlled greenhouses and are measured against strict standards and cultivation requirements to develop a sweet and juicy, high-end citrus. Kitsuki City is known for its warm climate and has a reputation for producing quality citrus. When Amakusa oranges are harvested from the Kitsuki City greenhouses, they are scanned with an optical sensor to detect the sugar and acidity levels. Oranges that meet the standard requirements, established by the Oita Central Citrus Horticultural Agricultural Cooperative Association, are renamed as Miko oranges and are sold under the brand name as a mark of quality. Miko is derived from the word "biko," meaning "innocent, raw daughter" in an Oita Prefecture dialect. Beyond Miko, Amakusa oranges are also known under the brand names Amasan in the Okinawa Prefecture and Benikaori in the Nagasaki Prefecture.


Geography/History

Amakusa oranges were developed at the Kuchinotsu Fruit Tree Research Station in Minamishimabara City of the Nagasaki Prefecture. The variety was created from a cross between an okitsu satsuma mandarin and kiyomi tangoru, and the product of that cross was then crossed with a page tangerine in 1982. The seedlings began bearing fruit in 1987 and were sent to other research stations for trials and studies for several years. The new cultivar was named Amakusa in 1993 and was registered as an official variety with the Ministry of Agriculture, Forestry, and Fisheries in 1995. Today Amakusa oranges are mainly grown in the Ehime Prefecture, producing almost half of the Amakusa oranges sold in commercial markets. The variety is also grown in the Oita, Nagasaki, Saga, Okinawa, and Kyushu Prefectures, sold domestically and exported to Southeast Asia as a specialty fruit. The Amakusa oranges featured in the photograph above were sourced from Meidi-Ya Supermarket in the Millennia Walk in Singapore.