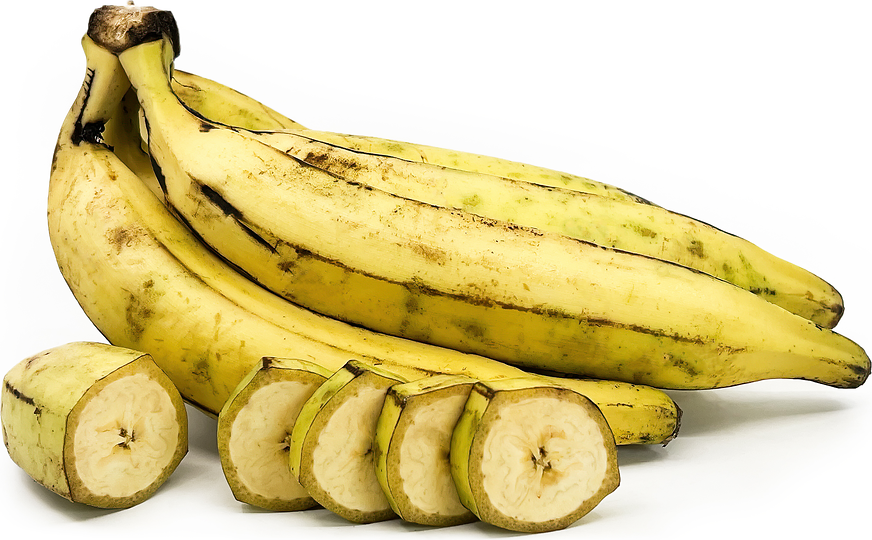 Nendran Bananas
Inventory, lb : 0
Description/Taste

Nendran bananas are medium to large in size and have an elongated nature with defined angular edges extending the length of the fruit. The bananas are slightly curved to straight, and feature tapered slightly pointed ends. Each Nendran banana plant typically bears 5 to 6 hands of 20 to 25 fruits per hand. The hands average 12 to 15 kilograms in weight, and the fruit's peel is thick, tough, smooth, and leathery. Nendran bananas are green when young, transitioning to pale yellow, and then dark brown, almost black when ripe. The darkened peel will often make the fruit look like it is past being edible, but this coloring indicates the flesh is ready for fresh eating and has a sweeter nature. The peel is hard to peel and must be sliced open. Once removed, the flesh can be green or yellow, depending on maturity. Green bananas are young, firm, and starchy. Yellow bananas are semi-starchy and eventually turn soft and tender with a silky, creamy consistency. Unripe Nendran bananas have a green, subtly sweet taste and are mostly used for cooked preparations, similar to a plantain, while ripe Nendran bananas are mild and not overly sweet, favored as a fresh eating or dessert variety.


Seasons/Availability

Nendran bananas are available year-round in India, with a primary season from September through April.


Current Facts

Nendran bananas, botanically a part of the Musa genus, is an Indian variety belonging to the Musaceae family. The large bananas have been growing wild in Southern India since ancient times and are treasured fruits, especially in the state of Kerala and Tamil Nadu. Nendran bananas are also known as Nendra Pazham, Nenthiram, Velchi, Kerala bananas, Nendrakkaya, Plantain bananas, Nendrangai bananas, and Nethrampalam. In Kerala, several varieties are similar in appearance, shape, and use that are all generally labeled as Nendran bananas, including Changalikodan, Attunendran, and Nedunendran. Changalikodan bananas are the variety most famously known as Nendran bananas. This variety is traditionally grown organically, and the bunches are wrapped in banana leaves to develop a distinct yellow hue with red accents. Each Changalikodan banana bunch can bear up to 40 to 50 fruits, and the bananas are valued for their large size, firm texture, and mild, sweet taste. In the modern day, Nendran bananas are revered for their versatility and are dual-purpose fruits. The bananas can be cooked or consumed fresh, and all parts of the banana plant are used throughout Kerala in various culinary preparations.


Nutritional Value

Nendran bananas are a source of potassium to balance fluid levels within the body, vitamin A to maintain healthy organ functioning, vitamin C to strengthen the immune system, fiber to regulate the digestive tract, and vitamin B6 to keep the nervous system working properly. In Ayurvedic medicine in India, bananas are consumed to soothe the digestive tract and provide electrolytes for increased muscle performance. The fruits can also be mashed and applied topically to soothe skin irritations.


Applications

Nendran bananas have a mild, sweet, and starchy flavor suited for fresh and cooked preparations. It is important to note that the bananas are used in various dishes according to their degree of ripeness. Unripe, green Nendran bananas are typically cooked and are prepared in methods similar to plantains. When young and starchy, the bananas can be sliced and added to curries, stir-fries, and soups or grilled or fried into savory recipes. In India, Nendran bananas are popularly used in Nendra Pazham pulissery. This sweet, spicy, and savory coconut curry cooks the bananas in a rich broth and is served over rice as a lunch dish. The bananas are also often sliced and cooked with finely chopped vegetables or steamed with rice flour as a breakfast dish. One of the most well-known Nendran banana recipes is Nendran Pazham pori or banana fritters. Nendran bananas can also be used when they are still yellow and firm but not quite as starchy as the green ones. The bananas are sliced, dipped in a sweet batter, and fried until crisp. The batter can be made from crushed nuts, flour, ghee, and spices, and the fritters are served as a snack or side dish. Nendran bananas can also be baked or fried into thin chips. Banana chips are homemade or purchased through street vendors, and the bite-sized, crunchy snack is a favorite dish to serve as a casual food offering at house parties and other celebrations. In addition to its yellow and green forms, Nendran bananas are also used in their soft, squishy, and sweet stage. This stage occurs when the peels darken, turning black or brown. When soft, the bananas can be eaten straight out of hand as a snack or sprinkled with flavorings such as chili powder, masala, or salt. Ripe Nendran bananas can also be blended into milkshakes, incorporated into puddings with coconut milk, or combined with brown sugar and other sweeteners to create decadent desserts with caramelized or fried fruits. Nendran bananas pair well with spices such as cumin, mustard seeds, curry leaves, turmeric, chili powder, and coriander, aromatics including garlic, onions, and ginger, vanilla, jaggery, squash, green beans, coconut milk, and tomatoes. Whole Nendran bananas will keep for 7 to 9 days when stored in a cool, dry, and dark place.


Ethnic/Cultural Info

Nendran bananas are revered during Onam, a Hindu harvest festival in India. Onam is considered a state festival in Kerala, and the 10-day celebration is annually held in August or September, according to the Hindu calendar. There are several legends surrounding the reasoning behind Onam, with the main theory marking the return of King Mahabali to Earth to visit his subjects. King Mahabali was devoted to Lord Vishnu, one of the three main deities in Hinduism, and this devotion is recognized and practiced during Onam. Nendran bananas are a traditional offering to the gods during Onam, and bunches of the fruits are carried to the Guruvayur Temple in Kerala. Banana offerings are known as kazhchakula samarpanam, and during Onam, the sales of Nendran bananas significantly increased due to their religious and culinary value. Nendran bananas are a popular variety to give to friends and families as gifts during the holiday, and Nendrapazham puzhungiyathu, or steamed bananas, is a famous dish combining jaggery with the fruit. The steamed bananas are a customary element in Onam Sadhya, a multi-course vegetarian meal of small dishes, and the meal is served on a banana leaf.


Geography/History

Nendran bananas are native to India and have been growing wild since ancient times. The exact origins of the species are unknown, but bananas have been an integral food staple in Southern India, especially in Kerala. Some experts point to the village of Chengazhikodu in the Thrissur District in Kerala as the center of origin. Nendran bananas are cultivated along the Bharathapuzha River in Kerala and account for around half the total number of bananas produced within the state. Nendran bananas are sold locally throughout India and are also exported to other countries. In 2015, Nendran bananas received a Geographical Indication Registration in Chennai, a city in the neighboring state of Tamil Nadu. The variety is also widely cultivated in Tamil Nadu. Today Nendran bananas are commercially produced in the states of Kerala, Tamil Nadu, and Karnataka in India. The fruits are also grown in Sri Lanka and are exported from India to Southeast Asia, Europe, and the Middle East.