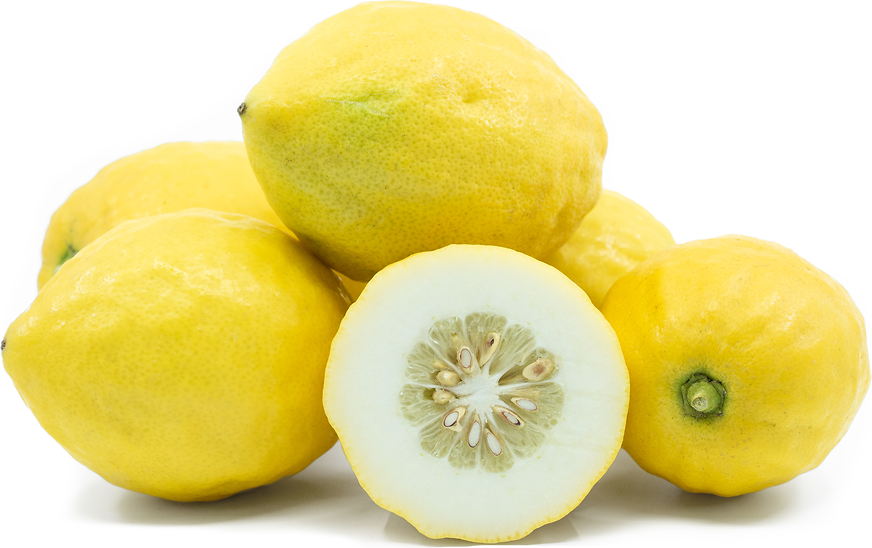 Etrog Citron
Inventory, 8 ct : 0
Description/Taste
Etrog citrons are large fruits, averaging 10 to 15 centimeters in length, and have an oval to oblong shape with one flattened, curved end and a tapered, pointed end. The fruits have a characteristic thick, bumpy, and ridged rind, and the textured, glossy surface is also covered in oil glands that emit an aromatic, floral fragrance with a distinct scent of lemon and violets. One defining characteristic of an Etrog is the pitam or dried flower stigma that extends from the non-stem end. This attached pitam is one of the most important traits found in Etrog citrons used for religious purposes. Underneath the rind, there is a thick, white, and spongy pith that is edible, sweet, and slightly bitter, and fruits contain mostly pith with little to no flesh. Depending on the variety, if there is pale-yellow flesh, it is divided into 11 to 13 segments and is firm, dry, and acidic encasing many cream-colored seeds. Etrog citrons have a pine-like, citrus scent when sliced, and the pith is generally mild with floral, sour, and sweet notes.
Seasons/Availability
Etrog citrons are available in the fall through winter.
Current Facts
Etrog citrons, botanically classified as Citrus medica, are an ancient type of citrus belonging to the Rutaceae family. The unusually ridged, tapered fruits have been cultivated since Biblical times and are primarily grown for traditional Jewish rituals. The name Etrog translates from Modern Hebrew to mean "citron" and is a general descriptor used to encompass many distinct cultivars found throughout the Mediterranean, Middle East, and Asia. In the modern-day, Etrog citrons are considered rare, growing on small trees that have been sporadically planted worldwide, and the fruits are mainly sought out for their religious symbolism in Jewish traditions.
Nutritional Value
Etrog citrons are an excellent source of vitamin C, an antioxidant that strengthens the immune system, reduces inflammation, and protects the body against free radical damage. The fruits also contain fiber to regulate the digestive tract, potassium to maintain blood pressure, and lower amounts of manganese, zinc, iron, and vitamin B6.
Applications
Etrog citrons are used for their fragrant rind and pith in cooked applications. The ends of the fruits should be sliced and removed, and the seeds and flesh are also discarded, leaving only the pith and rind. Once prepped, the pith and rind can be lightly boiled to remove bitterness, and the pieces are then simmered in sugar to develop a sweeter flavor. Cooked Etrog can be incorporated into cakes, cookies, and other baked goods, or the boiled pieces can be candied as a sweet treat. Etrog can also be simmered into marmalades, jellies, and jams, or it can be infused into vodka as a citrus, floral flavor. In addition to infusions, Etrog can be cooked into a simple syrup and mixed into sparkling water, teas, or other beverages. Etrog pairs well with fruits such as peaches, cherries, berries, and pears, nuts such as hazelnuts, almonds, and pecans, vanilla, and basil. Whole, unsliced Etrog will keep 2 to 4 weeks when stored in a cool and dry place away from direct sunlight. In the refrigerator, the fruit will last for 3 to 8 weeks.
Ethnic/Cultural Info
Etrog citrons are one of the four species used in prayer during Sukkot, a Jewish harvest festival also known as the Feast of the Tabernacles. The seven-day fall celebration is held to remember the Israelites pilgrimage from Egypt to the Temple in Jerusalem. Etrog is believed to be the "fruit of the Godly tree" mentioned in the Old Testament and is traditionally used during morning prayers and blessings. During the morning blessing, an Etrog is held in one hand while willow branches, myrtle branches, and a palm branch are held in the other, and both are waved around in every direction to symbolize unity. Etrog citrons used for Jewish traditions must meet many standards, including the tree not being grafted, the fruits being unblemished, and the pitam or flower remnants intact on the end of the fruit. Some Etrog citrons have sold for over $100, and after the fruits are used in the morning prayers, they are wrapped in delicate fibers and stored in a silver ornamental box for safekeeping.
Geography/History
Etrog is believed to be native to India and was spread to Israel in the early ages. The ancient fruits were thought to have been the first cultivated citrus and was widely prevalent in Biblical times. Etrog was used in Ancient Egypt for embalming mummies, and archeological excavations have found seeds, artwork, and coins depicting Etrog in Jerusalem and the surrounding regions of Israel. Over time, Etrog was spread throughout the Mediterranean as Jewish communities began settling in other areas. Today Etrog is primarily grown in Israel, India, Greece, Italy, Spain, and Morocco. The citrons are also produced through a few farms in Central California for local sale and export.
Recipe Ideas
Recipes that include Etrog Citron. One

is easiest, three is harder.