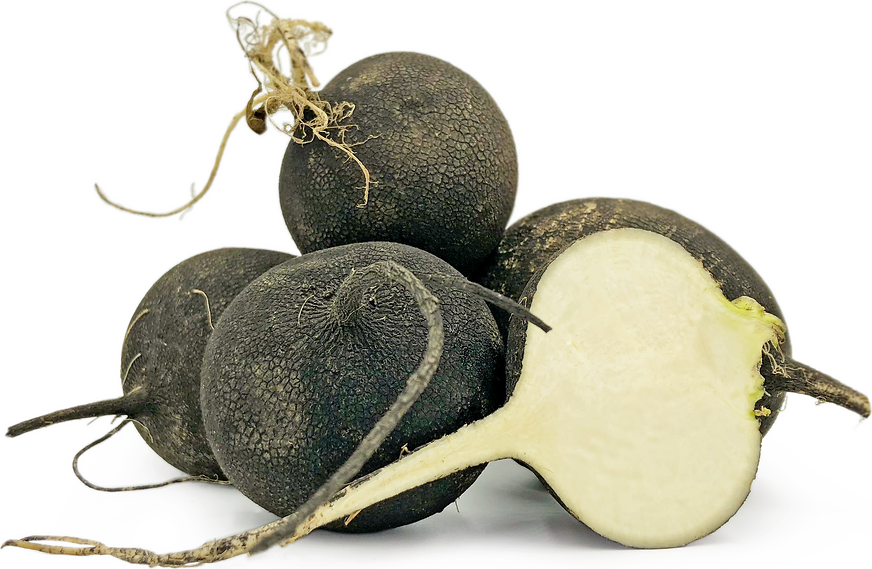 Nero Tondo Radish
Inventory, lb : 0
Description/Taste

Nero Tondo radishes are a medium to large varietal, averaging 5 and 10 centimeters in diameter, and have a round shape with curved shoulders tapering to a single, slender taproot. The radish's skin is taut, semi-thick, matte black to charcoal grey, and dry showcasing a scaly, rough texture. Underneath the surface, the white flesh is dense, firm, and moist with a crisp, snap-like consistency. Nero Tondo radishes should feel heavy for their size and offer a hot, earthy, peppery flavor. Raw Nero Tondo radishes also have an initially pungent kick that travels into the nose and lingers on the palate. When cooked, Nero Tondo radishes will mellow in flavor and develop a sweeter, milder, and earthy flavor.


Seasons/Availability

Nero Tondo radishes are available year-round, with a peak season in the fall through early spring.


Current Facts

Nero Tondo radishes, botanically classified as Raphanus sativus, are a rare heirloom variety belonging to the Brassicaceae family. The matte-black radishes are a type of winter radish, varieties that are generally slower growing but longer storing, lasting for extended periods. Nero Tondo radishes are also known as Black Spanish radishes, Black radishes, and Nero Tondo d'Inverno. There are two main types of black radishes, long black Spanish radishes, and Nero Tondo radishes. Long black Spanish radishes have an elongated, cylindrical shape, while Nero Tondo radishes have a round appearance with a tapered taproot. Both types of black radishes can be used interchangeably in recipes and offer a peppery, zesty flavor. Nero Tondo translates from Italian to mean "round black," and the variety has historically been favored for its extended storage capabilities, nutritional content, and cold-weather tolerance. The uniform roots were one of the most popular varieties in Europe during the Middle Ages and were grown as a food and medicine during the bleak winter season. Though Nero Tondo radishes were once a widespread crop, the radishes required a longer growing season, causing them to eventually be removed from gardens in favor of newer, milder, and faster-growing radish varieties. Nero Tondo radishes almost disappeared from gardens entirely in the 20th century, but seed savers have made efforts to preserve the specialty winter crop. Chefs value Nero Tondo radishes for their nose-tingling taste and the roots can be utilized in a wide array of fresh and cooked preparations.


Nutritional Value

Nero Tondo radishes are a good source of vitamin C to strengthen the immune system, potassium to balance fluid levels, and iron to develop the protein hemoglobin for oxygen transport through the bloodstream. The radishes also provide magnesium to control optimal nerve functioning, vitamins A, E, and B, fiber to regulate the digestive tract, copper to develop connective tissues, and other nutrients, including calcium, magnesium, and zinc. Nero Tondo radishes contain high amounts of beneficial compounds called glucosinolates, which give them a peppery flavor and provide immune-boosting, anti-viral and anti-cancer properties. They also contain a unique phytochemical called MIBITC that works to stimulate detoxifying enzymes in the liver.


Applications

Nero Tondo radishes have a sharp, peppery flavor well suited for raw and cooked preparations. It is important to note that the black skin contains high concentrations of compounds that give the radish its hotness. If the peppers are considered too spicy when raw, they can be peeled and lightly salted for a milder taste. Nero Tondo radishes can be sliced into thin pieces and served raw on appetizer platters with creamy dips, shredded and tossed into side salads and green salads, or chopped into salsa for a peppery kick. The radishes can also be thinly sliced and served with raw fish and cured or smoked meats, blended into hummus, or they can be mixed with other radish variations for a colorful side salad. In addition to fresh preparations, Nero Tondo radishes develop a milder, sweeter flavor when cooked and can be stir-fried into vegetables, sauteed with butter and salt, or thinly sliced and fried into chips. The radishes can also be roasted, braised, fried, and sauteed. Nero Tondo radishes develop a soft texture once cooked and can be mashed, mixed with cheeses or sour cream, and served as a dip for appetizer plates or spread over roasted meats. Nero Tondo radishes can also be stirred into potato and egg-based dishes, diced and tossed into soups and stews. Beyond cooking, Nero Tondo radishes are pickled for extended use and are served as a tangy condiment. Neto Tondo radishes pair well with fruits such as apples, pomegranates, and citrus, herbs such as chervil, thyme, parsley, chives, and mint, pine nuts, arugula, potatoes, carrots, celery root, and meats such as pork, poultry, beef, and seafood. Whole, unwashed Nero Tondo radishes will keep 1 to 2 weeks when stored in a perforated plastic bag or wrapped in newspaper in the refrigerator.


Ethnic/Cultural Info

Black radishes are traditionally used as an expectorant to relieve colds, coughs, and phlegm. This natural remedy can be traced back to Ancient Egypt, and remains of black radishes have been found as early as 2500 BCE. Black radishes, onion, and garlic were combined as an immune-boosting mixture, and Egyptian workers would consume it as a medicinal aid to fight colds, flu, and other sicknesses. It is also documented that some workers would be paid in garlic and onions in exchange for building the pyramids. Throughout history, black radishes, including Nero Tondo, remained an effective remedy for coughs and sicknesses and were adopted into natural treatments in Europe during the Middle Ages. Later in the 20th century, black radishes were also mentioned in the writing of French physician Jean Valnet. Valnet recorded a recipe for black radishes being sliced and stored in a bowl with candied sugar. Once the mixture had been left for at least four days, he advised taking several small syrup doses multiple times per day for sicknesses and cough. In the modern-day, black radishes are still circulated among natural medicines. Black radishes are sliced into pieces, immersed in honey or syrup for a few days, and are later consumed to strengthen the immune system and reduce throat irritation. A small hole can also be placed in a radish half and filled with honey. This hollowed root is stored overnight, allowing the juice from the radish to mix with the honey and fill the hole, creating a peppery and sweet mixture for coating the throat.


Geography/History

Nero Tondo radishes are a type of black radish first cultivated in the Eastern Mediterranean, believed to be a relative of the wild radish found in Eastern Europe and Asia. The round, fibrous roots were grown for culinary and medicinal use, becoming well-adapted to a wide array of climates. Over time, the roots were eventually spread throughout Europe, Eastern Asia, and Northern Africa. In the Middle Ages, Black radishes became a favored variety in Europe and were highly valued for their high nutritional properties, cold tolerance, and extended storage capabilities. The roots were also introduced to the New World, where they were cultivated in home gardens by the 19th century. Nero Tondo radishes can grow in diverse environments, ranging from warm, tropical climates to cool, temperate regions to dry, scorching deserts. Despite their ease of cultivation, Nero Tondo radishes faded from production as new, milder, and softer radish varieties were developed in the 19th and 20th centuries, and the cultivar eventually became a mostly forgotten variety. Today Nero Tondo radishes are rare, mainly grown in home gardens as a novelty. Select farms in Asia, Europe, Northern Africa, and North America also cultivate the radish on a small scale, and the roots are sold through farmers markets and wholesalers.