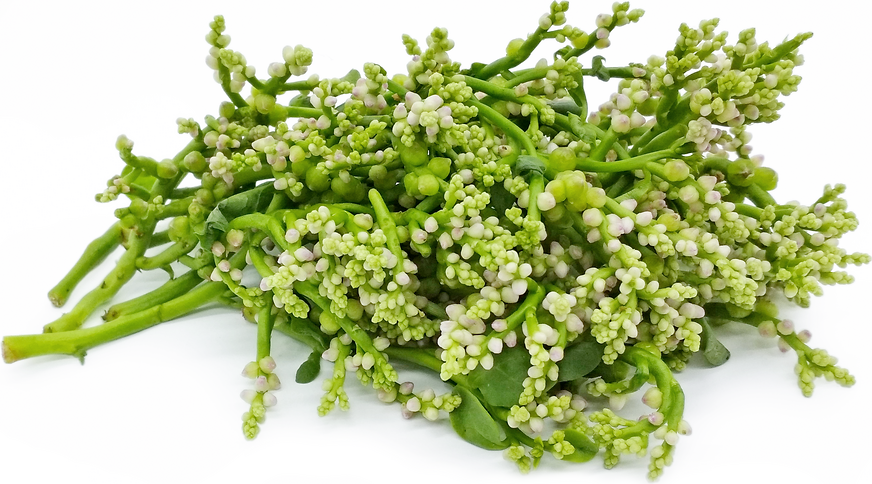 Malabar Spinach Flowers
Inventory, lb : 0
Description/Taste

Malabar spinach flowers are tiny globe-shaped buds measuring less than half a centimeter that grow in bunches along the tips of long, succulent vines. Depending on the variety, these vines may be green or red and will contain medium to large heart-shaped leaves with prominent veining. The buds are primarily white with a slight rosy blush and never develop large petals. Instead, they maintain a fleshy and pulpy consistency with a slimy quality likened to okra. Malabar spinach flowers have a fresh and vegetal scent and a neutral flavor with peppery and citrus undertones.


Seasons/Availability

Malabar spinach flowers are available year-round, with a peak season during the summer.


Current Facts

Malabar spinach flowers grow along the supple stems of a jungle vining plant, botanically classified as Basella alba. Although this plant is commonly referred to as spinach, it is not actually a true spinach. The vegetable is a member of the Brassica family with a flavor and texture similar to spinach that grows well during hot summer months. Malabar spinach is commonly used in India and is also known as Ceylon spinach and Indian spinach in English, as well as by several regional names, including Huang Gong Cai and Muer Cai in China, Alugbati in the Philippines, Di Huang Miao in Singapore, Remayong in Malaysia, and Paag Prang in Thailand. There are two types of Malabar spinach, one with green leaves and stems and one with red stems and green leaves. Both varieties grow small, globe and pinnate-shaped flowers that eventually develop into purple berries. The plants grow in long stretching vines that will creep and climb along fences, trees, and other objects, making them attractive ornamental plants in gardens. The leaves are heat tolerant as long as the soil is kept moist, thriving in warm summer conditions where ordinary spinach would not survive. If the plant's soil dries out, it will begin to flower and fruit to propagate for the next season. All parts of the plant are edible. The leaves, stems, and flowers are most often enjoyed raw in salads but can also be cooked. The roots have been used medicinally for millennia, and the berries, which tend to have minimal flavor, are often used as a dye for food, textiles, and cosmetics.


Nutritional Value

Malabar spinach flowers contain vitamin A, a nutrient known as retinol that aids vision, reproduction, immunity, and cell division. The flowers are also high in vitamin C, an antioxidant that supports the immune system, calcium for bone support, and iron to maintain healthy red blood cells. The buds and vines get their red color from anthocyanin, a natural pigment that has antioxidant properties. Malabar spinach has been used for centuries to aid in wound healing and inflammation.


Applications

Malabar spinach flowers have an earthy, peppery, and citrusy flavor and a crisp, succulent texture that lends itself to fresh applications. The flowers can be left attached to their stems and used whole, or the small buds can be detached and sprinkled over recipes. Malabar spinach is commonly used in recipes throughout India, the Philippines, and Nepal, and the blossoms can be used in these same recipes alongside the fresh or sauteed green. Malabar spinach blossoms can be added to salads and grain dishes for a punch of color, flavor, and texture, or they can be layered into sandwiches and wraps. The flowers can be folded into stir-fries and couscous or floated atop soups, dal, and curries. They make a delicious addition to crudité platters or charcuterie boards. The blossoms and stems can be pickled for added flavor and served in salads, coleslaws, and bloody Mary cocktails. Green Malabar spinach pairs well with flavoring agents such as soy sauce, sesame, garlic, onions, and shallots, bell peppers, broccoli, chile peppers, spices including cardamom, cinnamon, curry, and cumin, and seafood such as white fish, shrimp, scallops, and squid. Malabar spinach flowers should be immediately used for the best quality and flavor and will keep for 2 to 5 days when stored in the refrigerator.


Ethnic/Cultural Info

Malabar spinach has been used as a medicinal plant in the ancient healing practices of India, known as Ayurveda. This traditional system of medicine is attributed to Dhanvantari, the physician to the gods in the Hindu religion, and has been practiced in India since 2,000 BCE. The natural system of medicine is rooted in the belief that disease is due to an imbalance or stress in one's consciousness and focuses on balancing the body, mind, spirit, and elements, which are ruled by the three doshas or life forces: vata, kapha, and pitta. Within the practice, it is believed that each individual has a unique dosha ratio and Ayurvedic practitioners use diet, exercise, and lifestyle practices to keep these three forces balanced. Malabar spinach leaves, flowers, and roots have been used in this practice for thousands of years to increase one's connection to earth and water, the Kapha dosha. The plant is a common pot herb in homes throughout India. Both historically and in modern practices, the plant has been used to treat blood and digestive disorders, fluid retention, high blood pressure, liver disorders, and kidney stones. Poultices of the leaves were also used to treat wounds, burns, and snake bites because of the plant's natural anti-bacterial and anti-microbial properties. Eye drops were made from the plant to treat conjunctivitis, and the flowers are believed to be an antidote to poison. Ayurvedic medicine is still widely practiced today in India and Nepal, where around 80% of the population reports using it, either as their sole medical source or in conjunction with Western medicinal practices. Moreover, with the growing popularity of natural remedies and the 'food as medicine' mindset, the use of Ayurveda has reached new audiences worldwide.


Geography/History

Malabar spinach is native to Asia and has been growing wild since ancient times. Much of the plant's history is unknown, but it is believed to have originated in Southwest India and Indonesia. The plant is a common ingredient in Indian cuisine and medicine and is a popular garden plant throughout the region. Both green and red Malabar spinach varieties were spread into Africa and East Asia in the early ages along regularly traveled trade routes. The plant quickly naturalized in Africa and Asia and became a commonly eaten vegetable. The vining plant was also spread to Europe, North America, and South America by migrating peoples. The plant escapes cultivation and propagates easily, and so it has naturalized in many hot and humid climates globally, sometimes becoming an invasive species. Malabar spinach flowers are primarily foraged from wild plants or sown in home gardens. The showy plants can be found in tropical and subtropical climates in Asia, tropical Africa, North America, the Caribbean, Central and South America, and Europe. The flowers can be found at local markets and farm stands during the summer in these regions.