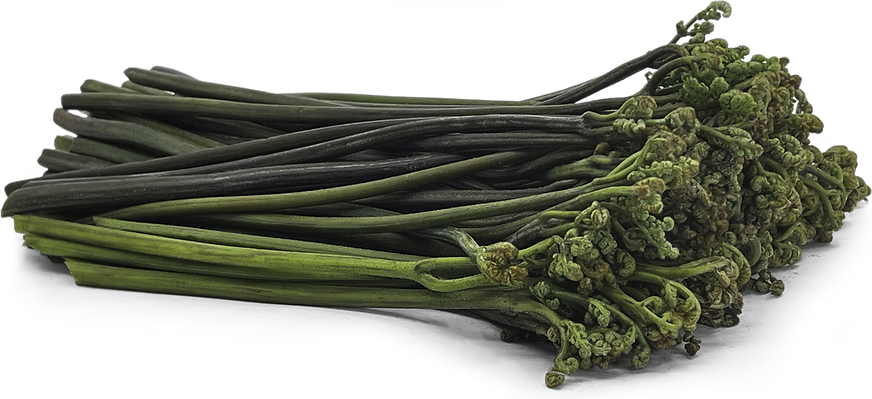 Warabi / Bracken
Inventory, bunch : 0
Description/Taste
Warabi is comprised of elongated, thin, and flexible stems that can reach up to 70 centimeters in length and connect into a tiny, spiraled top of uncurled frond greens forming a drooping, curved head. The young fern's surface is smooth and taut with a slight give and appears in purple-brown to maroon-green hues. The uncurled fronds also showcase a bright green shade blushed with faint red spots, sometimes covered in a protective layer of tawny, flaking brown scales. Warabi has a tender, crisp, and succulent texture with a snappy, slightly sticky, and slippery finish when lightly cooked. Select ferns with a fresh and springy appearance and only have unopened leaves, as loose leaves indicate a lack of freshness. Warabi should never be consumed raw and must be cooked before consumption. Once cooked, the ferns develop a delicate, grassy, and woodsy, bittersweet flavor with artichoke, asparagus, and nutty nuances.
Seasons/Availability
Wild Warabi is available in the spring, and cultivated Warabi is found in markets in the late winter through early summer. Each region of Japan will have varying availability depending on its climate.
Current Facts
Warabi, botanically classified as Pteridium aquilinum, is a Japanese name for a young, uncoiled fern belonging to the Dennstaedtiaceae family. The name Warabi translates from Japanese to mean "bracken," another term for ferns, but in Japan, Warabi specifically refers to the uncurled shoots that are harvested young as a culinary delicacy. The fern's uncurled top is also said to look like a small child's clenched fist, known as "warabe" in Japanese, which is another explanation for their name. Warabi is gathered from the wild in the early spring, and the delicate fern heads have been foraged as a seasonal ingredient since ancient times. The young ferns are consumed throughout eastern Asia, especially in Japan, and are a symbol of spring, used as a springtime descriptor in Japanese poems and literature. In the modern day, Warabi is seasonally gathered, cooked, and consumed as a sansai, a wild mountain vegetable.
Nutritional Value
Warabi is a source of vitamin A to maintain healthy organ functioning, vitamin C to strengthen the immune system, and fiber to regulate the digestive tract. The young shoots also provide iron to develop the protein hemoglobin for oxygen transport through the bloodstream, vitamin E to reduce inflammation, calcium to build strong bones and teeth, and other nutrients, including copper, manganese, potassium, vitamin K, phosphorus, magnesium, and zinc. It is important to note that Warabi contains ptaquiloside, a carcinogen that gives the ferns their bitterness. Ptaquiloside consumed in large quantities is toxic. Only consume Warabi in small amounts and properly remove the astringency before consumption to reduce the chances of poisoning.
Applications
Warabi must be washed, prepped, and cooked before consumption, as the ferns have carcinogenic compounds that must be reduced before they are edible. Warabi is often soaked in water and then blanched with salt and baking soda to help neutralize the compound's toxicity. Even after preparing the young ferns, Warabi should only be eaten in small quantities. The ferns can be cooked and added to soups such as miso, fried into tempura, stirred into pasta, or combined into other noodle dishes. In Japan, Warabi no tataki is a signature dish of the Yamagata Prefecture. The dish is comprised of cooked Warabi that is finely chopped, pounded into a paste, and mixed with miso and sansho leaves to create a creamy flavoring. This paste is then mixed with noodles or rice for a complete meal. Warabi can also be stir-fried, sauteed with sesame oil and garlic, or cooked and served in a dashi-based broth. Warabi pairs well with flavorings such as mirin, vinegar, soy sauce, and dashi, springtime vegetables including peas, legumes, ferns, and asparagus, aromatics such as ginger, shallots, and garlic, and bonito flakes. Whole, unwashed Warabi should be immediately used after harvest for the best quality and flavor. The young ferns can be wrapped in a wet paper towel and placed in a bag in the refrigerator for 1 to 2 days. Warabi can also be salted and dried for extended use.
Ethnic/Cultural Info
The roots of Warabi are famously used to make Warabimochi, also spelled Warabi mochi. The chewy, mildly sweet dessert can be traced back to the Heian period, from 794 to 1185 CE, and is a confection made from Warabi root powder, water, and sugar. Despite the confection's simplicity, only around 70 grams of starch can be extracted from 10 kilograms of roots, and the process is done by hand, taking more than ten days to complete. Warabimochi was rumored to have been a favorite treat of Emperor Daigo, the 60th emperor of Japan, and legend has it the emperor loved the confection so much that he gave it the title of "dayu" or "tayu," a social ranking for the highest class of courtesans in Japan. Warabimochi continued to be a favored sweet throughout Japan for centuries, and the dessert was traditionally eaten among the upper echelon with high social status as it was expensive to source the ingredients and produce. Over time, new cultural influences arrived from China, including the introduction of Zen Buddhism, changing the uses and ingredients of Warabimochi. Warabi root powder was replaced with less expensive and more readily available arrowroot or tapioca starch, allowing the lower classes to begin making the chewy mochi. Warabimochi was also incorporated into Japanese tea ceremonies as a sweet snack, commonly used in ceremonies performed throughout Nara and Kyoto. Warabimochi can be consumed with a dusting of sugar or green tea powder, drizzled in a brown sugar syrup, or served with fresh fruits.
Geography/History
Warabi is a descriptor for the young, uncurled fronds of Pteridium aquilinum, a species native to temperate and subtropical regions worldwide. Pteridium aquilinum has been growing wild since ancient times, and the herbaceous, perennial plant produces clusters of young, uncurled fronds for a short time in the spring. Warabi is a term for foraged mountain vegetable found in Japan, China, and Korea, and is available for a limited season each year, and the fronds have been used as a specialty culinary ingredient since at least the Jomon period, 10,500 to 300 BCE. Wild Warabi is commonly found in grasslands, along the edges of thickets, in woodlands, and on some cultivated land such as unmaintained tea plantations. Today Warabi is primarily foraged and cultivated in the Yamagata Prefecture, followed by Aomori, Niigata, Iwate, Akita, and Fukushima Prefectures on Honshu Island in Japan. The young ferns are also foraged from areas in China and Korea and are sold through fresh markets, select grocers, and specialty distributors.
Recipe Ideas
Recipes that include Warabi / Bracken. One

is easiest, three is harder.