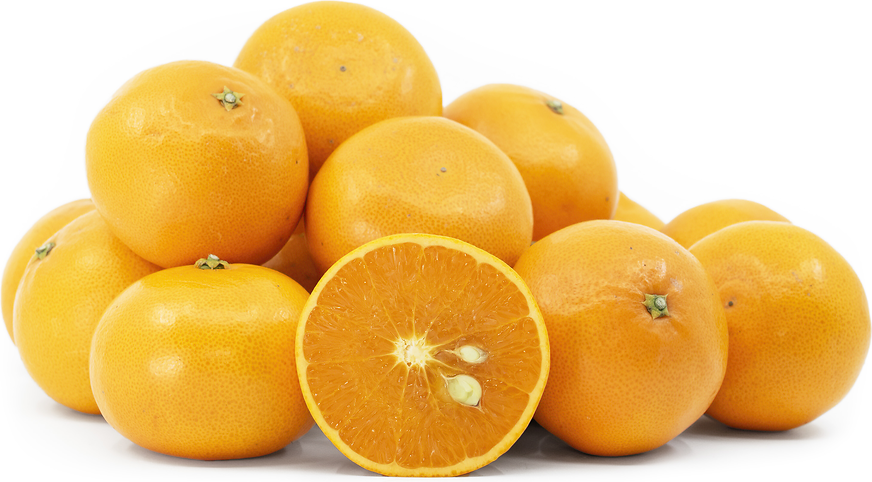 Setoka Oranges
Inventory, lb : 0
Description/Taste

Setoka oranges are a medium to large varietal, averaging 7 to 8 centimeters in diameter and 200 to 300 grams in weight, and have a uniform, round to oblate appearance with a broad middle and flattened top and bottom. The rind is thin, pliable, and easy to peel, with a smooth sheen, firm, taut nature, and pebbled texture created from the presence of prominent oil glands. These oil glands release aromatic essential oils into the air when the rind is peeled, adding to the sensory experience. The rind is also bright orange to dark orange-red, adhered to the flesh, and below the rind is a very thin to almost nonexistent layer of white spongy pith, unnoticeable when eaten. The flesh is divided into 11 to 12 segments by delicate membranes, and the center of the fruit is often hollow. The dark orange flesh is soft, tender, aqueous, and mostly seedless with a succulent, melting consistency. Setoka oranges are known for their pleasing, bright, and robust aroma and should feel slightly firm and heavy for their size when selected for consumption. The oranges have a high sugar content, ranging from 12 to 13 Brix, and this sugar content is mixed with low acidity, less than one percent, creating a sweet, sugary, and zesty flavor with subtle tangy nuances.


Seasons/Availability

Setoka oranges are available in the winter through early spring in Japan.


Current Facts

Setoka oranges are botanically a part of the Citrus genus and are a Japanese variety belonging to the Rutaceae family. The oranges are a complex hybrid of multiple citrus varieties bred as an improved fresh-eating cultivar in the early 21st century. Setoka oranges are grown in greenhouses and open fields in Japan, available from mid-December through March, and are a premium variety produced using specific cultivation techniques. The oranges grow on trees with large thorns, and due to the fruit's delicate, thin skin, the oranges must be hand harvested to prevent the rind from being scratched or punctured. Setoka oranges are also often wrapped in protective bags or cloth to prevent animals or weather from damaging the fruits. These demanding cultivation requirements lead Setoka oranges to be produced in small quantities each season, and the fruits are sold as a specialty cultivar at high prices. Setoka oranges are primarily consumed fresh and are favored for their easy-to-peel nature and sweet, juicy flesh. In commercial markets, the oranges are often wrapped in Styrofoam to protect the rind.


Nutritional Value

Setoka oranges are a source of vitamin C to strengthen the immune system, folate to develop RNA and DNA, calcium to build strong bones and teeth, and iron to produce the protein hemoglobin for oxygen transport through the bloodstream. The oranges also provide fiber to regulate the digestive tract, potassium to balance fluid levels within the body, vitamin A to maintain healthy organ functioning, and other nutrients, including magnesium, vitamin E, copper, and flavonoids. Oranges are a source of antioxidants to protect the cells from the damage caused by free radicals.


Applications

Setoka oranges are popularly consumed fresh as their easy-to-peel rind and sweet flavor are showcased when eaten out-of-hand. The oranges are traditionally segmented and tossed into salads, served on charcuterie boards with cheeses, salty meats, and nuts, or used as a fresh topping over parfaits, smoothie bowls, and granola. Setoka oranges can also be used as a decorative garnish on cakes and tarts, or their juice and zest can be added to muffins, cookies, cupcakes, scones, and shortbread. Try using Setoka oranges as a flavoring in jams, jellies, and marmalade, or incorporate the juice into dressings, oils, vinegar, glazes, and sauce. Setoka oranges pair well with herbs such as basil, mint, and rosemary, spices including cloves, cinnamon, ginger, and nutmeg, fruits such as pomegranates, grapes, figs, lemons, berries, and bananas, and chocolate. Whole, unpeeled Setoka oranges will keep for 4 to 5 days when stored in a cool and dark place. If stored in the refrigerator, place it in a plastic bag to prevent the flesh from drying out. Consuming the fruits as soon as possible is recommended as they will eventually lose freshness and acidity, becoming flat in taste.


Ethnic/Cultural Info

Setoka oranges were given their name for three reasons, according to the National Agriculture and Food Research Organization in Japan. The first explanation is connected to the geographical location of where the variety was created. Setoka oranges were developed in Kuchinotsu in the Nagasaki Prefecture, and Hayasaki Seto could be seen from the windows of the breeding center. Hayasaki Seto is a scenic straight or narrow waterway connecting the Pacific Ocean with the Ariake Sea. The second name explanation traces the variety's presence in the Setouchi region, an area known for its moderate year-round climate ideal for citrus production. The final theory is based on the orange's fragrant aroma. "Ka" in Japanese means "fragrant," "aroma," or "scent." This word was combined with Seto to create the varietal name. Regardless of the multiple name meanings, Setoka oranges symbolize health, longevity, and prosperity and are often given as luxury gifts in Japan to coworkers, family, and friends.


Geography/History

Setoka oranges are native to Japan and were developed at the National Agriculture and Food Research Organization's Fruit Tree Research Station in Kuchinostu, a town within the city of Minamishimabara in the Nagasaki Prefecture. The variety was created from multiple crossings in 1984 and was bred by crossing an Angkor with a Kiyomi. The product of this cross was then mixed with Marcot, a hybrid tangerine originally from the United States. This new variety was initially labeled Tangor Norin No. 8 in the fall of 1998, and in 2001, it was officially registered as a cultivar under registration No. 9398. Today Setoka oranges are mainly grown in the Ehime Prefecture in Japan and thrive in regions with warm daytime temperatures, cool evenings, and extended periods of sunshine. The variety is also produced in the Saga, Hiroshima, Nagasaki, and Wakayama Prefectures. When in season, Setoka oranges are sold through select grocers, markets, and distributors in Japan. The variety is also exported to other countries in Asia as a premium fruit.