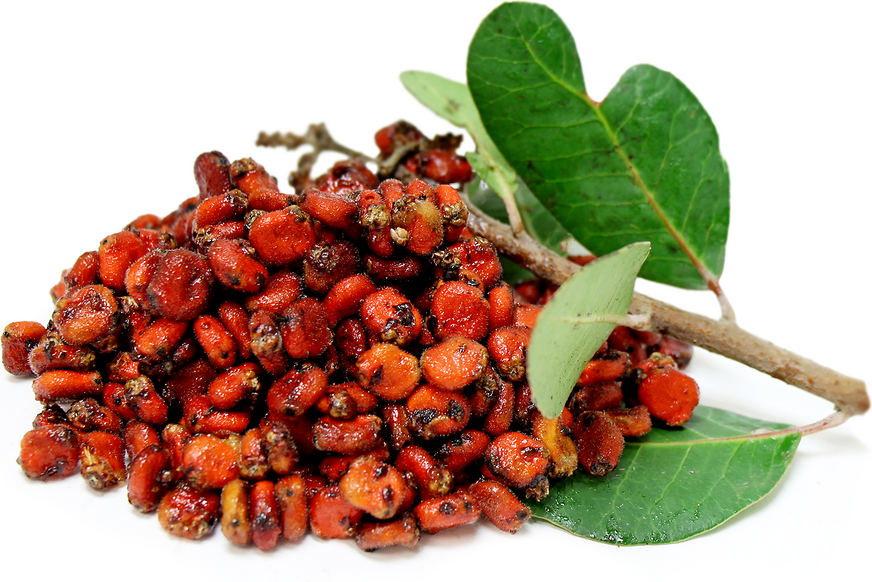 Lemonade Berries
Inventory, lb : 0
Description/Taste

Lemonade berries are small in size, averaging 1 to 2 centimeters in diameter, and have a round to oval, flattened appearance, similar in shape to a corn kernel. The berries grow in dense clusters at the end of branches and ripen from green to shades of red-orange with maturity. Each Lemonade berry is comprised of a smooth, taut, and semi-thin skin covered in a layer of fine grey hairs and a coating of a sticky, glossy liquid. This coating gives the berries a wet appearance and feels viscous and tacky to the touch. Underneath the brightly colored, glistening surface, the berries are firm and fleshy, containing 1 to 2 hard seeds. Lemonade berries are not commonly consumed whole. Ripe berries are favored for their sticky outer coating, and this layer has a sharp, sweet-tart, and sour taste with distinct citrusy undertones. In addition to the fruits, Lemonade berry plants produce tiny pink and white clustered blooms in the mid-winter through early summer and evergreen leaves. Each flower is symmetrical and bears five petals with five stamens, reaching around six millimeters in diameter. The leaves are thick, waxy, oval, and leathery, appearing in shades of dark green to blue-green year-round. The leaves extend 5 to 7 centimeters in length and 2 to 4 centimeters in diameter and range from finely toothed to smooth-edged, depending on the plant and growing conditions.


Seasons/Availability

Lemonade berries are available in the summer through early fall.


Current Facts

Lemonade berries, botanically classified as Rhus integrifolia, are the fruits of a native California species belonging to the Anacardiaceae family. The small flat berries grow in clusters on leafy, evergreen shrubs, typically reaching 1 to 4 meters in height, and depending on the growing environment, some shrubs can reach up to 8 meters in height. Lemonade berries are also known as Lemonade Sumac, Lemonadeberry, Sour Berry, and Coast Sumac, and the bright red-orange fruits are a natural food source for animals and pollinators throughout Southern California. In the modern day, Lemonade berries are not commercially cultivated, but the fruits are a rare foraged item utilized for culinary and medicinal preparations. Lemonade berries are also planted as an ornamental landscape shrub in coastal communities, especially in Southern California.


Nutritional Value

Lemonade berries have not been extensively studied for their nutritional properties. The berries contain tannins or naturally occurring polyphenols that contribute to the fruit's sour, tart, and astringent flavor. Tannins are known to have antioxidant-like properties to protect the cells against the damage caused by free radicals and to boost the immune system. Among the Kumeyaay and Cahuilla in Southern California, the seeds of Lemonade berries are ground into a powder and drunk as a remedy for fevers, coughs, and sore throats. The bark and leaves are also made into medicinal teas. It is important to note that Lemonade berry plants contain catechol or compounds in the plant's sap that may cause skin irritation if topical contact occurs. This reaction is variable and may affect some individuals more than others. Research and discussion with a medical professional is recommended before foraging and consuming wild plants.


Applications

Lemonade berries have a sour, tangy coating on the fruit's surface utilized in fresh and cooked preparations. The berries are not typically consumed in their entirety as the tiny hairs on the fruit's surface may irritate the stomach, leading to indigestion. Instead, Lemonade berries are often soaked in water for a few hours or overnight to dissolve the sticky coating into the water. The coating infuses an astringent, potent sour taste similar to the taste of lemons, creating a bright and refreshing beverage. Before soaking, Lemonade berries should not be washed as this will strip the flavorful coating from the berries. The berries should be gently removed from the bush to ensure debris is not caught on the surface, and it is recommended to wear gloves to protect against stickiness and potential sap irritation. Once the berries have been immersed in water for several hours, the mixture can be strained through fine mesh sieves and cheesecloth to remove any lingering debris. Lemonade berry juice can be mixed with sugar as a beverage or incorporated into jams, jellies, syrups, and gelatin-based candies. Lemonade berries can also be utilized in methods similar to sumac berries. The fruits can be dried and ground into a powder as a thickener for soups, dried and tossed into salads, dips, or yogurt, sprinkled as an edible topping, or ground into a spice and rubbed on roasted meats. Lemonade berry juice complements ingredients that pair well with lemons, including strawberries, blueberries, blackberries, mint, and basil. Whole, unwashed berries can be stored in the refrigerator overnight. Once infused into water, the juice can be kept for three days in the fridge or frozen for several months. Dried Lemonade berries can be placed in an airtight container for up to six months.


Ethnic/Cultural Info

Lemonade berries acquired their beverage moniker from their ability to infuse a citrusy, lemon-like flavor into water. The berries are characteristically covered in a sticky, viscous coating, and when soaked in water, this coating dissolves, creating a tart, sour taste. Historically in the region of San Diego County, Lemonade berries were used among the Kumeyaay, a native people group that has been residing in the area for over 10,000 years. The berries are known as Huusill if they are red in color or Huutat if they are more orange, and the fruits are still used in preparations that have been passed down between generations of the Kumeyaay into the modern-day. Among the Kumeyaay, Lemonade berries are valued as flavoring for water, or the berries are sucked on and then spit out for a refreshing taste. The evergreen leaves of the plant were also traditionally packed into the mouth on long journeys, used as a method to reduce thirst.


Geography/History

Lemonade berries are native to Southern California and have been growing wild since ancient times. The shrubs are primarily found from Santa Barbara County south to Baja California and thrive in coastal sage scrub and chaparral regions. Lemonade berry plants may occasionally be found along the Southern California and Arizona border in canyons and other dry, low-elevation regions. Lemonade berry plants are heat tolerant, adaptable to sandy soils, and able to thrive in harsh conditions, but the plants cannot withstand frost, leading them to be found mostly in regions below 900 meters. Despite their longstanding existence, Lemonade berry plants have not naturally expanded beyond their native area. The plants have been domesticated and are sold as a native species for California home garden landscapes. The plants are also sometimes offered through other nurseries in temperate to subtropical climates outside of California. When in season, Lemonade berries are mostly foraged from wild and home garden plants in Southern California. The berries may also be found in farmer's markets or offered through select distributors as a delicacy, but this is rare.