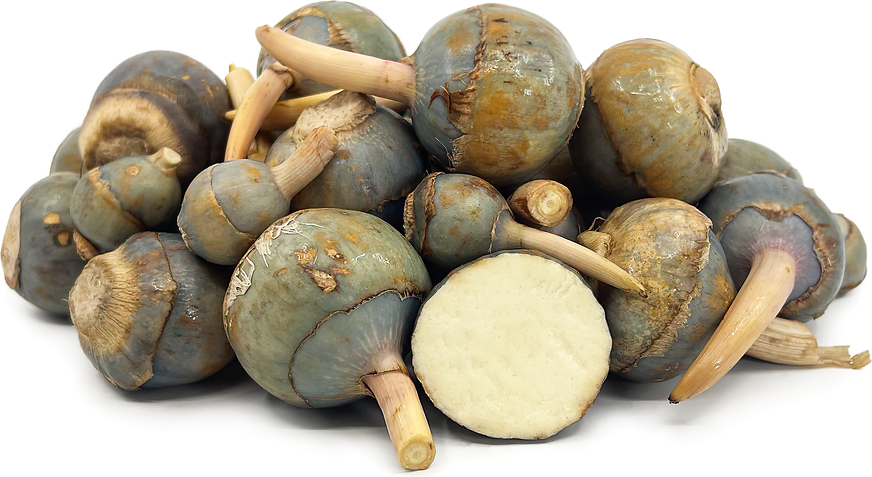 Kuwai Root
Inventory, lb : 0
Description/Taste
Kuwai tubers are small in size, averaging 4 to 5 centimeters in diameter, and have a round to oval shape with a slightly curved sprout at the top. The cream-colored sprouts are firm and fleshy, around 2 to 3 centimeters in length, and taper to a point. The tubers have a smooth surface, sometimes covered in a brown fibrous, protective layer, and appear in shades of blue-grey, blue, to ivory with some rough brown patches and a longitudinal line wrapping around the center. Underneath the tough skin, the white flesh is dense, starchy, firm, and solid. Kuwai tubers must be peeled and cooked, developing a soft consistency reminiscent of a potato with a light crunch like a water chestnut. The sprout and tuber are both edible and have a bittersweet, earthy, and nutty flavor.
Seasons/Availability
Kuwai tubers are available in the late fall through winter.
Current Facts
Kuwai, botanically a part of the Sagittaria genus, is the starchy tuber of an aquatic, flowering plant belonging to the Alismataceae family. The herbaceous perennial grows wild throughout Europe and Asia and is commonly found in bodies of flowing water. Kuwai is the Japanese term for the edible tubers, and the name is believed to have been derived from the Vietnamese word khoai, meaning root vegetable, or from the sprouted tuber's resemblance to a hoe, known as a kuwa in Japanese. There are three main types of Kuwai found in Japan, Ao-Kuwai or indigo blue, Fuita-Kuwai or small-sized blue, and Shiro-Kuwai or pastel blue. The tubers are also known as Cigu in Mandarin and Tse Goo in Cantonese. Kuwai tubers are gathered from wild plants and commercially cultivated in paddy fields, mainly in Japan and China. In Asia, the tubers are not a common market item and are traditionally sold as a seasonal delicacy, hand-harvested, and offered throughout the winter. Kuwai tubers are prepared similarly to a potato and provide a neutral starchiness to savory culinary preparations.
Nutritional Value
Kuwai tubers are a source of fiber to regulate the digestive tract, potassium to balance fluid levels within the body, and phosphorus to build strong bones and teeth. The tubers also provide some vitamin C to strengthen the immune system while reducing inflammation, iron to develop the protein hemoglobin for oxygen transport through the bloodstream, and contains other nutrients, including calcium, niacin, thiamine, and riboflavin.
Applications
Kuwai tubers have a starchy, neutral flavor suited for cooked preparations. The tubers must be peeled and cooked before consumption and are used in recipes similar to potatoes. It is recommended to soak the tuber in salted water or boil it in rice-rinsed water to assist in reducing its bitter taste. Kuwai tubers can be boiled and tossed into salads, simmered into soups, curries, or stews, cooked into rice-based dishes, or sauteed as a side dish. They can also be sliced and fried into chips, deep-fried whole, cooked into cream-based sauces, or stir-fried with vegetables. In Japan, Kuwai tubers are simmered in a mixture of sake, soy sauce, and mirin in nimono, a dish served with other vegetables, seafood, or tofu. Beyond cooked dishes, Kuwai tubers can be dried and ground into a powder for extended use. This powder can be baked into bread, stirred into breakfast recipes, or combined with other powders into flour. In China, Kuwai tubers are incorporated into hot pots or braised in pork dishes. Kuwai tubers pair well with lotus root, carrots, daikon radish, dark leafy greens, seafood, and meats such as beef, pork, and poultry. Whole, unpeeled Kuwai tubers will keep for one week when stored loosely wrapped in an open plastic bag in the refrigerator.
Ethnic/Cultural Info
Kuwai tubers are traditionally served as an ingredient for Osechi Ryori, or Japanese New Year's food. The sprouted tubers often appear in Japanese markets in the winter around the new year, and the protruding sprouts are a symbol of new growth and development. The sprouted tubers are believed to bring good fortune and career success in the year to come if they are consumed at the start of the new year. The tubers are also cooked in flavorful liquids such as sake to impart a sweet flavor. Osechi Ryori is typically served in lacquered boxes filled with auspicious foods that will bring specific wishes such as health, prosperity, luck, and fertility. The round nature of Kuwai tubers has earned them the descriptor "medetai," meaning "sprouting," but it has also become a term used for "festive." One of the unique ways Kuwai tubers are prepared is to peel and cut the tubers into hexagons or octagons. This shape is meant to resemble a turtle's shell, and the angular, geometric pattern symbolizes longevity.
Geography/History
Kuwai tubers are attached to aquatic plants native to Europe and continental Asia, growing wild since ancient times. The plants were spread into China in the early ages and were introduced to Japan sometime durian the Heian Era, 794 to 1185 CE. Kuwai tubers were commercially cultivated in Japan beginning in the Edo Period, 1603 to 1868 CE, and were planted in paddy fields covered in a few inches of flowing water. The tubers were also given to the Imperial Court as gifts for several years before the Meiji Restoration. Today Kuwai tubers are cultivated in Japan and China and have become naturalized in areas of the South Pacific. The plants thrive in slow-moving rivers, canals, lakes, flooded fields, marshes, and ponds in tropical to temperate climates and are considered invasive in some regions. In China, Kuwai tubers are cultivated along the Yangtze River, and in Japan, they are grown in Ishikawa, Hiroshima, and Saitama Prefectures. When in season, Kuwai tubers are sold as a specialty item in local markets and through select growers in Asia, Europe, and the South Pacific.
Recipe Ideas
Recipes that include Kuwai Root. One

is easiest, three is harder.