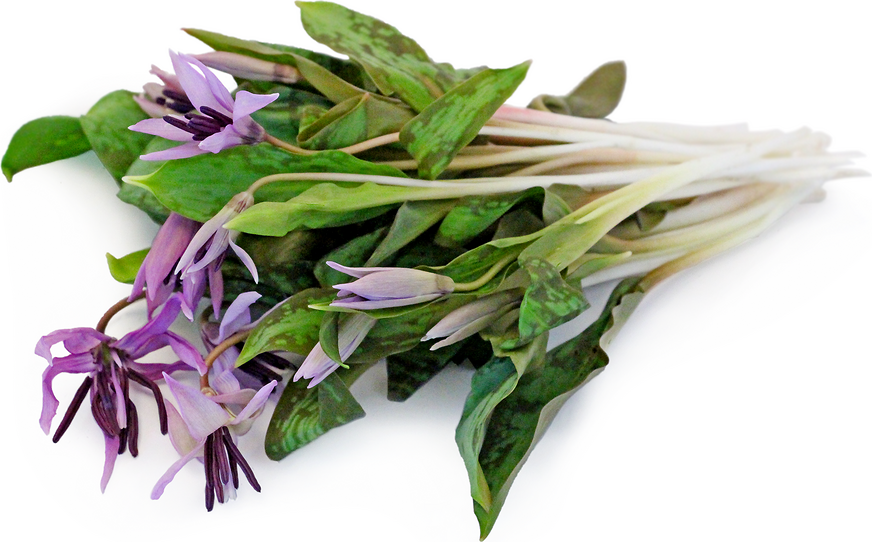 Katakuri Flowers
Inventory, ea : 0
Description/Taste
Katakuri flowers grow in clumps low to the ground and are composed of a singular stem with a small, delicate flower and two elongated leaves situated at the base of the stem, just above an underground bulb. The slender, cylindrical stems extend anywhere from 15 to 20 centimeters in length, and up to 30% of the stem may be underground. The hidden portions of the smooth stems are generally white, transitioning into a light brown to dark red hue above ground, curving at the end, causing the flowers to face downward. The flowers bear six lanceolate-shaped petals that have a pliable, velvety consistency and range in color from light purple to violet. The petals also curl backward, revealing large dark purple anthers and stamens. The leaves are elliptical to lanceolate in shape, averaging 10 to 12 centimeters in length, and have a mottled forest green to light green appearance. Underneath the visible portions of the plant, the ivory bulbs are elongated and narrow, generally reaching up to six centimeters in length. Katakuri plants are valued for their edible leaves, flowers, and bulbs, containing a crisp and succulent consistency, and bearing a mild, sweet, and subtly vegetal flavor.
Seasons/Availability
Katakuri flowers are available for a few weeks in the spring.
Current Facts
Katakuri flowers, botanically known as Erythronium japonicum, are a species of trout lily belonging to the Liliaceae family. The Erythronium genus is comprised of over 20 species, and many of these species share common names, including Dog's-Tooth Violet, Adder's Tongue, Trout Lily, and Fawn Lily. Katakuri is a variety native to East Asia. The name Katakuri is the Japanese word used for the flowers, and the species is also known as Eolleji in Korea and Zhuyahua in China. Katakuri flowers are rare and only bloom for a short season, going dormant after flowering. The plant was historically foraged from wild meadows, but its slow-growing nature has caused it to be overharvested before it can replenish populations, often leading botanists to argue whether the species is considered endangered in Asia. Some growers commercially cultivate Katakuri flowers in the modern-day, but the plants are complicated to grow, take years to bloom, and are sold at luxury prices. While the flower is sought after for its beauty, the Katakuri plant is also grown for its edible bulb, as the bulbs produce a powdered starch prized in cooking. These bulbs also take an extended period to mature, making it difficult for suppliers to keep up with the demand for high-quality starch.
Nutritional Value
Katakuri flowers have not been studied for their nutritional properties. Like other wildflowers, the blooms are a source of some vitamin C to strengthen the immune system, vitamin A to maintain healthy organ functioning, and iron to develop the protein hemoglobin for oxygen transport through the bloodstream. When the bulbs are processed into Katakuri-ko, the powder is used in Traditional Chinese Medicine as a laxative and a paste for skin rashes and other external wounds.
Applications
Katakuri plants have edible flowers, leaves, and bulbs. The flowers and leaves can be consumed raw and are often incorporated into salads. Katakuri flowers can also be used as an edible garnish over desserts such as cakes, tarts, and sorbet, or they can be sprinkled over grain bowls, smoothies, soups, stir-fries, and roasted meats. The leaves are lightly boiled and served as a simple side dish or stirred into soups, curries, and stews. In addition to the flowers and leaves, Katakuri plants are famously known for their edible bulbs, dried and ground into a starch known as Katakuri-ko or Katakuriko. In Japan, Katakuri-ko is used as a thickener in soups, sauces, puddings, and custards and does not emit a taste or smell. The starch can also be used as a flour substitute to coat meats and deep-fried, used to make egg rolls and pasta, or incorporated into candies, dips, dumplings, bread, cakes, and other baked goods. In the present day, Katakuri-ko is frequently mixed with potato starch as a cost-effective means to produce more starch. Research should be completed before purchasing the starch to ensure a pure source is used. Beyond starches, Katakuri bulbs can be sliced and fried similarly to garlic clove crisps, cut and baked into chips, or boiled into soups and stews. Katakuri flowers, leaves, and bulbs pair well with fresh leafy greens such as spinach, arugula, or cabbage, bell peppers, broccoli, squash, meats such as poultry, beef, and turkey, fruits including raspberries, blueberries, citrus, and melon, vanilla, and chocolate. Katakuri flowers and leaves have a short shelf life, and it is best to eat them as soon as they are harvested. If you need to store them, place them in a plastic bag or wrap them in a newspaper and use them within a few days. For long-term storage, the bulbs can be parboiled and dried in the sun or parboiled and frozen for future use.
Ethnic/Cultural Info
Katakuri flowers are said to symbolize the coming of spring and first love in Japan. The flowers bloom for a couple of weeks following the snowmelt, and the colorful flowers are an anticipated sight along trails in meadows and forests. When the flowers are in bloom, Katakuri enthusiasts travel throughout Japan to find colonies of the small flowers to enjoy and capture their fleeting beauty on camera. Katakuri flowers are also sometimes regarded as a sansai or a traditional mountain vegetable. Sansai is a descriptor for Japanese foraged plants, and their fresh, vegetal flavors are intertwined with the belief of the plants symbolizing spring. Beyond their symbolism, Katakuri flowers are sometimes known as Dog's-Tooth Violet, a name given for the bulb's similarity in shape to a dog's canine tooth. The bulb has a pointed, tapered, and slightly jagged appearance, with an ivory to cream-colored hue. While less common, the species is also known as Trout Lily flowers, a descriptor for the small dots featured on the leaf's surface, an appearance reminiscent of the markings on a trout. It is important to note that not all Katakuri flowers will exhibit spots on their leaves, and their appearance may vary depending on where they are growing.
Geography/History
Katakuri flowers are native to Japan, Northeastern China, Korea, and Eastern Russia and have been growing wild since ancient times. The wildflowers are mainly found in mountain woodlands in shaded areas beneath trees, along flowing water, or in meadows. In Japan, Katakuri flowers were once widely found across the country, but presently the flowers are localized to small areas in Kyushu, Honshu, Hokkaido, and Shikoku. There are some commercial growers attempting to cultivate the species, but production is also low and slow, limiting the flowers, leaves, and bulbs availability. Today Katakuri flowers are still found throughout East Asia and are harvested from a mix of foraging and cultivation. Conservation groups also protect several wild plant sites in an attempt to rebuild natural populations. Katakuri flowers are sold through local markets and specialty distributors in Japan, China, Korea, and Russia.
Recipe Ideas
Recipes that include Katakuri Flowers. One

is easiest, three is harder.