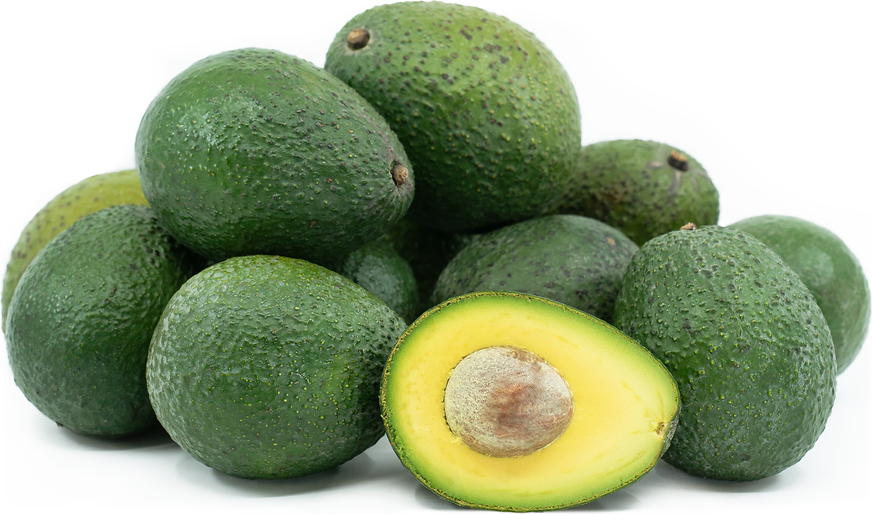 Gwen Avocados
Inventory, lb : 0
Description/Taste
The Gwen avocado, a descendant of the famed hass variety, has thick, pebbly skin like the hass avocado, but has a rounder shape and is slightly larger in size, ranging from six to fifteen ounces. It also remains green in color when ripe, unlike the hass avocado, which darkens to almost black. The Gwen avocado has a small, tight seed in its creamy gold-green flesh, and it offers a superb nutty flavor and buttery texture similar, if not superior, to the hass avocado. The Gwen avocado tree is classified as a dwarf variety, based on its small size, and is known to be the most productive of the dwarf avocados. It requires little more than a third of the space of a typical avocado tree, yet it can produce twice as much fruit. Gwen avocado trees can naturally reach fifteen feet in height, but they can be kept even smaller because their small limbs lend easily to pruning. Gwen can certainly be a heavy producer, and its fruit is set in huge numbers uniformly throughout the tree, however it is extremely intolerant to cold, heat, wind or drought. This Type A avocado cultivar also has a strong need for a pollinizing variety, in other words Type B, in order to improve production. Zutano avocados, in particular, are often used for cross-pollination.
Seasons/Availability
Gwen avocados are available in the summer months.
Current Facts
The avocado, or Persea americana Mill., belongs to the Lauraceae, or laurel, family, and is the only tree in the family that produces edible fruit. The three main types of avocados are Mexican, West Indian, and Guatemalan, and included in these major categories are hundreds of varieties with different shapes, colors, and skin textures. Most of the varieties grown in California are Guatemalan types, like the Gwen avocado, Mexican types, or a hybrid of the two, while Florida grows mostly West Indian types.
Nutritional Value
Avocados are high in essential vitamins, including vitamins E and D, as well as dietary fiber, protein, folate, and potassium, a mineral that helps to regulate blood pressure and protect against circulatory diseases. Avocados also contain the carotenoid lutein, a natural antioxidant that may help maintain healthy eyes. The avocado is second only to olives among fruits in oil content, however the oil in avocados is packed with monounsaturated fatty acids and is actually relatively healthy, with the ability to reduce blood cholesterol.
Applications
The Gwen avocado is easy to peel with a wonderful taste and texture, making it an excellent substitute for hass avocados. They are most often used raw, notably in guacamole, one of the most popular dishes of Mexico, which is made by mashing avocados with chilies, onions, spices, and lime juice, with variations depending on the recipe. Avocados can simply be cut in half and topped with a bit of vinaigrette or lemon juice and seasoned with salt and pepper, or added to sandwiches, salads, and hot or cold soups. Avoid exposure to direct heat, such as broiling, as it can result in a bitter taste, and instead cook the avocados only briefly or simply add them toward the end of cooking. Avocados can even be used in desserts such as ice cream, mousses, and fruit salads. Store avocados at room temperature until ripe, after which whole ripe avocados will keep for two to three days in the refrigerator. To store cut avocados, sprinkle with lemon juice or vinegar to prevent discoloration, cover cut surface with plastic wrap, and refrigerate. Cut avocados will keep for a day or two.
Ethnic/Cultural Info
While it is not a new variety, the Gwen avocado is not widely known, and has only recently been available at local nurseries. However, it is starting to disappear as a cultivar in California. Although Gwen trees were abundant at the South Coast Field Station when they were first cultivated, large blocks of Gwen avocados in San Diego County have had poor fruit set, perhaps because of their strong requirement for cross-pollination to a Type B flowering variety, or because of their high sensitivity to soil dryness, wind, and temperature. The fact that the Gwen avocado stays green when ripe can also possibly be attributed to its lack of popularity, as many people in the industry are accustomed to the black-when-ripe attribute found in the hass avocado. It was thought that a new cultivar bred from Gwen avocados could be successful if it was closer to the hass variety in color and provided the grower with more consistent fruit set. This optimism is what led the way for the discovery and development of the lamb hass avocado.
Geography/History
The Gwen avocado was developed by Dr. Bob Bergh of the University of California, Riverside, and officially patented by the University of California in October 1984. The Gwen avocado was a selection from seedlings of the little-known thille avocado, a seedling of the hass avocado. Thille seedlings were planted at the University of California's South Coast Field Station in Irvine, California in 1963. One of those seedlings, at the time called T225, was noted as a promising cultivar due to its heavy set and excellent fruit quality. That cultivar is known today as the Gwen avocado.
Recipe Ideas
Recipes that include Gwen Avocados. One

is easiest, three is harder.
Podcast