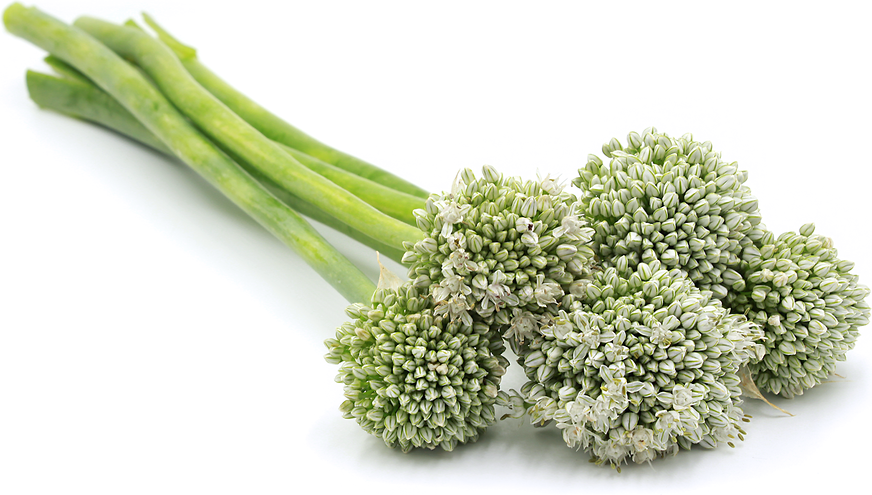 Scallion Blossoms
Inventory, bunch : 0
Description/Taste
Scallion blossoms develop on the end of tall, straight, and fleshy stalks. The pale green stalks, also known as scapes, are smooth and hollow, and the buds are initially enveloped in a tear-drop shape protective layer at the top of the scape. The papery sheath will peel back as the flowers mature, allowing the florets to expand and create a rounded cluster. The florets are tiny and have a pale green, white, to silvery hue, tapering to a pointed tip. Spherical white flowers eventually emerge and create a globe-like head that averages 2 to 8 cm in diameter. The flowers are delicate, soft, and tender, with a crisp and dry consistency. Scallion blossoms are aromatic and release a scent similar to onion bulbs. The florets and flowers contain a sweet, earthy, and onion-like flavor with fresh grass and garlic nuances.
Seasons/Availability
Scallion blossoms are available in the late winter through early summer.
Current Facts
Scallion blossoms, botanically a part of the Allium genus, are seasonal flowering buds belonging to the Amaryllidaceae family. The tiny flowers form in round clusters at the top of a stalk and are harvested as a secondary crop to onion bulbs, found worldwide, especially in regions of India, Southeast Asia, and China. Scallion blossoms share a similar flavor and aroma to onion bulbs without intense pungency and impart a clean, subtly vegetal, and grassy taste. The stalk, bud, and flowers can all be used in culinary preparations, and the blossoms are treated similarly to chive blossoms in recipes. In the modern-day, Scallion blossoms are an uncommon ingredient and are primarily localized to farmer's markets and specialty distributors in their growing regions. The seasonal blooms are not commercially cultivated and are a delicacy among niche markets.
Nutritional Value
Scallion blossoms have not been studied for their nutritional properties, but like other flowers, they may be a source of vitamin A to maintain healthy organ functioning, vitamin C to strengthen the immune system, and vitamin K to assist in faster wound healing. The blossoms may also provide potassium to balance fluid levels within the body, phosphorus to protect bones and teeth, and other nutrients, including magnesium, copper, and iron.
Applications
Scallion blossoms have a grassy, onion-like flavor well suited for fresh and lightly cooked preparations. The stalks, buds, and flowers are all edible and can be incorporated into savory dishes for added flavor. It is important to note that the flowers are delicate and are best used as a finishing element. The blossoms should be washed before consumption and are recommended to be dunked several times in water and swished around to remove lingering debris and bugs. Once washed, the flowers can be dried and used in small clusters or separated for individual placement. Scallion blossoms can be sprinkled over salads, floated on top of soups, piled on crepes, stirred into potato salads, or used over egg-based dishes such as quiches and scrambles. The flowers can also be folded into bread or pasta dough, mashed into butter, or pressed into soft cheeses. Try infusing scallion blossoms into sauces such as pesto, salad dressings, or vinegar for a savory taste. The flowers can also be incorporated into chimichurri sauces, herbal dips, and salsa. In addition to the blossoms, the stalks can be finely chopped and mixed into onion pancakes, stir-fries, and sautés. They can also be lightly roasted and served with grilled meats. Scallion blossoms pair well with aromatics such as garlic, ginger, chile peppers, and shallots, spices including turmeric, garam masala, and curry powder, herbs such as thyme, parsley, and cilantro, potatoes, eggs, meats including beef, pork, and poultry, and fish. Scallion blossoms should be used immediately for the best quality and flavor and will keep 1 to 2 days when stored unwashed in a plastic bag in the refrigerator.
Ethnic/Cultural Info
Flowering stalks of various members of the Allium genus are highly prized in the springtime cuisine of West Bengal, a state in eastern India located alongside the Bay of Bengal. Most onion growers worldwide value the bulb as the commercial crop, but in West Bengal, the flowers and stalks are specifically cultivated as a seasonal delicacy. Bengali cuisine is known for its flavors, infusing many different herbs and spices, and vegetables are frequently steamed or stir-fried to absorb accompanying flavors. In the late winter to early spring, Scallion blossoms can be found still attached to their long, hollow stalks, sold in bunches at the local markets. The stalks and the flower buds are both traditionally used, and the flowering stalks are also known as Ullithandu, Pyaaz koli, Peyajkoli, and Spring Onion flowers. In Bengal, Peyajkoli is popularly cooked into aloo peyajkoli bhaja, a simple dish of stir-fried onion flower stalks, potatoes, and spices, served with rice. This dish is unique to Bengali cuisine and can be prepared for any meal of the day, most often served during lunchtime. Other ingredients such as shrimp, fish, or chapati, a type of Indian flatbread, are also paired with the stir-fry to add textures and flavors.
Geography/History
Scallions are native to Asia and are descendants of wild Allium species found growing in regions throughout Central and Western Asia. The aromatic plant was spread across Asia into East Asia, the Middle East, and Northern Africa in the early ages and was widely planted as a culinary crop. Scallions were introduced into Europe sometime around the 1600s through trade and traveling merchants, and migrating peoples eventually brought scallions to the New World. Scallion blossoms have been used since antiquity and are a secondary crop favored in some cultures more than others. The flowers are considered a seasonal specialty and are often used in savory culinary dishes as a delicate flavor enhancement. Today Scallion blossoms are grown worldwide and are found through local markets, farm stands, and distributors.
Recipe Ideas
Recipes that include Scallion Blossoms. One

is easiest, three is harder.