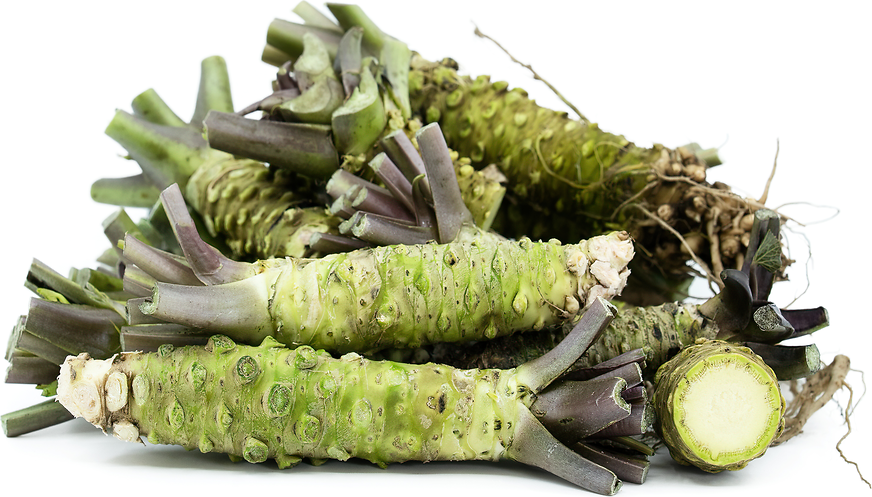 Red Wasabi (Mazuma)
Inventory, lb : 0
Description/Taste

Red Wasabi is small to medium in size, averaging 5 to 7 centimeters in length and 1.9 to 3 centimeters in diameter, and has a straight, cylindrical shape. Despite their common name using the descriptor "root," wasabi root is actually a subterranean stem or rhizome. The rhizome's surface is textured and semi-rough, covered in axillary buds created from stems falling off during the plant's growing process. These small protruding bumps form in a distinct spiral pattern, and the distance between the nodes is uniform. The rhizome's skin also showcases light green, dusty green, and darker green hues with a firm, tough consistency. Underneath the surface, the flesh is dense, solid, and hard, revealing an ivory-to-green-white center with a thin pale-green ring. The flesh is traditionally grated to create a paste, and Red Wasabi is known for its stickiness, a quality highly desired for culinary preparations. Red Wasabi also has several fibrous, crunchy stems that arise from the top of the rhizome. These thin stems produce large, flat, and broad leaves, and both the stems and leaves are edible and have a crisp, peppery taste. Red Wasabi emits a refreshing scent and should feel heavy for its size. The rhizomes are traditionally grated and consumed fresh, containing a smooth, herbaceous, green, and subtly sweet taste combined with an intense, peppery spiciness. This pungency travels across the tongue and mouth and into the nose, and the portion of the rhizome just beneath the stems will have the strongest taste and aroma.


Seasons/Availability

Red Wasabi is available year-round, with a peak season in the winter.


Current Facts

Red Wasabi, botanically classified as Eutrema japonica, is a rare type of wasabi belonging to the Brassicaceae family. The slow-growing, perennial plants produce edible roots, rhizomes, stems, and leaves, reaching 20 to 60 centimeters in height, and it takes 1.5 to 2 years for rhizomes to develop before they can be harvested. Red Wasabi is challenging to cultivate as the plants are delicate, picky, and susceptible to disease as they are not sprayed with pesticides. The plants must also be grown in locations with fertile soil, specific temperatures, fresh mineral water, and sunlight. Red Wasabi is also known as Red-Stem Wasabi and Mazuma, a name of a specific Red Wasabi variety. Mazuma is often used as another general name for Red Wasabi in Japan and is considered the highest grade sawa-wasabi or wasabi grown in flooded beds with spring water. Red Wasabi is a treasured culinary crop among chefs and is favored for its aroma and sweet and spicy taste. Despite its history as a desired, luxury culinary ingredient, Red Wasabi is declining in production as farmers retire and future generations choose other career paths, causing the fresh rhizome to become a rarer, harder-to-find item.


Nutritional Value

Red Wasabi is a source of potassium to balance fluid levels within the body, iron to develop the protein hemoglobin for oxygen transport through the bloodstream, and calcium to build strong bones and teeth. The rhizomes also provide vitamin C to boost the immune system, magnesium to control optimal nerve functioning, vitamin A to maintain healthy organs, and other nutrients, including manganese, zinc, folate, and phosphorus. The rhizome's spicy, pungent heat differs from the spice found in chile peppers. Wasabi rhizomes contain a type of mustard oil allyl isothiocyanate, a naturally occurring oil that develops a peppery, spicy, and nose-tingling sensation. Wasabi is also being studied for its medicinal properties, as it is said to act as an anti-inflammatory and can help fight against bacteria that cause food poisoning.


Applications

Red Wasabi has a sweet, herbaceous, and spicy taste suited for fresh preparations. It is important to note that most pastes called wasabi at restaurants in the United States are not true wasabi but ground horseradish. True Red Wasabi is typically grated just before serving and is cherished for its pure flavor. Red Wasabi will also bear different pungency levels, depending on how the root is grated. Red Wasabi grated on a finer surface will increase the spiciness as the compounds within the rhizome are exposed to more air. Grated Red Wasabi peaks in pungency about 3 to 5 minutes after preparation; after this period, it will decline in intensity. If a sweeter taste is desired, sugar can be sprinkled on the grater to be blended into the paste. Wasabi experts also comment that wasabi should be grated with a smile, meaning that only light pressure should be applied when grating the rhizome to not crush the authentic flavor. Freshly grated Red Wasabi can be lightly spread on sashimi and meat such as wagyu, stirred into noodle dishes, or topped over rice with soy sauce, bonito flakes, green onions, and seaweed. Red Wasabi can also be served with dumplings, dairy products, tempura, and natto. In Japan, freshly grated wasabi is popularly eaten with vanilla ice cream. The cream neutralizes the rhizome's spice, allowing the green, herbaceous, and sweet notes to shine. Grated wasabi can also be stirred into beer or cocktails as a fiery kick. In Western preparations, Red Wasabi can be made into a paste, mixed with spreads for sandwiches, blended into hummus and guacamole, or added to mashed potatoes. Grated wasabi also complements scrambled eggs, salad dressings, and marinades for grilled or roasted meats. Beyond the rhizomes, Red Wasabi stems, and leaves are edible and can be eaten raw or pickled. Red Wasabi pairs well with aromatics such as ginger and garlic, sesame, fresh herbs, and lime. Whole, unwashed Red Wasabi should be wrapped in damp newspaper, covered in plastic wrap, and stored in the refrigerator. It is recommended to use the rhizome as soon as possible for the best quality and flavor, but it may be able to be stored for 1 to 4 weeks. If portions of the rhizome turn black in storage, it can be gently scraped off, revealing fresh green flesh. If it is black all the way through, it should be discarded and not consumed. Red Wasabi can also be frozen for extended use, but the rhizome may lose its pungency.


Ethnic/Cultural Info

Wasabi fields are registered as a Globally Important Agricultural Heritage System and were given this acknowledgment in 2008. This title recognizes agroecosystems that are comprised of passionate communities that live in harmony with nature. Wasabi is mostly grown by families that have been cultivating the plant for generations in Japan, and there are specific preparations and processes conducted each year to produce quality crops. Red wasabi is traditionally grown tatamiishi-style, meaning it is planted in constructed beds flooded with moving water. The flat fields are built beneath the path of a stream using natural river rock gathered from the mountains. Once constructed, the stream is unblocked, and the beds are flooded with the flowing spring water. The water flows from rain and snow runoff in the mountains and remains a stable temperature throughout the year, a feature that allows wasabi to be grown year-round. Even when there is snow on the ground, wasabi growers note that the water remains a stable, warmer temperature. The flowing water also encourages the wasabi rhizomes to grow larger as they are not stifled by growth inhibitors that can become trapped in conventional soil-centric fields. Wasabi fields in Japan are considered aesthetically beautiful, and small waterfalls cascade between the leveled fields, creating a tranquil, fresh, and natural environment.


Geography/History

Red Wasabi is native to Japan and has been growing wild since ancient times. The exact history of when wasabi was first cultivated is unknown, but archeological sites and various ruins in Japan found evidence of wasabi plants being used during the Asuka period, 592 CE, and possibly earlier. Wasabi plants were later used medicinally in the Heian period, 794 to 1185 CE, and in the Edo period, 1603 to 1867 CE, cultivation of the species was prevalent for the grated rhizome's use as a condiment with nigiri sushi. Green Wasabi was thought to have arisen from the Shizuoka Prefecture and spread in cultivation to several regions in Japan. Experts believe Red Wasabi to have been created in Mazuma, now known as the Kawamata District, in Inami Town of the Wakayama Prefecture sometime before 1888. Red Wasabi reached peaked production in Mazume in the 1950s, and in the 1960s, it was planted in Shizuoka after the Kano River typhoon. Shizuoka Prefecture wasabi farmers visited Mazuma to learn about their red-stem variety after the typhoon's destruction. The plants were then brought back to Shizuoka and were planted as a new cultivar. Today Red Wasabi is grown in Japan and is primarily produced in the Shizuoka Prefecture, specifically in the Izu region, the Nagano Prefecture, and the Wakayama Prefecture. Once harvested, the fresh rhizomes are sold through farmer's markets, select grocers, and distributors.