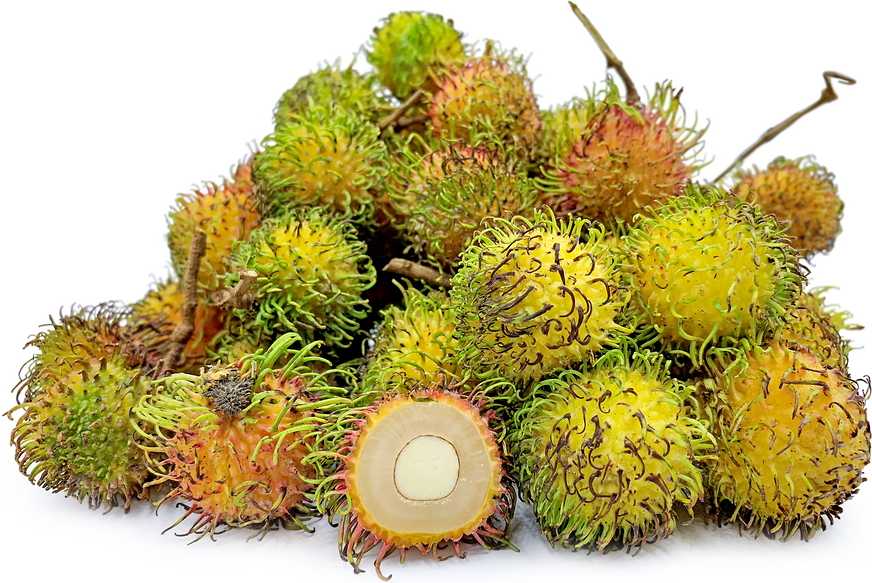 Rapiah Rambutan
Inventory, lb : 0
Description/Taste

Rapiah rambutan is small to medium in size, averaging 2-3 centimeters in diameter, and is round to ovate in shape growing in a loose cluster ranging from 10-20 fruits. The semi-thick, firm, and leathery rind is covered in soft, hair-like protrusions known as spinterns that extend in every direction. These spinterns are shorter than other rambutan varieties and are found in tightly compacted, varying lengths. The rind also ranges in color from green, yellow, to red and may have a combination of all three depending on maturity. Underneath the rind, the flesh or aril is translucent-white, chewy, and soft with a somewhat dry texture. The flesh is easily detached from the rind, and in the center of the flesh, there is an oblong, light brown to cream-colored seed that is edible when cooked. Rapiah rambutan has little fragrance and is slightly sticky with a mildly acidic, sweet flavor.


Seasons/Availability

Rapiah rambutan is available year-round in Southeast Asia with a peak season in the winter.


Current Facts

Rapiah rambutan, botanically classified as Nephelium lappaceum, are small tropical fruits that are found growing on evergreen trees reaching up to twenty-five meters in height and belong to the Sapindaceae or soapberry family. Native to Southeast Asia, Rapiah rambutan is highly favored for their sweet flavor and are considered one of the most popular fresh eating varieties in Malaysia and Indonesia. Rapiah rambutan grows wild in both tropical lowlands and highlands and is also commercially grown in orchards, farms, and backyard gardens. Favored for their short hair-like spines and for their ability to be grown in containers, Rapiah rambutan is commonly sold fresh or is canned for extended use.


Nutritional Value

Rapiah rambutan contains some niacin, manganese, vitamin C, magnesium, iron, calcium, and folate.


Applications

Rapiah rambutan is best suited for fresh eating and is easily peeled by hand or sliced open to expose the flesh. The fruit is typically consumed as a snack or is mixed with other fruits as a tropical fruit salad. The fruit can also be blended into cocktails, muddled into fruit drinks, or incorporated into curries for added sweetness. In addition to fresh preparations, Rapiah rambutan can be stewed or canned and preserved with simple syrup to create a sweet treat and is used to top desserts. Rapiah rambutan pairs well with onions, Thai chiles, limes, galangal root, turmeric, cilantro, mint, rice, noodles, fruits such as pineapple, coconut, grapes, apples, pears, and oranges, ginger, and honey. The fruit will keep up to six days when stored in a plastic bag in the refrigerator.


Ethnic/Cultural Info

Once grown for local consumption, rambutan is a popular item sold at markets and roadside stands in Malaysia and Indonesia. The unique texture and bright colors of the fruit display well, appeals to the eye, and many locals enjoy buying the fruit from these roadside stands on their way home from work as a sweet snack. Rambutan has also seen an increase in popularity in the global market as the demand for nutritious, social-media worthy fruits grows. With rambutan being desired in countries that cannot produce their own such as the United States, regions within Southeast Asia are focusing on cultivation for export ranking rambutan as the fourth most important economic crop. In addition to fresh exports, rambutan is also being used as a flavoring for candies, canned goods, and snack foods.


Geography/History

Rambutan is believed to be native to the Malay Archipelago, but the exact origin is unknown as the fruit has been cultivated since ancient times. The fruit was then spread to neighboring countries via seed exchange where many different varieties were developed. Rapiah rambutan specifically has been rumored to be from the region of Pasar Minggu, which is a subdistrict of Jakarta, Indonesia. Today the fruit is mainly found in Southeast Asia at local markets, but it is also one of the top five commercially grown varieties for export and may be found at specialty grocers in Asia, Africa, Central America, and North America.