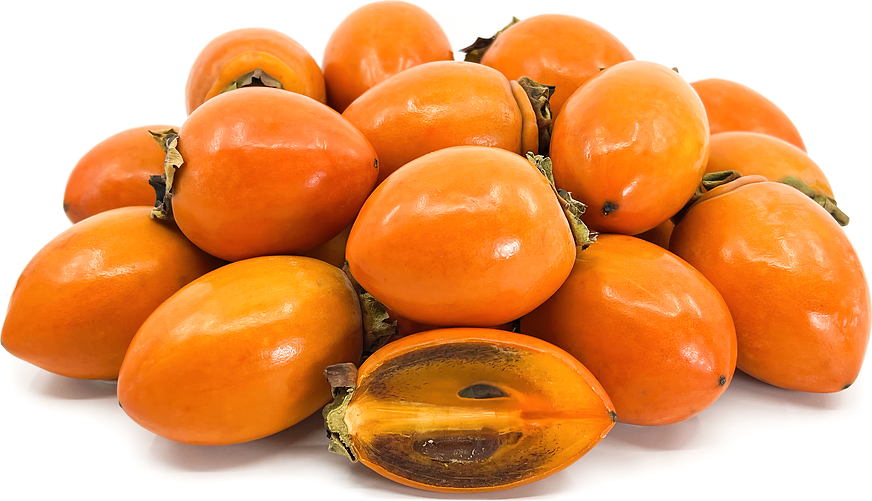 Fudegaki Persimmons
Inventory, lb : 0
Description/Taste

Fudegaki persimmons are small in size, averaging 80 to 140 grams in weight, and have an oval-to-oblate shape tapering to a pointed tip. The variety has thin, smooth, glossy, and taut skin that ripens from green to dark orange. The surface may also be covered in a white powdery bloom, a natural protective layer on the skin to retain moisture. The bloom can be easily wiped away, and the papery, green-brown calyx should be removed before consumption. Underneath the surface, the flesh is typically orange and is sometimes speckled with brown spots, a sign of high sugar content. The flesh has a crisp, aqueous, and smooth consistency, and there are several elongated seeds embedded throughout the fruit. These seeds are distinct in appearance from other persimmon varieties and are more pointed and slender than typical round seeds. Select Fudegaki persimmons that feel heavy for their size and are shiny and free from blemishes. When ripe, Fudegaki persimmons have a higher sugar content than other varieties, creating a rich, sugary, and sweet taste.


Seasons/Availability

Fudegaki persimmons are available in the late summer through early winter, with a peak season from mid-September through early November. The variety is known for ripening earlier than other persimmon cultivars in Japan and is in season for an extended period.


Current Facts

Fudegaki persimmons, botanically classified as Diospyros kaki, are a Japanese variety belonging to the Ebenaceae family. The small, elongated persimmons are an early maturing variety and are categorized as incomplete persimmons, meaning the trees develop both sweet and astringent fruits. The sweetness of the fruits is primarily determined by the number of seeds in the flesh, and the more seeds, the sweeter the flesh. Fudegaki persimmons are sorted using technologically advanced machines that can distinguish between seeded, sweet fruits, and astringent fruits. Sweet Fudegaki persimmons are immediately transported to markets where they are sold for fresh purposes. Astringent Fudegaki persimmons are shipped later once their astringency has been treated and removed. Fudegaki persimmons are a rarer type of Japanese persimmon valued for their unusual shape, sweet flavor, and firm texture. Historically, the cultivar was considered a "rare treasure persimmon" during the Edo period in Japan and was savored as a sugary, dessert-like treat when sweets were scarce in markets. In the modern day, the variety is produced on a small scale and sold through fresh markets as a seasonal delicacy for fresh and cooked culinary preparations.


Nutritional Value

Fudegaki persimmons are a source of vitamin C to boost the immune system, carotenoids to assist in maintaining overall health and protecting against disease, and B vitamins to support the nervous system. The variety, like other persimmons, may also be a source of vitamin A to protect organ functioning, potassium to balance fluid levels within the body, vitamin E to guard the cells against free radical damage, fiber to regulate the digestive tract, and other nutrients, including manganese, iron, calcium, copper, phosphorus, and folate. In natural medicines, persimmons are consumed to fight against fatigue, aging, and high blood pressure. They are also consumed as a method to fight against colds.


Applications

Fudegaki persimmons have a mild, sweet taste suited for fresh and cooked preparations. The variety is traditionally consumed straight out of hand, discarding the seeds, and the skin can be eaten, depending on preference. Most Fudegaki persimmons have a firm texture, making them a popular choice for tossing into salads. In Japan, the variety is combined with white dressing or tofu as a side dish, sliced into fruit medleys, or served on appetizer platters as a sweet accompaniment to other fruits, nuts, cheeses, and vegetables. In addition to fresh preparations, Fudegaki persimmons can be incorporated into desserts and baked goods, such as bread, cookies, pies, tarts, and cakes. They can also be simmered into compotes, jellies, jams, and sauces or cooked into puddings. Beyond fresh and cooked dishes, Fudegaki persimmons are dried for extended use or processed into wine as a commercial good. The fruit's seeds were rumored to have inspired the shape of the popular food Kaki no Tane, a crunchy snack consumed with tea or beer in Japan. Fudegaki persimmons pair well with cheeses such as parmesan, chevre, and manchego, spices such as cinnamon, nutmeg, and clove, and nuts such as walnuts, almonds, pecans, and pine. Whole, unwashed Fudegaki persimmons can be stored at room temperature or in the refrigerator. At room temperature, the fruits should be wrapped in newspaper and placed in a plastic bag in a cool, dark, and well-ventilated place. The flesh will soften in about 2 to 3 days at room temperature. In the refrigerator, the fruits should be kept in a plastic bag in the refrigerator's crisper drawer and will retain a firmer texture.


Ethnic/Cultural Info

Fudegaki persimmons have acquired several names throughout history due to their unusual shape. The name Fudegaki is derived from the Japanese word "fude," meaning "calligraphy brush." This moniker was given to the fruits for their elongated and tapered shape, ending in a point similar to the appearance of a Japanese calligraphy brush. Fudegaki is the most used commercial name for the variety in Japan, but the fruits are also known by more local names of Bongaki and Chinpogaki in the Aichi Prefecture. Bongaki was given to the fruits as they are typically harvested around the date of the Bon festival in August, a celebration honoring the spirits of ancestors. Chinpogaki is a nickname for the fruit's similarity in shape to male anatomy. While this name is popular throughout Aichi, it was deemed too taboo to be the nationwide commercial name, so Fudegaki was chosen for the persimmons instead.


Geography/History

Fudegaki persimmons are native to Japan and were first recorded in the Aichi Prefecture. The variety's exact date of origin is unknown, but the persimmons have been growing at the foot of Mt. Mikane in the Aichi Prefecture since the Edo Period, 1603 to 1867 CE. The oldest known persimmon tree in Aichi is found in Kamirokukurichi, Koda town, and the tree is thought to be around 350 years old, rumored to still bear fruit. Throughout history, Fudegaki persimmons were primarily grown in home gardens in the Aichi Prefecture until they were selected for commercial production in the 1960s. Cultivation began in Koda town, and by the 1980s, the fruits were being shipped across Japan. Fudegaki persimmon commercial production expanded in 1981 when the Nishimikawa Fudegaki Fruit Sorting Plant was constructed, allowing the persimmons to be sorted and shipped at a faster rate. Today, Fudegaki persimmons are mainly grown in the Aichi Prefecture, accounting for 69% of national production, followed by Nagano with 19% and Kyoto with 12%. In the Aichi Prefecture, most Fudegaki persimmons are grown in Koda Town and Nishio City. When in season, Fudegaki persimmons are only sold in limited quantities and are most likely to be found in fresh markets, distributors, and directly through growers in Japan.