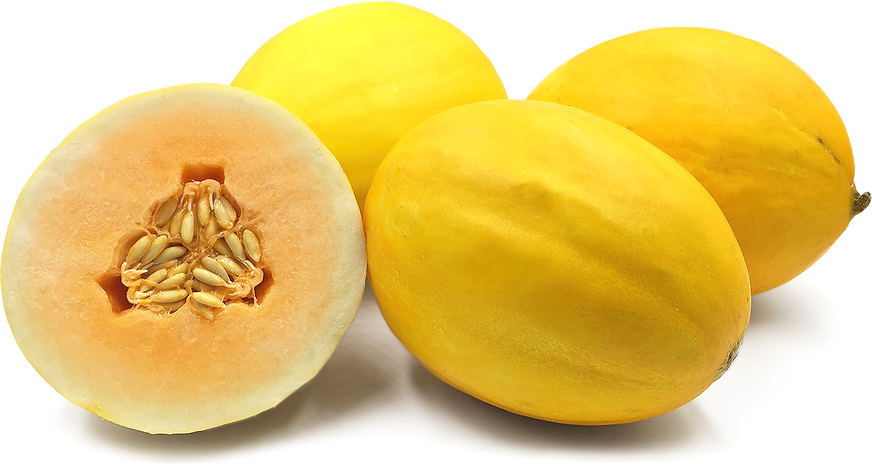 Yellow Muskmelon
Inventory, lb : 0
Description/Taste

Yellow muskmelons usually weigh between 2 to 3 kilograms and have an oval shape with blunted ends. Their thick exterior rind matures from green to a rich golden yellow when fully ripe and has a gently rippled texture. The peachy-orange flesh surrounds a hollow center containing loose seeds and fibers, similar to that of a cantaloupe. The sweet aroma that often permeates outside the melon is floral and fruity, conveying a high sugar content and succulent texture. Fully ripe Yellow muskmelons will feel weighty for their size and are best consumed within a few weeks of harvesting.


Seasons/Availability

Yellow muskmelons are available in the summer and early fall.


Current Facts

Yellow muskmelons are likely a hybrid combining at least two varieties of other muskmelons. Muskmelons are botanically classified as Cucumis melo and are also referred to as cantaloupes. Melons are relatives of cucumbers, squash, pumpkin, and watermelon, all of which are members of the Cucurbitaceae family. Muskmelon is an important dessert fruit, particularly in the tropic and subtropic regions of the world. Muskmelons command premium prices as compared to other fruits. Thus, muskmelon breeders around the world are experimenting with modifying existing muskmelons, creating various hybrids and types.


Nutritional Value

Like other muskmelons, Yellow muskmelons are high in vitamins A and C. They contain folic acid, magnesium, potassium, and carotenoids. They contain anti-inflammatory nutrients cucuritacin B and cucurbitacin E. Some studies have shown that muskmelons may have the potential to help prevent or treat breast, ovarian and lung cancers.


Applications

Yellow muskmelons are most commonly eaten raw. They can be used in fruit salads along with other fruit like watermelons, papayas, peaches, pineapples and kiwis. Yellow muskmelons pair well with herbs like mint, dill and basil. They also pair well with sugar and cardamom. Yellow muskmelons can be kept at room temperature for 1 to 2 days. Store whole, ripe muskmelons in the vegetable crisper bin in the refrigerator, where they will keep for around 5 days. Ripe muskmelons can be cut into pieces, and stored in the refrigerator where they will last for 1 to 2 days. Cut muskmelons can be frozen, but be sure to consume the fruit in its frozen state as well, since thawed muskmelon has a mushy texture.


Ethnic/Cultural Info

In India, Yellow muskmelon is commonly paired with sugar and cardamom and eaten raw as a sweet treat. In the Indian health system of Ayurveda, muskmelons have a cooling effect on the body. The fruit is used to help with ailments like constipation, bladder infections, and to help stabilize blood pressure. Under the system of Ayurveda, fruits like Yellow muskmelon should be eaten in the mornings, or at least an hour before or after meals. This is because fruit is seen as a fast-digesting food. If eaten with foods that take longer to digest, such as grains or legumes, cramps and gas might occur. Muskmelons are also considered to have soothing effects on the digestive system in the Traditional Chinese Medicine health system. They are associated with the stomach meridian, and have been used to help with digestive problems since the time of the Ming Dynasty (1368 to 1644).


Geography/History

The exact origins of muskmelons are unknown, but they most likely originated in Western Asia, specifically Persia. The majority of Muskmelon production comes from the United States and from China where it has been cultivated since 2000 BC. In India, there are approximately 10 varieties of muskmelon, which can be found growing in a variety of different regions such as Tamil Nadu, Punjab, Safeda, Andhra Pradesh, Lucknow and Uttar Pradesh. Muskmelons flourish in warm climates with plenty of sun.