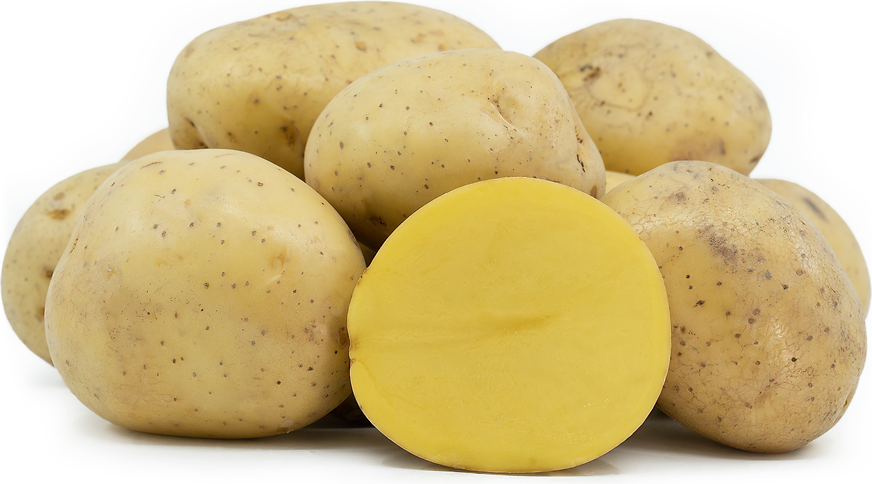 Yukon Gold Potatoes
Inventory, 50 lbs : 95.94
This item was last sold on : 12/10/23
Description/Taste
Yukon Gold potatoes are a medium to large varietal, averaging 3 to 6 centimeters in diameter, and have a slightly flattened, round to oblong shape. The tuber's skin is thin, smooth, and taut, ranging in color from tan, golden yellow, to light brown, speckled with many tiny brown spots. The potato's surface is also relatively even and uniform, only exhibiting a few shallow eyes with a rosy-blushed hue. Pink eyes are a distinguishing feature of Yukon Gold potatoes and are one indicator that separates the variety from other yellow potatoes. Underneath the surface, the golden yellow flesh is solid, dense, slippery, and firm. Yukon Gold potatoes have a slightly higher sugar content than other yellow cultivars and develop a fine-grained, silky, tender, and smooth consistency when cooked. The variety has starchy and waxy potato characteristics and has an earthy, sweet, buttery, and lightly vegetal taste.
Seasons/Availability
Yukon Gold potatoes are available year-round, with a peak season from August through February.
Current Facts
Yukon Gold potatoes, botanically classified as Solanum tuberosum, are a yellow-flesh variety belonging to the Solanaceae or nightshade family. The mid-season cultivar was created in Canada in the late 20th century and was one of the first commercially successful North American yellow-fleshed cultivars. Potatoes are the largest vegetable crop grown in Canada, and over 150 potato varieties of potatoes are produced in the country. Yukon Gold potatoes were the first potato released, and mass marketed by their name in Canada and are favored for their moderate yields, slight disease resistance, vibrant coloring, uniform nature, and rich taste. Since their release, Yukon Gold potatoes have been viewed as an all-purpose cultivar used by consumers in a wide array of cooked preparations.
Nutritional Value
Yukon Gold potatoes are a source of vitamin C to strengthen the immune system, fiber to regulate the digestive tract, and potassium to balance fluid levels within the body. The tubers also provide calcium to build strong bones and teeth, iron to develop the protein hemoglobin for oxygen transport through the bloodstream, and other nutrients, including B vitamins and magnesium. In addition to vitamins and minerals, the potatoes contain anthoxanthins, which are a type of flavonoid that gives the tuber its yellow coloring. Anthoxanthins also provide antioxidant-like properties to protect the cells against the damage caused by free radicals.
Applications
Yukon Gold potatoes have a sweet, buttery, and earthy flavor suited for cooked applications such as roasting, grilling, frying, mashing, sautéing, and boiling. The tubers retain their golden yellow coloring when cooked, and the skin can be peeled or left intact, depending on culinary preferences. Yukon Gold potatoes can be boiled and sliced into salads, cooked and mashed into a creamy side dish, or sliced and added into casseroles and gratins. The tubers can also be mixed into hashes, simmered into soups, stews, and pot roasts, blended into purees, or stuffed and baked. In Canada, Yukon Gold potatoes are incorporated into pommes persillade, a dish of crispy potatoes tossed in parsley and garlic, or combined with chicken in rappie pie, a traditional dish from Nova Scotia. Yukon Gold potatoes are also used in two versions of poutine, Canada's national dish. Some chefs choose to make the tubers into fries, garnished with gravy and cheese curds, while poutine rapee is a boiled potato dumpling filled with pork. Outside of Canada, the tubers can be used in any recipe calling for yellow or all-purpose cultivars. Yukon Gold potatoes pair well with herbs such as oregano, cilantro, sage, basil, and tarragon, cheeses such as cheddar, parmesan, gruyere, and fontina, and spices including paprika, chili powder, cumin, and garlic powder. Whole, unwashed Yukon Gold potatoes should be stored in a paper or perforated plastic bag and kept in a cool, dry, and dark place. The variety will last for several weeks, uncooked. Once prepared, the tubers should be eaten within three days and stored in an airtight container in the refrigerator's crisper drawer.
Ethnic/Cultural Info
Yukon Gold potatoes were named after the Yukon River that flows through Canada and Alaska. Dr. Johnston selected the Yukon River as inspiration for the potato as he had previously used other river names, such as the Huron and Rideau, for previous potato cultivars. The Yukon River played a historic role as the primary method of transportation in the Klondike Gold Rush from 1896 to 1899. Historians also note that potatoes were a valued commodity among miners, also known as prospectors, during the Gold Rush, further cementing Yukon as a fitting name. The raw tubers could survive prolonged storage periods and provide enough vitamin C to help ward off scurvy. Over 100,000 prospectors entered the Klondike during the gold rush and were required by the Canadian government to carry a year's supply worth of food with them into the territory. Many prospectors had to make over twenty trips to ensure they had enough supplies and also had to survive traveling through dangerous trails, raging rivers, and weather. Once the prospectors reached their destination, they worked tirelessly and ate little to nothing to prolong their food supply, creating a nutritional deficit leading to scurvy. Scurvy is a disease caused by a vitamin C deficiency and affects the entire body, spurring joint pain, producing swollen, discolored legs, rough skin, teeth falling out, fatigue, and wounds that don't heal. Raw potatoes were consumed to combat scurvy throughout the gold rush, and legend has it that some prospectors would spend exuberant amounts of gold for the humble tubers. In the 20th century, after Dr. Johnston selected Yukon as the potato's name, one of his colleagues suggested that Gold should be added to the name to distinguish the variety.
Geography/History
Yukon Gold potatoes were developed in Ontario, Canada, in the mid to late 20th century. Researcher and breeder Dr. Garnet "Gary" Johnston was selected to lead the University of Guelph's potato breeding program in 1953, and by 1959, Dr. Johnston noticed a growing need for a new yellow-fleshed potato cultivar. European immigrants in southern Ontario were asking Canadian potato breeders to create a variety similar to the yellow potatoes grown in Europe. At the time, North America was mostly known for white potatoes. One of Dr. Johnston's graduate students also brought him a yellow-fleshed South American potato from Peru. This yellow potato piqued Dr. Johnston's curiosity, and eventually, he sourced several yellow Peruvian varieties from another breeder, Roman Ross, of the Wisconsin Potato Introduction Station. One of the varieties, known as W5289-4, was developed from a cross between a yellow-fleshed Peruvian potato known as Yema de Huevo and a white-fleshed American potato named Katahdin. In the 1960s, Dr. Johnston used W5289-4 and crossed it with Norgleam, a white potato variety from North Dakota. After the 66th cross was conducted in 1966, a potato with potential as a new variety was formed, initially labeled G6666-4y. This new potato was studied and evaluated for several more years, and in 1980, it was chosen in partnership between the University of Guelph, Agriculture Canada, and the Ontario Ministry of Agriculture and Food as a new variety under the name of Yukon Gold. After its release, Dr. Johnston heavily promoted Yukon Gold potatoes, speaking with journalists for published articles, conducting interviews for TV and radio stations, and promoting the variety to growers. The New York Times also published several articles and recipes using Yukon Golds, which helped boost the variety's notoriety among North American consumers. Yukon Gold potatoes have been featured on dinner plates at the White House, were wrapped in gold foil as a decadent side dish in meals at the Oscars Awards Ceremony in the early 21st century, and have even been used in meals at Buckingham Palace. The variety became one of the most popular yellow-fleshed cultivars throughout the late 20th century and became the commercial standard for yellow potatoes worldwide. Today Yukon Gold potatoes are still commercially produced and sold through grocers, distributors, and retailers worldwide. The variety is also grown in home gardens and used as an everyday culinary potato.
Featured Restaurants
Restaurants currently purchasing this product as an ingredient for their menu.
the other 127...
Recipe Ideas
Recipes that include Yukon Gold Potatoes. One

is easiest, three is harder.
the other 41...