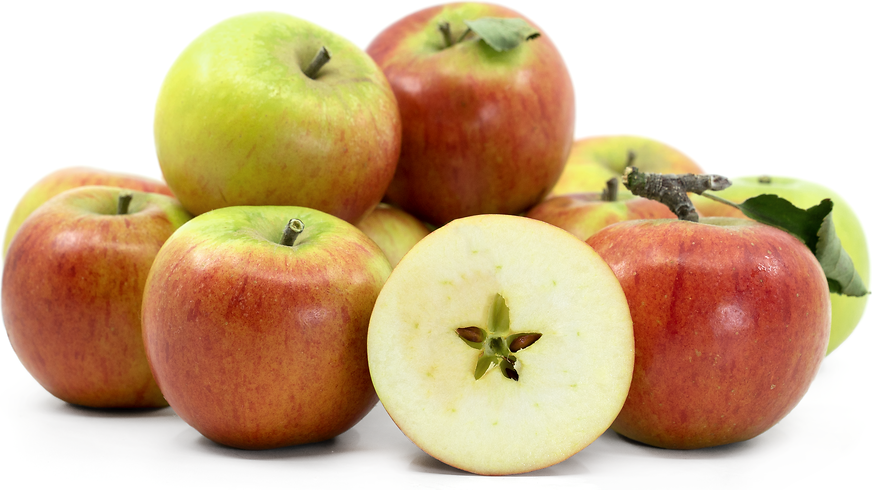 Holstein Apples
Inventory, 1 Lb : 0
Description/Taste

Holstein apples are a medium to large varietal, averaging 7 to 8 centimeters in diameter, and have a semi-uniform, round to ovate shape with a slight slant to one side. The curved apples showcase flat shoulders, russet around the stem cavity, and bear a short, stubby, and woody green-brown stem, while the moderately thick skin is glossy, smooth, and has a slightly waxy feel. The apple's surface also has a yellow-green base hue, covered in streaks, striations, and feathered stripes of red-orange blush with a few yellow lenticels. Underneath the chewy skin, the ivory to pale yellow flesh is dense, aqueous, and semi-coarse with a firm but tender texture. The flesh also encases a small central core filled with tiny dark brown seeds. Holstein apples are aromatic and are known for their relatively equal amounts of sugar and acidity, creating a balanced, sweet, tart, and fruity flavor with citrus, pear, pineapple, and subtle spice nuances.


Seasons/Availability

Holstein apples are available in the fall through winter.


Current Facts

Holstein apples, botanically classified as Malus domestica, are a mid to late-season German variety belonging to the Rosaceae family. The sweet-tart apples were discovered growing as a chance seedling in the early 20th century and quickly became one of the most popular varieties in Germany, favored for their balanced flavor and multi-purpose nature. Holstein apples can be consumed fresh or cooked, and the apples hold their shape through the cooking process, especially in baked preparations. The variety was also favored for its robust flavor, reminiscent of the cox's orange pippin. Throughout Europe, Holstein apple trees were historically easy to grow, disease-resistant, and prolific, leading many growers to plant them in private and commercial orchards. As a result of its widespread popularity, the cultivar is also known as Holstein Cox, Holsteiner Apfel, Vahldieks Cox Seedling No. 3, and Holsteiner Cox. In the modern-day, Holstein apples have faded from commercial production and have become a rare heirloom variety grown through heritage orchards and in the gardens of apple enthusiasts.


Nutritional Value

Holstein apples are a source of vitamin C to strengthen the immune system, fiber to regulate the digestive tract, and potassium to balance fluid levels within the body. The apples also provide quercetin, a naturally occurring flavonoid that contributes anti-inflammatory and antioxidant-like properties to protect the cells against free radical damage and other amounts of copper, manganese, phosphorus, vitamin K, calcium, and vitamin B6.


Applications

Holstein apples are a multi-purpose variety well suited for fresh eating and cooked preparations. The apples can be consumed straight out of hand, with or without the skin, depending on preference, and the flesh can be chopped and tossed into salads, served on cheese plates, or used as a fresh topping over yogurt, porridge, or grain bowls. Holstein apples can also be blended into smoothies, pressed into juice, or used as a base flavoring for cider. The pressed juice has a pleasant, orange-yellow hue and is a favored seasonal beverage in Europe. In addition to fresh applications, Holstein apples hold their shape when cooked and are incorporated into pies, cakes, tarts, turnovers, and bread. In Germany, there are many variations of apple cakes, and the cakes using Holstein apples are generally labeled with Holstein in the name to highlight the use of the famous apple. Holstein apples are also frequently stuffed with dried fruits and nuts and baked, pureed into sauces for roasted meats, or cooked into apple butter. Beyond fresh and cooked preparations, the apples can be sliced into thin rings and dried as a chewy snack. Holstein apples pair well with nuts such as pecans, almonds, walnuts, and pistachios, spices including cloves, cinnamon, allspice, ginger, and nutmeg, and meats such as beef, pork, duck, goose, turkey, and poultry. Whole, unwashed Holstein apples will keep for several weeks to months when stored in the refrigerator. The apples will also keep up to five months when placed in professional cold storage.


Ethnic/Cultural Info

Holstein apples are native to Schleswig-Holstein, the northernmost state of Germany, known for its agriculture, livestock, and the Kiel Canal, one of the most used artificial waterways, connecting the North Sea with the Baltic Sea. The apple variety was first grown on Schonborn Farm, a farm established sometime in the 1700s. In the late 1800s, around 1883, the farm also hosted a pomological institute for research and cultivation, which is rumored to have contributed to the creation of the Holstein apple. In the present day, Schonborn Farm is often labeled as the "Switzerland of Holstein," and Holstein apples are the most commonly produced apples throughout the region. In addition to apple cultivation, Schleswig-Holstein is known for its cabbage production, contributing to the creation of rotkohl, a popular German side dish. Rotkohl consists of red cabbage and apples cooked in spices and vinegar to create a sweet and sour, filling dish. The brightly colored, tangy-sweet side dish complements meats, especially wild game such as duck and goose, and the acidic nature of the mixture helps to cut through the fatty, heavier cuisine of Northern Germany. Holstein apples are commonly incorporated into rothohl in the Schleswig-Holstein region, and the cabbage-apple combination is a favored side dish during the holiday season.


Geography/History

Holstein apples were discovered as an open-pollinated seedling in Eutin, the capital city of the state of Schleswig-Holstein in northern Germany. The apples were found naturally growing in an orchard belonging to Johannes Vahldiek, a painter and avid fruit grower, and while the apple's parentage is unknown, it is hypothesized to be a descendant of either the cox's orange pippin or ribston pippin. Experts believe Vahldiek selected the apples for further research and cultivation sometime before his death in 1914, and after his passing, between 1918 and 1920, pomologists combed through his orchards, finding the new variety. The discovered apples were named Vahldiek's Seedling No. 3 and were selected by the local horticultural association for commercial production. Over time, the cultivar was planted along the coast throughout Schleswig-Holstein, and the Chamber of Agriculture eventually renamed the variety to Holsteiner Cox. In 1959, Holstein apples received national recognition at the Federal Horticultural Show and became one of Germany's most popular apple varieties. Today Holstein apples have been overshadowed by modern cultivars and have become a rare variety found through home gardens, private orchards, and select commercial farms throughout Europe and the United Kingdom. The variety is also found through a few specialty orchards in the United States. When in season, Holstein apples are most commonly sold through farm stands, farmer's markets, and local grocers.