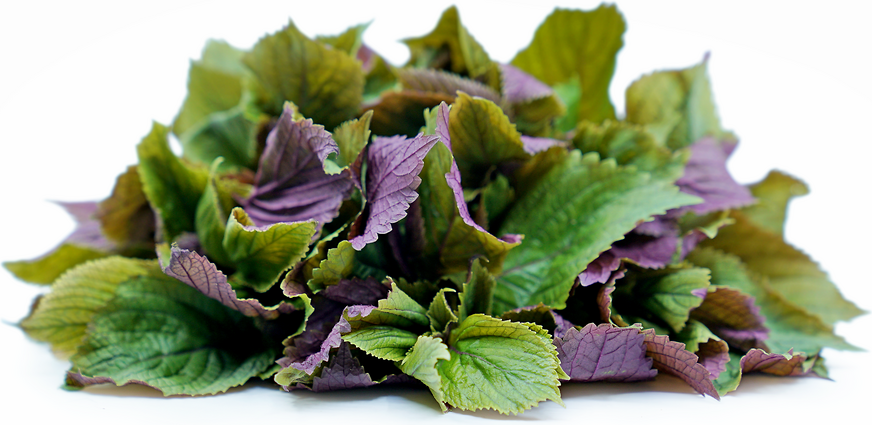 Magilla Shiso
Inventory, bunch : 0
Description/Taste
Magilla shiso is a fast-growing hardy annual herb with a mound-like growth habit that reaches 60 to 90 centimeters tall and 30 to 45 centimeters wide. The broad, oval leaves reach about 15 centimeters in length, growing opposite along square stems, which are characteristic of the plant family. The multi-colored leaves boast shades of green, magenta-red, or dark purple, sometimes with a cream color down the center, and they have a wrinkled texture with serrated edges. The plant produces small, bell-shaped white flowers atop its stems, often hidden by bract-like leaves. Magilla shiso has a musky mint aroma with a hint of basil and cinnamon, though it is much milder than other varieties and offers a mild minty-fennel flavor with a subtle clove or cinnamon-like spice.
Seasons/Availability
Magilla shiso is available in the summer through fall.
Current Facts
Magilla shiso is a member of the Lamiaceae or mint family, and it's botanically classified as Perilla frutescens 'Magilla.' The Perilla frutescens species includes both green and red-colored varieties, and while it is popularly known by its Japanese name, Shiso, it also goes by many common names like Perilla, Chinese basil, Purple mint, and Beefsteak plant, a nickname derived from varieties that boast a dark reddish-purple color that resembles raw meat. The plant itself is often confused with its relatives in the mint family, notably basil and coleus, a common ornamental plant with a strikingly similar appearance. Shiso is sometimes referred to as summer coleus, perhaps because of the resemblance or because it originally came to America as an ornamental plant. While it is now cultivated worldwide for both ornamental and culinary use, it is important to note that this species is toxic to animals, including cattle, other livestock, and dogs. Though it is safe for human consumption, some people might have an allergic reaction from handling the plant, in which case gloves can be used to prevent any skin irritations.
Nutritional Value
Magilla shiso is rich in vitamins A and C, calcium, iron, potassium, and riboflavin, and its oil is a good source of omega-3 fatty acids. It is known to have some antioxidant, antiallergic, and anti-inflammatory properties and has traditionally been used in ancient Chinese medicine to treat asthma, cough, chest congestion, nausea, food poisoning, and allergic reactions.
Applications
Magilla shiso is most commonly used fresh as an herb or garnish in East Asian cuisines, notably in Japanese and Korean dishes, but it can also be dried, pickled, or even fried. In Korea, shiso is used to make kimchi by marinating the leaves in a mixture of soy sauce, chili, and herbs, and in Japan, it is often used to wrap sashimi or set the background for sushi dishes. Use freshly chopped Magilla shiso as a garnish for fish, rice, tempura, soups, noodle, or vegetable dishes, or add it to salads or stir-fries. Dried leaves can be steeped in hot water for a refreshing, minty tea. The flowers can even be cooked in soups or deep-fried for tempura, while the seeds can be toasted to use as a spice. Magilla shiso pairs well with tofu, rice, seafood, grilled meat, chili, soy sauce, garlic, ginger, wasabi, and shoyu. The fresh leaves are tender and do not keep very long. Wrap unwashed bunches of Magilla shiso in plastic and store in the refrigerator for a few days or cut the ends of the stems and place the bunch in a glass of water to extend their use.
Ethnic/Cultural Info
Red or purple-leafed shiso varieties are commonly used in Japan as a natural food coloring, especially in pickling. They are popularly used in umeboshi, or pickled plums, which are featured in the common vegetarian maki roll known as the ume shiso roll. Not only do the leaves add a violet hue, but they also serve as an antimicrobial agent, hence they are used in a number of Asian countries to help naturally preserve foods. The Japanese also use red-leafed shiso varieties to make an anti-inflammatory tonic and refreshing sweet summer drink known as aka shiso juice, or red shiso juice, made with shiso leaves, sugar, and apple cider vinegar or lemon juice.
Geography/History
Magilla shiso is a wild hybrid variety that was discovered among the collection of a Japanese specialty grower and was introduced to the market in 2002. It is highly resistant to drought and extreme temperatures, and like other shiso varieties, it is a self-sowing plant that can be found in almost any sunny area, from roadsides and streambanks to open pastures and front lawns. The shiso species, Perilla frutescens, is native to the Himalayas and Southeast Asia and has been widely cultivated throughout East Asia for centuries. It was introduced to the United States in the mid-1800s, and thanks to its ability to readily escape cultivation, it is considered an invasive species and is more often classified as a weed in North America. Magilla shiso can be found at specialty grocery stores or local farmer's markets.
Recipe Ideas
Recipes that include Magilla Shiso. One

is easiest, three is harder.