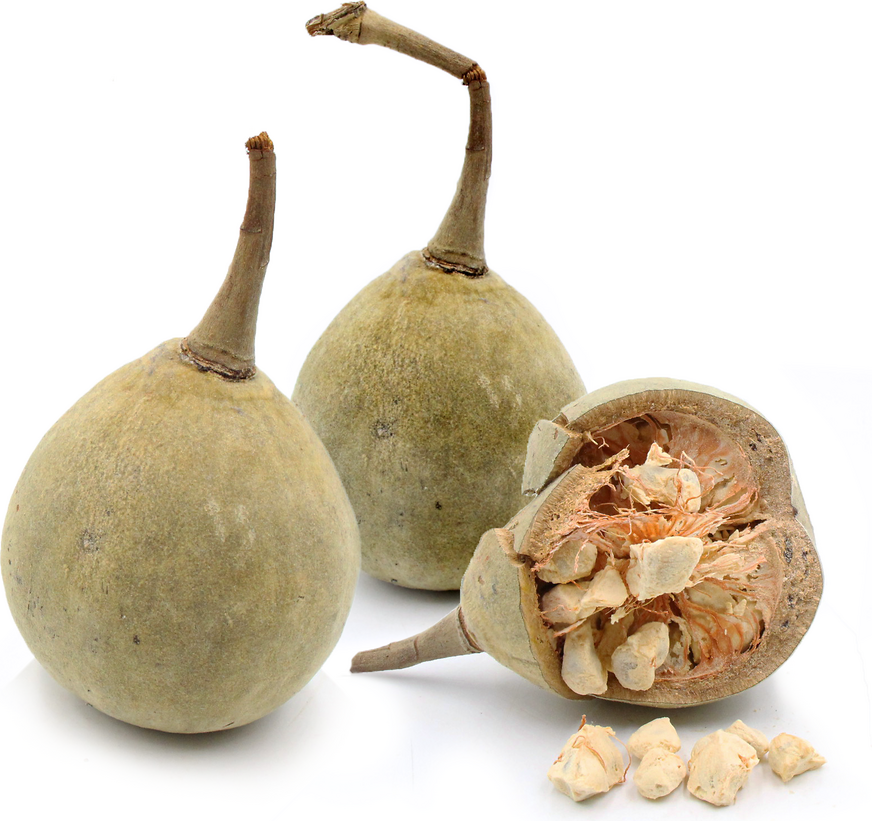 Baobab Fruit
Inventory, lb : 0
Description/Taste
Baobab fruits hang from long thick stalks and widely vary in shape, size, and exterior appearance, depending on the species. The fruits are generally large, averaging 10 to 45 centimeters in length and 7 to 17 centimeters in diameter, and have a pyriform, oval, football, to egg-like shape. The fruit's exterior varies in hardness, from being able to be broken open by hand to requiring a hammer to crack the dense, tough shell. The exterior is woody, fibrous, and firm, covered in a layer of fine hairs giving the fruits a velvety appearance. Baobab fruits transition from green to brown when ripe, and some varieties may also exhibit yellow hues. Once opened, many small white, beige, to cream-colored pieces are revealed, entangled amongst stringy red fibers. The flesh pieces are dry, chalky, lightly chewy, and powdery, leaving a flour-like coating in the mouth. There are also tiny brown seed kernels within the flesh that are edible and can be consumed separately from the flesh. The kernels can be very tough or soft, depending on the variety, enveloped in a fibrous shell. Baobab fruits are distinct as the flesh dehydrates when the fruits ripen. Eating the seed kernels with the chalky flesh is not recommended, as they have different unpleasant flavors when tasted together. The flesh and seeds should be eaten separately. The flesh has a subtly sweet and tangy flavor with nuances of yogurt, lemons, pears, and vanilla. The seed kernels have a rich, acidic taste similar to Brazil nuts mixed with light sour undertones.
Seasons/Availability
Baobab fruits are harvested from trees from December through May. Once picked, the fruits can be stored for extended periods, allowing them to be seen in select markets almost year-round.
Current Facts
Baobab, botanically a part of the genus Adansonia, is the descriptor for several ancient species of large, drought-tolerant trees belonging to the Malvaceae family. There are nine species of Baobab found worldwide, and these species are primarily localized to Africa, Australia, and Madagascar. The largest concentration of Baobab species are found in Madagascar, home to six species, while two reside in Africa and one in Australia. Baobab trees are ancient, slow-growing, and mighty. The trees can reach anywhere from 5 to 25 meters in height and grow as wide as twenty-five meters or more. One of the unique features of Baobab trees is they sometimes become hollow at their base. In Zimbabwe, there is a hollow Baobab tree that can fit approximately forty people within its circumference. These hollow chambers are used to store water or are carved and used as shelters, bars, or bus stop waiting booths. The oldest known Baobab tree belongs to the African species Adansonia digitata. This tree has been carbon-dated in the Khaudum National Park in Namibia and is thought to be over 2,199 years old. Baobab trees are deciduous and drop their leaves in the dry season to preserve their water. One tree can survive over three years without a single drop of rain as the tree's bark is spongy, able to hold 20,000 to 30,000 gallons of water. Baobab trees are known by many unusual names, including, Bottle tree, Monkey-bread tree, Boab, Boaboa, Upside Down Tree, Cream of Tartar fruits, Lemonade tree, and Dead Rat fruits from the hanging pod's brown coloring and velvety, fuzzy nature. It can take up to two hundred years for some species of Baobab tree to bear fruit and each tree is different, producing fruits on its own time schedule. Once a Baobab tree produces fruits, the pods will ripen and hang on the tree until they are blown off by strong winds or harvested by humans or animals. Baobab fruits are one of the only fruits to dehydrate on the tree, and the fruits are incorporated into a wide array of fresh and cooked culinary preparations, beverages, and natural medicines.
Nutritional Value
Baobab fruit is a source of vitamin C to strengthen the immune system, potassium to balance fluid levels within the body, calcium to build strong bones and teeth, vitamin A to maintain healthy organ functioning, and other nutrients, including iron, magnesium, and antioxidants. In traditional African medicines, Baobab fruit pulp is mixed with water and used to reduce fevers, diarrhea, and indigestion. The white flesh can also be chewed and applied topically to rashes or combined into a juice to soothe burns. In Africa, it is said that washing a baby boy in water infused with Baobab bark will bless the child to grow tall and strong like the tree.
Applications
Baobab fruits have a sweet, tangy, and refreshing taste suited for fresh and cooked preparations. The white, dry pulp can be consumed raw and should be separated from the small brown seeds. Consumers often comment that eating the seeds with the white pulp creates an unpleasant, unpalatable flavor, but they are both enjoyable separately. The white pulp can be extracted, ground into a fine powder, and mixed into sauces, salad dressings, yogurt, jams, and jellies as an added flavoring, The ground pulp can also be stirred into soups and stews, added to porridges, or used as a topping sprinkled over popcorn. In addition to savory preparations, Baobab fruit powder is popularly incorporated into baked goods such as cakes, muffins, and cookies or added to energy bars. The powder can also be stirred into smoothies, milkshakes, lemonade, tea, or other mixed beverages as a reprieve on a hot day. In Senegal, Baobab fruits are used in bouye juice, a drink made only from the fruits, or bissap, a drink of Baobab powder combined with dried hibiscus flowers, ginger, sugar, and water. Beyond the fruits, the young leaves of the tree can be eaten in salads, stir-fries, or crushed and made into a relish. The seeds from the fruit can also be roasted and consumed like a standard nut, grounded into a drink, or ground and used to thicken soups. In Africa, the Baobab flowers are consumed as another culinary ingredient, but be warned, in some African tribes, it is believed that Baobab flowers contain evil spirits. Picking a flower from the tree is rumored to bring bad luck and death by a lion attack. Baobab fruits pair well with vanilla, maple syrup, brown sugar, and fruits such as pineapple, mango, and berries. Whole, unopened Baobab fruits can keep for several weeks to several years, depending on the variety, quality, and storage environment.
Ethnic/Cultural Info
Legend has it that Baobab trees were flipped and planted upside down by celestial beings, earning the tree the moniker the Upside-Down Tree. One tale recounts how the trees became too arrogant and proud as they were taller than all the other plants. The gods became angry at the Baobab's pride and eventually flipped them upside down to humble them. Another story mentions that the trees kept walking around the Earth with their large root system, never obeying the gods to stay still. The gods flipped the Baobab trees over to keep them from moving. Baobab trees acquired these unusual stories from their branching nature. The trees are bare for most of the year, as they drop their leaves to preserve water, giving their branches a root-like appearance. Baobab trees are also known as the Tree of Life in Africa. The size, versatility, and nature of the trees provide a mini ecosystem for several animal species, and the trees can survive, giving humans and animals their fruits, bark, and leaves without perishing. Baobab trees are more than a medicinal and culinary species. The tree's bark provides materials to develop fishing lines, mats, cloth, and baskets and is also used to create charcoal.
Geography/History
Baobab trees are native to Madagascar, Africa, and Australia and have been growing wild since ancient times. The trees thrive in low-lying, arid regions with a long, hot, dry season. In Africa, Baobab species are primarily found in sub-Saharan areas, especially in savannas and scrublands. Their range spans from Senegal to South Africa. In Madagascar, Baobab trees are mainly located along the western coast in dry deciduous forests. There is a famous area known as the Avenue of the Baobab, where visitors from all over the world travel to this picturesque spot to capture the beauty of many tall Baobab trees clustered together along a dirt road. In Australia, the species resides in savanna woodlands in the Kimberley region of Western Australia. Baobab trees were once prevalent, but the trees have recently been dying due to climate change and destruction by human and animal intervention. Some replanting has been established in Madagascar, but due to the tree's slow-growing nature, there is concern that the species will become endangered or extinct. Today the largest populations of Baobab trees remain localized to Australia, Madagascar, and Africa. Some species have also been introduced to parts of Asia, including India, and are found in Hawaii, but these plantings are scattered and small. Baobab fruits are challenging to find outside their growing regions and are prevalently ground into a powder for export worldwide. In growing regions, the fresh fruits are sold through local markets and roadside vendors.
Recipe Ideas
Recipes that include Baobab Fruit. One

is easiest, three is harder.