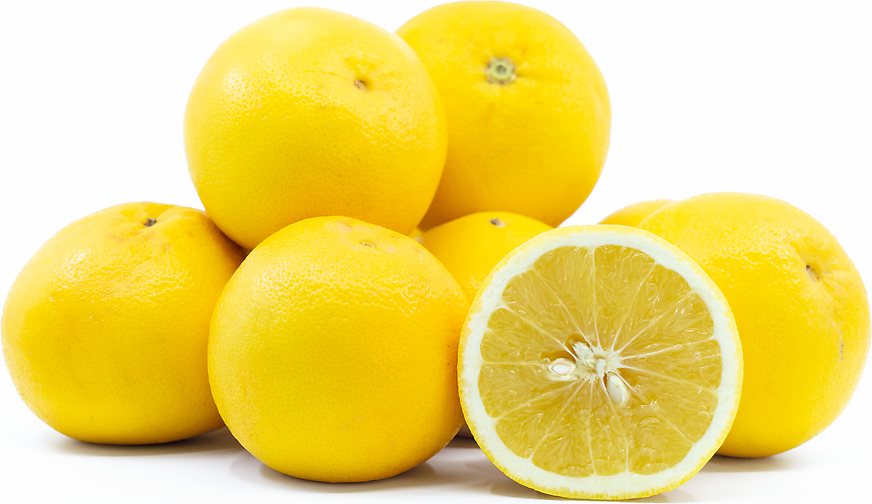 White Grapefruit
Inventory, lb : 0
Description/Taste
White grapefruits are large fruits, averaging 8 to 15 centimeters in diameter, and are round, ovate, to oblate in shape, sometimes bearing a slightly flattened base. The peel is smooth, glossy, and semi-thin with a lightly pebbled texture, covered in small oil glands that release fragrant, essential oils. The peel also generally ripens from green to yellow, but some green spots may remain on the surface at maturity, depending on the variety, and are not indications of ripeness. Underneath the peel, a thick, white, and spongy pith is tightly adhered to the flesh, and fibrous membranes divide the flesh into 10 to 14 segments. The flesh has a translucent, yellow-hue and is aqueous, tender, and semi-firm, encasing many cream-colored seeds or being found seedless. The flesh's core may also appear hollow or solid, depending on the variety and growing conditions. White grapefruits have an aromatic and subtle, floral fragrance and contain balanced levels of acidity and sweetness, contributing to the fruit's subtly sweet, tart, and mildly bitter flavor.
Seasons/Availability
White grapefruits are available year-round, with a peak season in the winter through spring.
Current Facts
White grapefruits, botanically classified as Citrus paradisi, is a descriptor used to encompass many varieties of yellow-skinned, pale fleshed fruits belonging to the Rutaceae family. The sweet-tart grapefruits are a natural cross between a pummelo and a sweet orange and grow in clusters on evergreen trees reaching up to 6 meters in height. When White grapefruits were first discovered in the West Indies, many of the fruits had a bitter, sour flavor, leading the large fruits to be somewhat ignored among citrus growers. The fruits were later introduced to the United States in the 19th century, but they were also met with unfavorable reviews due to their tart nature. White grapefruits eventually produced a spontaneous, pink-fleshed fruit, leading to the creation of red-fleshed grapefruits. Over time, red-fleshed grapefruits became the dominant type of grapefruit commercially grown, and White grapefruits almost disappeared from American orchards. In the modern-day, citrus breeders have sought to create new varieties of White grapefruits with improved flavor to compete with red-fleshed grapefruits in consumer markets. The most popular White grapefruit cultivars include Marsh, Duncan, Oro Blanco, and Melogold. White grapefruits are considered somewhat rare compared to red-fleshed grapefruits and are found in limited quantities through farmer's markets and home gardens.
Nutritional Value
White grapefruits are an excellent source of vitamin C, an antioxidant that strengthens the immune system, boosts collagen production within the skin, and contains anti-inflammatory properties. The fruits are also a good source of fiber to regulate the digestive tract, potassium to balance fluid levels, and have lower amounts of zinc, calcium, magnesium, iron, and copper.
Applications
White grapefruits are best suited for fresh applications as their juicy, aromatic flesh is showcased when eaten straight, out-of-hand. The fruits can be sliced in half, and the flesh scooped out with a spoon, or the flesh can be cut with a knife to remove the tough, bitter membranes and served on appetizer plates and fruit platters. White grapefruits can also be sliced and tossed into green salads, chopped into salsa, or used as a fresh topping for ice cream, cereal, or yogurt. In addition to the flesh, White grapefruits have a sweet-tart juice that is commonly incorporated into cocktails, fruit juices, and smoothies. The juice can also be used to flavor marinades, sauces, salad dressings, sorbets, baked goods, custards, or puddings. Depending on the variety, some White grapefruits are used for their peel and are candied, simmered into jams, jellies, marmalades, and simple syrups, or dried and steeped into teas. White grapefruits can be used in both sweet and savory dishes, complementing ingredients, including other citruses such as oranges and lemons, avocado, honey, chocolate, caramel, ginger, lemongrass, herbs such as mint, rosemary, parsley, cilantro, and basil, meats such as poultry, duck, and fish, other seafood, nuts such as pistachios, almonds, and walnuts, cucumbers, and pomegranates. Whole White grapefruits will keep 5 to 7 days when stored at room temperature and up to one month when kept in the crisper drawer of the refrigerator. Segmented grapefruit sections can also be frozen and stored in a freezer bag for extended use.
Ethnic/Cultural Info
In the United States, White grapefruits were most notably used for producing commercial juices in the 20th century. The large, aqueous fruits, especially Marsh grapefruits, were favored for their sweet-tart flavor and were selected as a new juice to compete with the booming concentrate orange juice market. White grapefruit juice was also commonly served at restaurants, bars, and on airplanes as a favored mixer for cocktails. The acidity and subtly bitter flavor of the juice blend well with tropical, fruity drinks, and it also mixes with spirits to create simple versions of famous drinks such as the Greyhound, Paloma, and the Salty Dog. In Japan, White grapefruits are imported from Florida and have their own holiday known as Florida Grapefruit Day, an annual event held on February 24th. The celebration was created by Yamano & Associates, a marketing firm in partnership with the Florida Department of Citrus, to promote the sale of Florida grapefruits in Tokyo. During the holiday, White grapefruits are prominently displayed in stores, and celebrity endorsements encourage the consumption of the fruits fresh, in salad dressings, and in juices.
Geography/History
White grapefruits are native to the West Indies and were developed from a spontaneous cross between a pummelo and a sweet orange, varieties introduced from Asia during the 17th century. Citrus trees were planted across the West Indies by European settlers, and over time, many of these trees were naturally cross-pollinated, creating new fruits such as the White grapefruit. With new varieties randomly appearing, much of the grapefruit history was unrecorded, but the first record of the variety was documented in the late 18th century through a Welsh explorer on the island of Barbados. In 1823, White grapefruits were brought to the United States and were planted in Florida by a Frenchman named Odet Philippe. The fruits were later grown in Texas and California in 1910 to add diversity to the citrus market, but many consumers disliked White grapefruits for their bitter-sweet flavor. Once red grapefruits were discovered, Texas also stopped growing White grapefruits altogether in 1962, and the pale-fleshed fruits became localized to Florida and select regions of California. Today White grapefruits are specialty fruits that are mainly found through select grocers, home gardens, and farmers markets in the United States. The fruits are also cultivated in Mexico, South America, Morocco, Spain, Israel, and areas of the Caribbean.
Recipe Ideas
Recipes that include White Grapefruit. One

is easiest, three is harder.