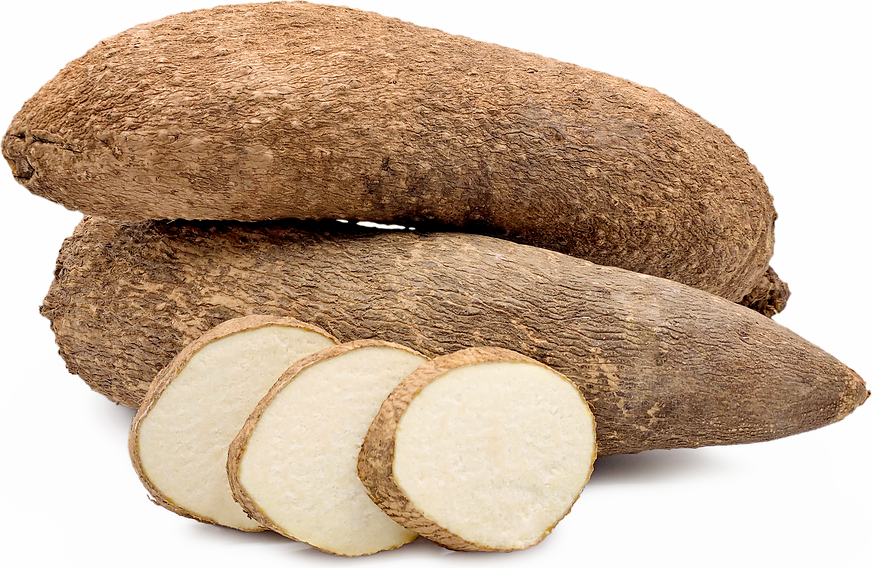 West African Yams
Inventory, lb : 0
Description/Taste
West African yams widely vary in size and shape, depending on cultivation techniques, climate, and terroir, and have a cylindrical nature tapering at both ends. The elongated tubers average 6 to 11 pounds in commercial markets, but if cultivated in ideal settings, West African yams have the capacity to grow over one meter in length and weigh over one hundred pounds. The yam's skin is thick, ranging in color from brown to tan hues, and has a scaly, wrinkled, and textured surface, giving the tuber a rough feel. Underneath the tough skin, the cream-colored to off-white flesh is dense, firm, dry, and starchy. Yams are inedible when raw and must be cooked before they are consumed. Once cooked, yams develop a texture similar to potatoes but have slightly more texture and substance. West African yams have a mild, earthy, and starchy flavor with a subtly sweet undertone.
Seasons/Availability
West African yams are available year-round.
Current Facts
West African yams, botanically classified as Dioscorea cayenensis subsp. rotundata are varieties of yams grown in a specific region of Africa, belonging to the Dioscoreaceae family. Yam, as a descriptor, is a broad term used to encompass many different species within the Dioscorea genus cultivated worldwide. West African yams, known as the "king of crops," are one of the most important crops produced in Africa and are primarily cultivated in a fertile region of land known as the "yam belt." This belt stretches across Cote d'Ivoire, Ghana, Togo, Nigeria, Cameroon, and Benin. Over ninety percent of the yams sold worldwide are produced in the "yam belt," and the most popular variety grown is Puna yams, a white-fleshed yam favored for its mild flavor. Yams are underground tubers that sprout trailing, leafy vines extending over twelve meters in length. West African yams are favored for their filling nature, mild flavor, and long storage life, and they are used in a wide variety of cooked applications.
Nutritional Value
West African yams are a source of fiber to regulate the digestive tract, potassium to balance fluid levels within the body, and vitamin C to strengthen the immune system while reducing inflammation. The tubers also provide magnesium to control optimal nerve functioning, folate to produce DNA and RNA, calcium to build strong bones and teeth, and other nutrients, including iron, copper, vitamin K, zinc, vitamin E, phosphorus, B vitamins, and manganese.
Applications
West African yams have a mild, starchy, earthy, and subtly sweet taste suited for cooked preparations. Yams are inedible raw and must be cooked before consumption. It is also important to note that yams are distinct from sweet potatoes, which are sometimes called yams in the United States. True yams are traditionally sliced into smaller pieces, peeled, and then boiled in salted water. Once cooked, the flesh can be served with eggs, mixed vegetables, and meats. In West Africa, yams are popularly boiled and mashed into a dough-like paste known as fufu or swallow. The paste is formed into balls and is added to stews and soups. Yams are also combined into asaro, a porridge with tomatoes, aromatics, and peppers, or added to palaver sauce, a dish served with meat. Beyond customary recipes, yams can sometimes be used as a potato substitute in recipes and can be fried, baked, or roasted. The flesh can also be dried, ground into a flour, and used as a binder and ingredient for baked goods. West African yams pair well with aromatics such as caramelized onions, garlic, and ginger, nuts including pine, almonds, and peanuts, leeks, eggs, tomatoes, green beans, and meats such as poultry, beef, and lamb. Whole, raw yams will keep for 4 to 6 months when stored in a cool, dry, and dark place. Once cooked, the tubers will keep for 2 to 3 days when stored in the refrigerator.
Ethnic/Cultural Info
Each year in September, yams are celebrated in the annual Asogli Te Za, also known as the Asogli Yam Festival in the Volta region of Ghana. Legend has it that the yam festival was created from a single hunter. The story recounts a period of famine across the land, and one day a hunter went out searching for food. Along his journey, he discovered a yam in the forest. The hunter cooked a portion of the yam and buried the rest in the ground for safekeeping. When the hunter later returned to his buried yam, the tuber had grown in size and germinated, sprouting lush, trailing vines. The hunter carried the plant back to his village, and the town began cultivating yams as a life-giving food source. Yams are still revered in West African populations in the modern day, and Asogli Te Za is just one of the many harvest festivals honoring yams throughout Ghana and Nigeria. Asogli Te Za is celebrated by the Asogli State, including the Ho, Akoefe, Takla, and Kpenoe people groups. At the beginning of the week-long celebration, it is customary for Ghanaians to give thanks to the gods and ancestors for their yam harvests. Yam cultivation is viewed as a challenging agricultural crop, and festival participants often reflect on the history of yams providing sustenance throughout famines. Yams are ceremonially mashed and offered on alters for blessings of a plentiful harvest in the next year, and before this ritual, no yams are consumed at the festival. Once the tubers have been given as an offering, large celebrations break out in the streets, fueled by traditional dancing, live music, drumming, and crowd merriment. Asogli Te Za also features regional cuisine with yams as the main ingredient, a gastronomical food fair where attendees can sample and purchase homemade meals and goods. In the modern day, Asogli Te Za is a festival that honors the past, but community leaders also use it to inspire the younger generation to continue the tradition of farming yams in the future.
Geography/History
West African yams are native to West Africa and have been growing wild since ancient times. The starchy tubers were initially taken from wild plants and were domesticated over time in multiple regions throughout West Africa as a food and medicinal ingredient. Experts believe yams have been present since 5,000 BCE, and it is hypothesized that communities in West Africa have been cultivating the plant for over 3,000 years. Since their domestication, yams have become intertwined into the cultural, religious, and culinary lifeblood of West African populations, and cultivation has expanded to selling the yams domestically and internationally. Today West African yams are primarily cultivated in the "yam belt," a region including Cote d'Ivoire, Ghana, Togo, Nigeria, Cameroon, and Benin. Nigeria is the top yam producer within the region, followed by Ghana and Cote d'Ivoire. In West Africa, yams are sold domestically in local fresh markets and grown in home gardens. It is common to see yams along the streets in West Africa, and the tubers are a staple crop produced as a source of income. West African yams are also exported worldwide.
Recipe Ideas
Recipes that include West African Yams. One

is easiest, three is harder.