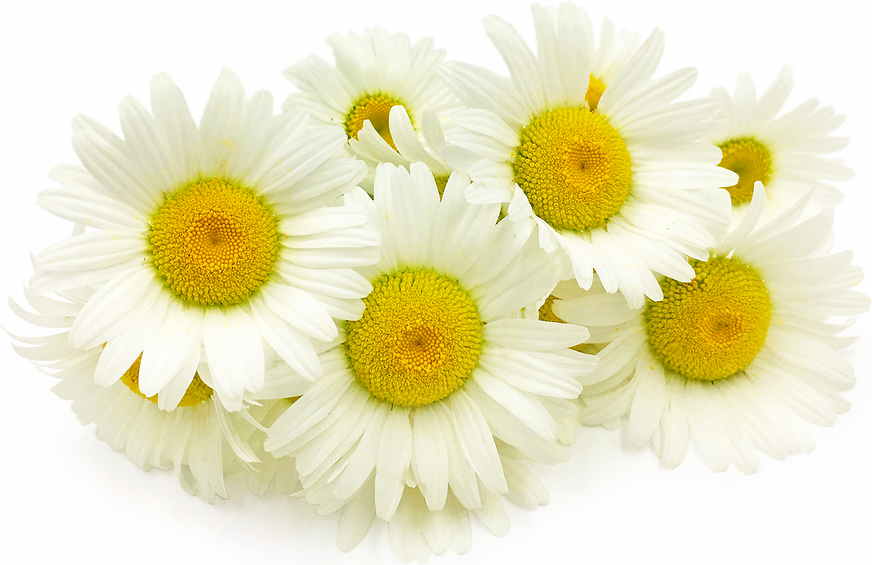 Oxeye Daisy Flowers
Inventory, lb : 0
Description/Taste

Oxeye daisies are small to medium in size, measuring approximately 3 to 9 centimeters in diameter. The flowers are comprised of long, thin, and white ovate petals surrounding a bright yellow and round center and may be connected to long, woody stems featuring deeply lobed leaves. The plant emits an aroma similar to mild sage, however, the blossoms themselves have little to no smell. Oxeye daisies have a grassy, slightly sweet flavor and crunchy texture.


Seasons/Availability

Oxeye daisies are in season from early spring through the summer.


Current Facts

Oxeye daisies bloom from an herbaceous plant in the Aster family, botanically classified Leucanthemum vulgare. Oxeye daisies are a composite flower. The yellow center is comprised of many small flowers known as florets. The delicate white petals surrounding the small yellow flowers make up what is known as a ray flower. The showy blossoms are known by many names, including Baldur's Brow, Wort Bruise, Moon daisies, Maudlin daisies, White daisies, Mayweed, Whiteweed, Marguerite, and Field daisies. The name daisy is derived from "day's eye," a reference to the flower blooming in direct sunlight and closing at night or during cloudy weather. The flowers have long been associated with femininity, as Oxeye references the Greek goddess Hera, while Maudlin is a name in reference to Mary Magdalene. The flowers were also historically used to treat menstrual symptoms. Oxeye daisies grow wild and are commonly found in gardens and fields across Europe, the Mediterranean, and the United States. The plants self-seed and propagate from tubers that creep underground, allowing them to escape cultivation quite easily. This vigorous nature has led to the plant being considered an invasive and noxious species in many parts of the world. The entire plant is edible, including the leaves, stems, roots, and tubers, and is often used in medicinal practices, herbal teas, and culinary applications.


Nutritional Value

Oxeye daisies contain moderate levels of vitamin C to support the body's immune system and collagen production, as well as many other antioxidants that help combat free radicals and reduce inflammation. Tea from the flowers has been used to soothe coughs, stomach ulcers, and indigestion. The blossoms were also historically used to relieve menstrual and menopause symptoms like night sweats. Tinctures and salves made from crushed plants were used to aid the healing of wounds, bruises, and skin ulcers.


Applications

Oxeye daisies are suited as an edible accent, added at the end of preparations to maintain the flower's delicate shape and texture. The entire flower is edible and can be used whole, or the petals can be separated and spread throughout the dish. Oxeye daisies can be sprinkled over salads, floated over soups and curries, placed into fruit bowls, or used as a garnish for sushi and sashimi. The flowers can also be used to decorate seafood dishes such as calamari, ceviche, and shrimp cocktail or strategically placed on pasta, seafood, sandwiches, appetizers, and other main plates for added aesthetic. In addition to using the flowers in their natural form, the blooms can be frozen into ice cubes to add color and flavor to a beverage, mixed into butter sweetened with honey to create vibrant compound butter, or pressed into cookies and soft cheeses for an elevated appearance. They can also be dried and added to herbal tea mixes. Oxeye daisies can also accent desserts such as cakes, scones, sorbets, crème brulee, cookies, puddings, and tarts, or they can be used as garnish in craft cocktails. Oxeye daisies pair well with chocolate, fruits such as coconut, strawberries, lemons, passionfruit, mango, and cherries, herbs including lavender, parsley, and mint, cheeses such as goat, brie, and blue, leafy greens, and springtime vegetables, including asparagus, peas, green garlic, and fava beans. Whole Oxeye daisies should be kept in a vase with water used immediately for the best quality. They will keep for 2 to 4 days when stored in a sealed container in the refrigerator.


Ethnic/Cultural Info

Oxeye daisies have long been associated with love and divination. The flowers signified simplicity and modesty, with their delicate white petals and association with the sun. During the renaissance in Europe, Oxeye daisies were used in children and adolescent games played to divine a person's romantic feelings. One would pick a fresh daisy in the field and begin plucking the petals one by one, alternating the phrases "he/she loves me, he/she loves me not" with each removed petal. The last petal would tell the person the true intentions of the one their heart desired. References to this divining game can be found in several 15th-century German books of poems and plays, and German men were often seen wearing the plucked flowers. If he was seen wearing the flower with the last one or two petals attached, it showed he might have doubts if the person he loved felt the same. In France, the game was known as "Effuiller la Marguerite," which translates to "pluck the daisy." This game was played much the same, except the person plucking the petals would say, "He loves me a little, he loves me a lot, he loves me madly, he loves me passionately, he loves me not at all." The tradition of picking daisies and plucking them to divine a love match has continued in the modern world. While it is mainly played by children where the flowers grow wild to pass the time, there is a world record for the largest number of people playing "He loves me, he loves me not." On April 18, 2009, 331 people simultaneously plucked the petals of daisies and recited the poem on the set of the Lo Show de Record in Milan, Italy.


Geography/History

Oxeye daisies are an ancient flower believed to be native to northern Europe, specifically northern Scandinavia, Finland, and Russia, and can be traced back to the early Iron Age in Britain. The flowers propagate quickly and grow wild in the countryside across Europe. The plant was primarily spread through seed contamination on clothing, shoes, and animals. In medieval Scotland, the flowers were known as Gools and were considered a nuisance because the milk of livestock tasted bitter when they consumed too many of the flowers. The farmer whose land contained the most Gools had to pay a higher tax because the plants could spread so easily into neighboring farmland and turn more milk bitter. Oxeye daisies were scattered to North America in seed mixes and quickly naturalized as an invasive weed across the continent. Today, the seeds are prohibited in many US states, including Washington, Montana, and Ohio; however, they can still be found growing wild. Oxeye daisies are not cultivated but used as garden plants in areas where they are not outlawed. The flowers grow in grasslands, overgrazed pastures, waste areas, meadows, and roadsides. Care should be taken when foraging for these blossoms to make sure that the land where they grow is not contaminated by pollution. Oxeye daisies may be found at farmer's markets, or roadside stands during the spring and summer.