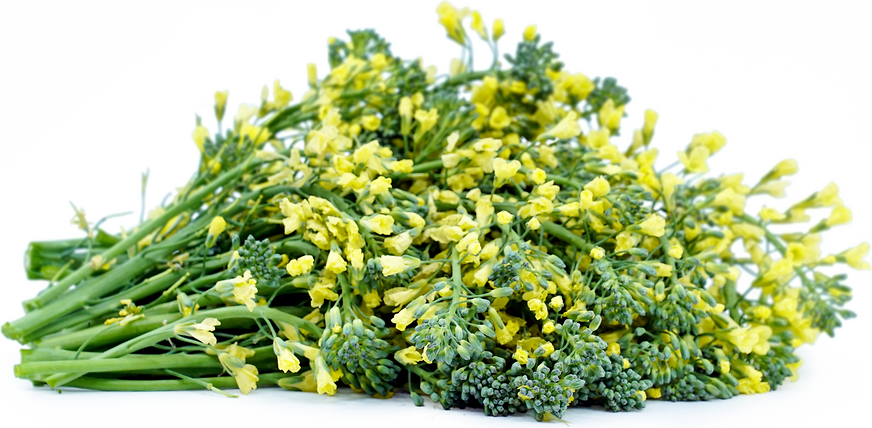 Rapini Flowers
Inventory, bunch : 0
Description/Taste

Rapini flowers are small, measuring approximately one centimeter in diameter, and appear along the ends of thin and delicate stems that may contain small, bitter-tasting leaves with a rough texture. Rapini flowers grow in clusters known as florets and may present fully open, or the buds may remain closed. When open, Rapini flowers have yellow, ruffled ovate petals arranged symmetrically around a yellow center. The fully opened blossoms are soft and velvety, while the tighter unopened buds offer a pleasant crunch. Rapini flowers have a subtle vegetal aroma and a strong peppery and mustardy flavor with a mild sweetness. The flowers may also contain a bitter finish.


Seasons/Availability

Rapini flowers are available in the spring.


Current Facts

Rapini flowers bloom along the long stems of a sharp-tasting vegetable in the Brassicaceae family, botanically classified as Brassica rapa var. ruvo. Typically Rapini produces tender stems and medium-sized spiked leafy greens that surround clusters of small and tightly arranged florets. However, when the temperature warms, the plant may be triggered to bolt, resulting in the tight floret clusters to shoot up and open into small, brightly colored yellow flowers. Rapini is closely related to turnips and mustard greens and is also known by several other names, including Broccoli Rabe, Broccoletti, Cime di Rapa, Friarielli, Rappi, and Ruvo Kale. Rapini is naturally a biennial but is mainly grown as a cool weather annual, providing flowers each spring when the temperature rises. The vegetable is prominently used in Italian, Portuguese, and Chinese cooking and is favored for its sharp, bitter, and vegetal flavor. The flowers are mostly considered a farming byproduct; however, with the growing demand for new and creative ingredients, chefs and home cooks are drawn to the showy and flavorful blossoms of the bitter green.


Nutritional Value

Once the Rapini plant bolts, the nutritional value of the plant decreases; however, Rapini flowers will have a similar nutritional makeup to the Rapini heads. Rapini is an excellent source of vitamin K, an essential nutrient that assists in blood clotting and wound healing. The vegetable also contains vitamin A and vitamin C to reduce inflammation and aid the immune system. Edible flowers are known to contain antioxidants that can help eliminate free radicals, fiber to stimulate the digestive tract, and trace amounts of minerals such as potassium, folate, and phosphorus.


Applications

Rapini flowers have a sharp, peppery, and bitter flavor that suits a variety of culinary applications. The slightly opened blossoms can be lightly cooked on the stalk, while fully opened flowers are better consumed raw. The flowers may be removed and eaten by themselves or used with stalks and florets in salads or blended into pesto. Rapini flowers can be floated atop soups, added to spring risotto featuring broccoli and other cruciferous vegetables, or used to garnish curries, braised meats, pasta, and grain dishes. The delicate blossoms can be folded into dips and butter, pressed into cheeses, or baked into bread for visual appeal. Their peppery bite balances the richness of smoked meats and cheeses and adds spice to green salads. Rapini flowers pair with cheeses like cheddar, parmesan, and Swiss, as well as garlic, lemon, mustard, bacon, ham, onion, leek, red pepper flakes, anchovies, and capers. Rapini flowers will keep up to five days when refrigerated.


Ethnic/Cultural Info

Rapini is the featured ingredient in a favored dish in the Apulia region of Italy known as Orecchiette con le Cime di Rapa. The tradition of this dish can be traced back to Medieval Italy during the 12th and 13th centuries. During this time, an artisanal pasta made from Apulian durum wheat was being produced by stretching a round pasta with pressure from the thumb, creating a hollowed-out center. The pasta resembled ears, giving it the name orecchiette, which translates to "small ears" in English. The pasta is made without eggs and is meant to be dense and rough. The shape and texture of the pasta make it perfect for holding the sauce and other ingredients found in the iconic dish. The recipe for Orecchiette con le Cime di Rapa can vary by household as the recipe is traditionally passed down through generations. Common recipes include handmade durum wheat pasta, blanched broccoli rabe, anchovies, garlic, and olive oil. Other ingredients may include tomatoes, sausage, and various cheeses. In the spring, Rapini flowers can be folded into the traditional dish for a pop of color, texture, and sweet flavor.


Geography/History

Rapini is descended from a wild mustard plant. This plant has been selectively bred for improved flavor and texture since ancient times. This breeding has created many different vegetables in the Brassicaceae family, including broccoli rabe. The origins of Rapini are heavily debated, with some experts linking its origin to the Mediterranean climate of Southern Italy, while other experts link its origin to China. The bitter green has been used in culinary applications in both regions for centuries. Rapini spread from Italy into Spain and Portugal. The vegetable was introduced to the United States in the late 1920s by the D'Arrigo Brothers, Italian immigrants and businessmen who began growing Rapini in California in hopes of bringing an important Italian vegetable to the homes of Italian Americans. The vegetable did not gain popularity in the United States until decades later. Today, Rapini is widely cultivated in Italy, China, and Hong Kong. The vegetable can also be found growing on a smaller scale in Spain, Portugal, Canada, and California. Rapini blossoms remain a commercial farming byproduct and are not widely cultivated. However, they can be found in home gardens, at farmer's markets, and in stores specializing in edible flowers and microgreens.