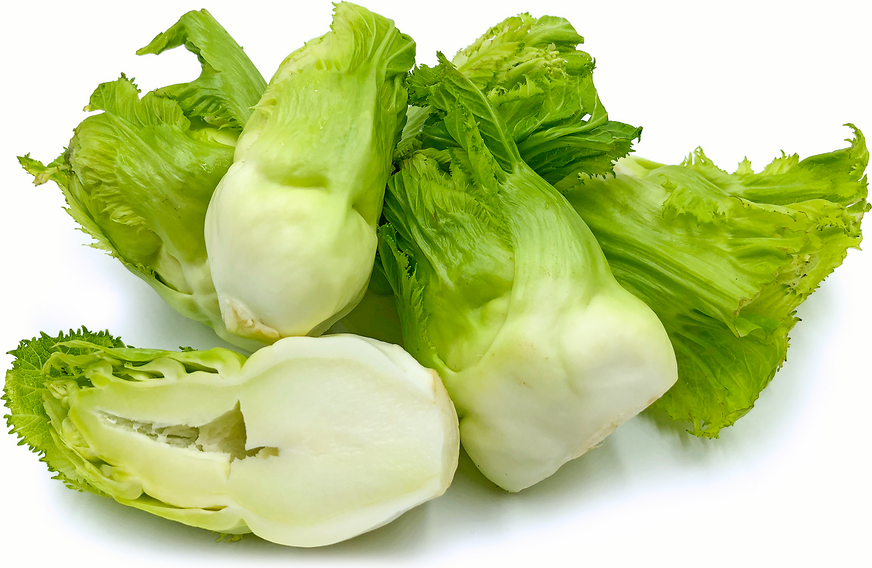 Tsubomina
Inventory, lb : 0
Description/Taste
Tsubomina is small in size, averaging 5 to 8 centimeters in length, and has a compact, squat appearance with a thick base connected to tightly layered, tapered leaves. The base is solid, dense, firm, and smooth, generally white and fading into a pale green hue where the base meets the leaves. The bright green leaves are creased, slightly wrinkled, pliable, and glossy, showcasing serrated, frilled edges. Tsubomina has a springy, crunchy, and succulent texture when raw, lightly softening into a delicate crisp consistency when cooked. When selecting Tsubomina, choose leaves that are a vivid, bright green and do not show browning at the tips. Browning indicates that the buds are growing old and are drying out. Fresh Tsubomina has a bittersweet, tangy taste with a subtle spiciness with grassy, green nuances. When cooked, the greens develop a mild, faint sweetness combined with a light pepperiness.
Seasons/Availability
Tsubomina is available in the late winter through early spring.
Current Facts
Tsubomina, botanically classified as Brassica juncea, is the Japanese name for the young buds of a variety of mustard leaf belonging to the Brassicaceae family. The plant was developed in China and was introduced to Japan in the early 21st century, where the young greens became a specialty spring ingredient. Tsubomina is harvested at the base and sides of a larger mustard leaf plant. The buds are sliced individually from the plant or harvested in larger clumps, sometimes known as "celebration buds," which can contain as many as ten buds attached to them. Tsubomina is derived from the words "Tsubomi," meaning "bud," and "na," meaning "leaf." The tender, crunchy, and succulent buds are only available for a few months each year and are a seasonal delicacy grown in small quantities, sold as a vegetable for raw or cooked preparations.
Nutritional Value
Tsubomina is a source of vitamin E to reduce inflammation, vitamin C to strengthen the immune system, fiber to regulate the digestive tract, and other nutrients, including B vitamins, beta-carotene, and glutamic acid, an amino acid that gives the buds their umami-like taste. Beyond vitamins and minerals, Tsubomina contains gamma-aminobutyric acid content, or GABA, which is a neurotransmitter thought to induce a calming effect on the nervous system.
Applications
Tsubomina has a bittersweet, vegetal taste suited for fresh and cooked preparations. The buds can be consumed raw and are favored for their crunchy nature. Tsubomina can be chopped, shredded, or sliced in half and added to salads, and their tangy, peppery flavor complements vinegar and oil-based dressings. The young buds are also popularly cooked and can be steamed, simmered, grilled, boiled, or fried. When cooking Tsubomina, the size of the buds will not affect the flavor, but it is recommended to slice larger buds in half or in pieces to ensure even cooking. Smaller buds can be cooked whole, developing a bright and pleasing hue. Tsubomina should be heated in quick preparations as prolonged cooking will cause them to lose their springy texture, and they are popularly added to stir-fries, fried into tempura, or sauteed with meat and vegetables. The buds can also be stirred into rice dishes, simmered into soups, roasted and coated in cheese, or tossed into pasta. In Japan, Tsubomina is rolled in bacon and fried as an appetizer, simmered in dashi and served with minced chicken and tofu dumplings, stir-fried with maitake mushrooms, or lightly pickled as a tangy condiment. The buds can also be stir-fried, sliced, and folded into onigiri with radishes and other spring ingredients. Tsubomina pairs well with aromatics such as garlic, ginger, shallots, and onions, anchovies, meats such as pork, beef, and poultry, citrus, sesame seeds, seaweed, miso, ponzu, soy sauce, and sake. Whole, unwashed Tsubomina dry out quickly and should be wrapped in a damp cloth or paper towel and covered in plastic wrap for the refrigerator's crisper drawer. The fresh buds will keep for 2 to 3 days, and the leaves should be kept face up to retain the best quality. Tsubomina can also be blanched in salt water and frozen for extended use.
Ethnic/Cultural Info
Tsubomina was developed as a specialty spring vegetable to be enjoyed for a limited season in Japan. Spring is seen as a time of awakening and renewal, and it is essential for the body to be invigorated as the weather shifts from winter into warmer days. The tradition of consuming seasonal spring ingredients dates back to ancient times when greens were foraged from the mountains, known as sansai or mountain vegetables. Sansai vegetables are known for their slightly bitter, distinct flavor, and Tsubomina was developed with these flavor notes in mind to emulate the other available vegetables of spring. Though Tsubomina is a recent introduction into commercial markets, the young buds are favored for their ease of preparation and bittersweet taste. There is a Japanese saying, "haru no sara niwa nigami o more," which translates to "serve bitter taste on a plate in spring." Consuming bitter flavors in the spring is believed to detox and cleanse the body of waste accumulated during the winter. Legend has it that even the bears in Japan consume bitter greens once they awaken from their hibernation to cleanse their system.
Geography/History
Tsubomina is a variant of a mustard green introduced to Japan from China in the early 21st century. The buds develop in clusters on the sides and base of a newly bred plant. Much of the variety's initial history is unknown besides its creation in China, and in 2005, it was sent to Japan and was grown through a seed company in the Fukuoka Prefecture on Kyushu Island. The seed company was a part of the Japan Agricultural Cooperatives Group, a marketing organization also known as Zen-Noh that helps growers promote and release their products throughout Japan. Tsubomina was cultivated for several years in Japan before it was released commercially, and in 2008, the young buds were cultivated through six households and were released to grocers and markets throughout the Fukuoka Prefecture. After their release, Tsubomina became a popular springtime vegetable and was marketed as a premium item that marked the beginning of spring. Several varieties of Tsubomina have been created since their introduction, including Kotakana, Shukurai, and Sichuan Komochi Takana. Today Tsubomina is grown in the Fukuoka Prefecture on Kyushu Island and is sold for a limited time through specialty markets, grocers, and distributors throughout Japan.
Recipe Ideas
Recipes that include Tsubomina. One

is easiest, three is harder.