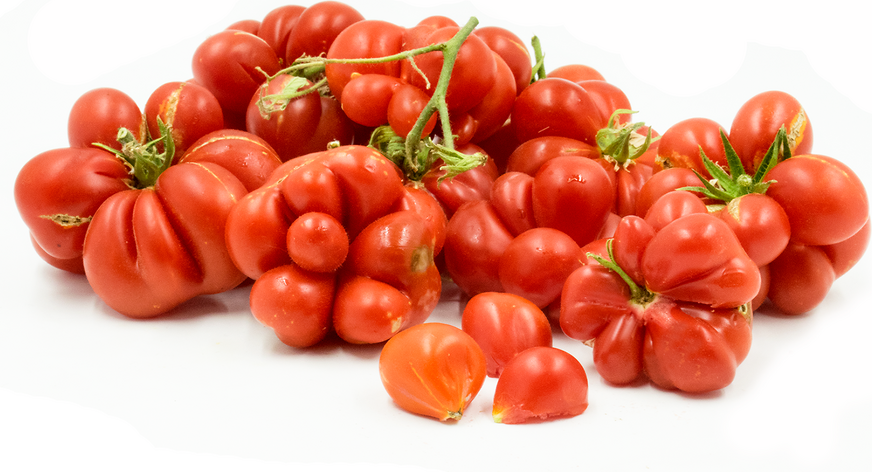 Reisetomate Tomatoes
Inventory, lb : 0
Podcast
| | |
| --- | --- |
| Food Buzz: History of Heirloom Tomatoes | Your browser does not support the audio element. |
Description/Taste
Reisetomate tomatoes look like a bunch of bright red cherry tomatoes fused together. Each lump on the fruit is its own tomato, complete with core and seed pockets, which can be easily torn apart from the cluster without a knife. These thick-skinned tomatoes are juicy and highly acidic, and they offer a sweet yet sharp tomato flavor. The vigorous Reisetomate tomato plants grow upwards of 1.5 meters, and the clusters of fruit average 15 centimeters in length, with each individual tomato weighing approximately 2 to 4 ounces.
Seasons/Availability
Reisetomate tomatoes are available mid-summer into early fall.
Current Facts
Reisetomate tomatoes are members of the Solanaceae, or nightshade, family, along with the potato, eggplant and tobacco. They are also commonly known as the Traveller's tomato, and they are an extremely rare cultivar. Tomatoes were originally termed Solanum lycopersicum by Carl Linnaeus, but this designation was then changed to Lycopersicon esculentum, the term Lycopersicon deriving from the Greek word meaning "wolf peach," and esculentum simply meaning edible. However, modern studies and DNA evidence are encouraging a return to the original classification.
Nutritional Value
Tomatoes are noted for containing the antioxidant compound lycopene, which may help protect against certain types of cancer and heart disease. They are high in fiber and vitamin C, and they also have a healthy dose of other vitamins and minerals that are essential for good health, including vitamin B-6, which helps your body metabolize protein and supports cognitive development and brain function, and vitamin A, which aids your body in producing white blood cells and keeps your heart, lungs and kidneys working properly.
Applications
Reisetomate tomatoes can be pulled apart without a knife and eaten fresh out of hand, or added to salads. However, because they are highly acidic, you may choose to pair them with mozzarella, sweet basil, salt and olive oil for a simple caprese, or with watermelon in a fresh, summer salad. They can also be used in salsas, sauces, or even jams. In addition to Italian-inspired flavors, other complimentary flavors include bacon, mushrooms, onion, avocado, strawberries, chickpeas, fennel, pepper, and Mediterranean flavors, such as olives, feta cheese and cucumbers. Thanks to their thick skin, the Reisetomate fruit keeps well. Store Reisetomate tomatoes away from direct sunlight at room temperature for approximately four days, or until ripe and ready to use, after which refrigeration can be used to slow the process of decay.
Ethnic/Cultural Info
The name Reisetomate translates as Traveller's tomato in German, as the prefix "reise" means travel or journey. Germans call it "the traveller" because it can be torn apart one piece at a time without a knife while on a journey. It is rumored that this was the custom in central America, where Reisetomate may originate. Natives were said to carry this novel tomato on their treks through the Andes, pulling off pieces for snacking along the excursion.
Geography/History
The origin of Reisetomate tomatoes is as intriguing as the tomato itself, as some sources state that the Dutch originally cultivated this tomato, while others claim it was the Austrians. Many sources say that the Reisetomate tomato is a German heirloom, but that it originally came from Guatemala, or traces back to ancient Peruvian cultivation. Regardless of its history, this tomato has garnered attention in modern markets for its novelty. The Reisetomate plant is extremely vigorous, especially in warm climates, though its harvest season is somewhat short lived.