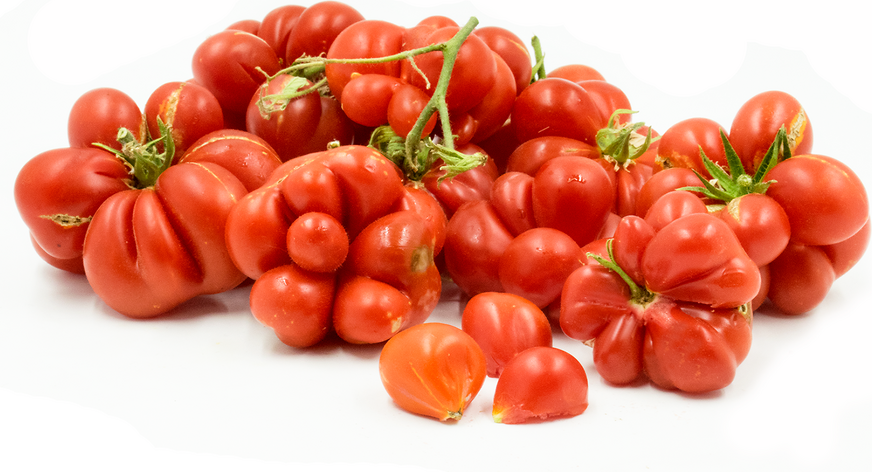 Reisetomate Tomatoes
Inventory, lb : 0
Description/Taste
Reisetomate tomatoes widely vary in size and shape, with the ability to grow up to 15 centimeters in diameter and weigh 226 to 453 grams. The tomato has a distinct appearance and is comprised of many fused clusters, and the smaller, individual, oval pieces are generally the size and shape of grape tomatoes. Reisetomate tomatoes appear heavily ribbed and have a squat, slightly flattened, and swollen, lumpy nature. The variety's skin is smooth, taut, and thick with a bright red to cherry-red hue, and some scarring may occur on the surface, creating rough, brown lines and streaks. Each portion of Reisetomate tomatoes contains its own flesh, core, and seed cavity filled with tiny edible seeds suspended in a gelatinous liquid. One unusual characteristic of the variety is the ability to pull off the sections one by one. Removing a section of the tomato does not comprise the other parts of the fruit, and the skin heals quickly where the section was removed. This trait allows Reisetomate tomatoes to be consumed in portions, extending the usability of the tomato. Reisetomate tomatoes are aqueous, fleshy, chewy, crisp, and tender. The tomatoes can be consumed raw or cooked, offering a sweet, sharp, and acidic taste.
Seasons/Availability
Reisetomate tomatoes are available in mid-summer through early fall.
Current Facts
Reisetomate tomatoes, botanically classified as Solanum lycopersicum, are a rare heirloom variety belonging to the Solanaceae or nightshade family. The mid-season tomatoes are extremely challenging to find in markets and are primarily reserved for cultivation in home gardens as a specialty crop. Historically, Reisetomate tomatoes arose from South America and were carried to Europe, Central, and North America, where the variety was cultivated as a delicacy. Reisetomate tomatoes are an indeterminate variety that grows in a sprawling nature, reaching 1.5 to 1.8 meters in height. The tomatoes are harvested approximately 70 to 85 days after sowing and naturally develop their knobby appearance from an inherited genetic mutation known as fasciation. This natural mutation causes the tomatoes to grow abnormally, developing fused clusters. Reisetomate tomatoes are also known as Traveler's tomatoes, Voyage tomatoes, Pocketbook Vine tomatoes, Peruvian Traveler, and Garlic tomatoes, and are favored for their ability to be eaten in pieces without the need for a knife.
Nutritional Value
Reisetomate tomatoes have not been studied for their nutritional properties. Like other tomatoes, the variety is a source of potassium to balance fluid levels within the body, vitamin K to assist in faster wound healing, and vitamin A to maintain healthy organ functioning. The tomatoes also provide vitamin C to boost the immune system, fiber to regulate the digestive tract, calcium to build strong bones and teeth, and other nutrients, including phosphorus, magnesium, and iron.
Applications
Reisetomate tomatoes have a sweet-tart, acidic, and sour taste suited for fresh and cooked preparations. The variety can be consumed straight out of hand, depending on the tomato's fresh flavor, and each plant may vary in taste depending on the cultivation site, weather, and temperature. Reisetomate tomatoes can also be sprinkled with salt and eaten as a bite-sized snack, pulled apart with bare hands, or separated into salads and side dishes. It is important to note that larger Reisetomate tomatoes may have sections that ripen faster than other parts of the fruit. These pieces can be ripped off the fruit when ripe and consumed in stages. Try serving the tomatoes with basil, salt, olive oil, and mozzarella in a twist on the classic Caprese. The tomatoes can also be chopped into salsas, chutney, and dips, used as an edible garnish over grain bowls and roasted meats, or added to pasta. Reisetomate tomatoes can be simmered into jams and sauces. Reisetomate tomatoes pair well with mushrooms, onions, avocado, strawberries, olives, feta, and meats such as pork, beef, poultry, and lamb. Whole, unwashed, and ripe Reisetomate tomatoes will keep for a few days when stored in a cool and dark location. Unripe tomatoes will ripen in about four days, depending on the degree of maturity, and once ripe, the tomatoes should be immediately consumed for the best quality and flavor.
Ethnic/Cultural Info
The name Reisetomate tomatoes roughly translates from German to Traveler's tomato. "Reise" in German means "travel" or "journey," and the variety was given this name from several legends about the cultivar's use on long journeys. One legend claims that Reisetomato tomatoes were carried by indigenous populations throughout South and Central America on their travels as the individual sections of the tomato could be torn off and eaten along the trip. It is believed that the tomato acted as a food source that would survive long journeys due to its ability to heal after eat piece is torn off. This characteristic was also later enjoyed by travelers in Russia. It is said that the tomatoes were carried on trips along the Trans-Siberian Railway and were consumed as a snack whenever travelers became hungry. Reisetomate tomatoes eventually earned the nickname Russian Travel tomatoes for their role as a snack on the railway.
Geography/History
Reisetomate tomatoes are native to the New World and have been growing wild since ancient times. Much of the history of the variety is unknown, and there are several rumors and proposed explanations for the tomato's past. Experts believe Reisetomate tomatoes are descendants of varieties native to the Andes Mountains in Peru and were carried into Central America, where they were widely planted in Guatemala. Reisetomate tomatoes were later spread across Central America into southern Mexico, and when Spanish and Portuguese explorers arrived in the New World in the 15th and 16th centuries, they carried the seed of the variety back to Europe. After their introduction in Europe, it is unknown when Reisetomate tomatoes were planted in northern Europe, but the variety became a rare specialty variety grown in Denmark, Russia, Austria, and Germany. Today Reisetomate tomatoes are grown in Europe, Northern Asia, and the United States. The variety is not widely found and is only sold through a few fresh markets.
Podcast