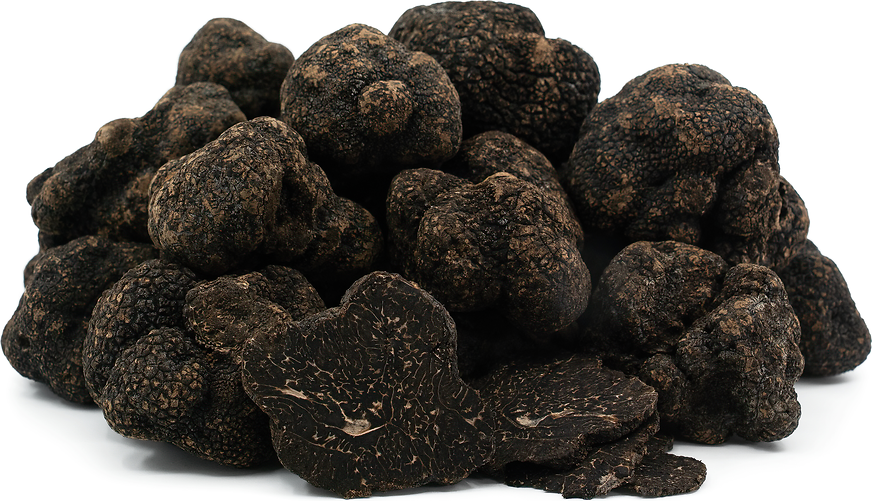 Italian Black Winter Truffles
Inventory, lb : 0
This item was last sold on : 06/15/23
Description/Taste
Italian Black Winter truffles widely vary in size and shape, generally developing a semi-spherical fruiting body covered with small, diamond-like projections. The truffles are often molded by stones in the soil, giving each one a unique look, and can reach up to ten centimeters in diameter with a rounded, lumpy, and lopsided exterior. The truffle's surface ranges in color from brown-black, dark brown, to gray-black and is textured, covered in many bumps and crevices. Underneath the surface, the flesh is spongy, black, and smooth, marbled with white spider veining. Italian Black Winter truffles bear a pungent, musky aroma that is likened to a combination of garlic, forest floor, nuts, and cocoa. The truffle's flesh contains a robust, subtly sweet, savory, and earthy flavor with peppery, nutty, and fruity nuances.
Seasons/Availability
Italian Black Winter truffles are available in the winter through early spring.
Current Facts
Italian Black Winter truffles, botanically classified as Tuber melanosporum, are rare, highly desired truffles belonging to the Tuberaceae family. The aromatic and richly flavored truffles naturally grow at the base of hazelnut and oak trees in temperate regions across Southern Europe and take years to develop fully. Italian Black Winter truffles cannot be easily detected above ground, but once the truffles are harvested from the earth, they emit an unmistakable, robust fragrance. Chefs favor Italian Black Winter truffles for their earthy and sweet flavoring and use the truffles as a finishing element over a variety of culinary preparations. Black truffles have been praised for their rarity since ancient times and were once reserved solely for nobility. In the modern-day, Italian Black Winter truffles are available to consumers worldwide, but the truffles are a luxury ingredient commanding very high prices, depending on size and availability. The name Italian Black Winter truffle generally refers to truffles grown throughout Italy, also known as Tartufo Nero Pregiato, Norcia Truffle, and Nero di Norcia, but the black truffles are also found in other regions of Europe. Outside of Italy, Perigord truffles from France are the most famous black winter truffle, valued for their umami-rich flavor, and the truffles are also found in Spain. In addition to their regional names, Italian Black Winter truffles are known as Sweet Black truffles, a descriptor given to highlight the truffle's sweet and subtly fruity aftertaste.
Nutritional Value
Like other black truffle varieties, Italian Black Winter truffles are a good source of phosphorus and calcium to strengthen bones and teeth, antioxidants to protect the cells against free radical damage, and vitamin C to boost the immune system reducing inflammation. The truffles also provide fiber to regulate the digestive tract and contain lower amounts of iron, manganese, and magnesium.
Applications
Italian Black Winter truffles have a distinct, enveloping taste that is best used sparingly to flavor raw or cooked preparations. The truffles should be cleaned before use, and it is recommended to brush or wipe the surface rather than rinsing underwater as moisture will cause the fungus to rot. Once cleaned, the truffles are typically shaved, grated, slivered, or thinly sliced, and it is important to note that the truffles should be added as a finishing element at the end of cooked preparations as prolonged periods of heat will diminish the truffle's flavor. Italian Black Winter truffles can be incorporated into oils for dressings, infused into sauces and honey, or folded into butter and spread over crusty bread sprinkled with salt. The umami-rich flavor of the truffles complements fatty, rich elements, wine or cream-based sauces, and neutral ingredients such as potatoes, rice, and pasta for enhanced flavor. Italian Black Winter truffles can also be thinly sliced for salads, pasta, risotto, soups, and egg-based dishes, or they can be placed under the skin of poultry or turkey and cooked to impart an earthy flavor. The truffle's subtle flavoring adds depth to pizzas, fries, and roasts, or shavings can be stirred into mashed potatoes, macaroni and cheese, casseroles, and layered in sandwiches such as grilled cheese. A more unusual use for the truffles is to lightly simmer with sugar, blend, and freeze into ice cream. The truffles can also be placed on bruschetta, sprinkled over fish, or stuffed into ravioli. Italian Black Winter truffles pair well with herbs such as tarragon, basil, and parsley, aromatics including garlic, shallots, and onions, cheeses such as goat, parmesan, fontina, chevre, and gouda, meats including beef, turkey, poultry, venison, pork, and duck, and celery root, mushrooms, arugula, and white wine. Fresh Italian Black Winter truffles will keep up to one week when wrapped in a paper towel or moisture absorbent cloth and stored in a sealed container in the refrigerator's crisper drawer. The truffle should remain dry for the best quality and flavor. If keeping for more than a couple of days, replace the paper towel regularly to prevent dampness as the fungus will naturally release moisture as it is stored. Italian Black Winter truffles can also be wrapped in foil, placed in a freezer bag, and frozen for 1 to 3 months.
Ethnic/Cultural Info
In Central Italy, Norcia is an ancient community dating back to the Neolithic Age, known for producing Italian Black Winter truffles. The village is located in the Sibylline Mountains in Southeastern Umbria, and the Italian Black Winter truffles grow naturally throughout the hilly landscape. Italian Black Winter truffles are locally known as Tartufo Nero di Norcia in Italy and are the featured ingredient at the Norcia Black Truffle Festival. The three-day celebration is annually held at the end of February, and Italian Black Winter truffles are harvested from the region, incorporated as the star ingredient in cooking demonstrations, restaurant dishes, and local street vendor creations. The Norcia Black Truffle Festival has been occurring for almost sixty years and is one of the largest agricultural celebrations in Umbria, attracting truffle enthusiasts worldwide. The Norcia community is also famous for its cured meats and sausages, a local delicacy paired with Italian Black Winter truffles at the festival. Over one hundred vendors line the town's streets, and one of the most traditional dishes served is pasta alla Norcina con tartufo. The rich and decadent dish combines pasta, Italian Black Winter truffles, sausage, and aromatics in a cream-based sauce. In addition to promoting food dishes, the festival hosts educational talks, wine tasting, parades, and live music throughout the celebration.
Geography/History
Italian Black Winter truffles are native to Southern Europe and have been growing wild since ancient times. The truffles have historically been used as a flavoring in the Ancient Roman and Greek Empires, throughout kingdoms during the Middle Ages, and into the present day, where they are a prized culinary ingredient among chefs. Italian Black Winter truffles are most commonly found in Italy in the Umbria region, gathered in Norcia and Spoleto. They can also be found in the Italian Piedmont, Marche, and Molise regions and outside of Italy, in Spain, France, Australia, and the United States. Black Winter truffles are primarily foraged amongst the roots of oak, hazelnut, chestnut, birch, and poplar trees, and the wild truffles are challenging to find, increasing their demand and price. In some countries, Black Winter truffles have been attempted in commercial cultivation and are produced on a small scale in sandy, calcareous soils with trees that have inoculated roots. Today Italian Black Winter truffles are sold fresh through local markets and distributors in Europe. Internationally, the truffles are offered through online retailers and distributors.
Recipe Ideas
Recipes that include Italian Black Winter Truffles. One

is easiest, three is harder.