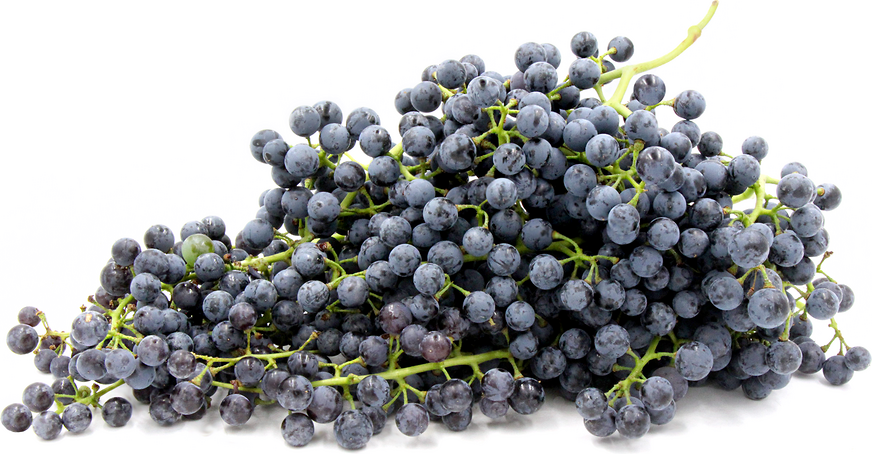 Mission Grapes
Inventory, lb : 0
Description/Taste

Mission grapes are small in size and are round to slightly oval in shape, growing in loose clusters. The skin is dark purple, blue, to almost black, and there is a bloom or powdery film that protects and covers the grapes from moisture loss. The flesh is soft, gelatinous-like, and translucent. Mission grapes are high in sugar but have very little acidity and are very sweet with a floral aroma.


Seasons/Availability

Mission grapes are available in the late fall months.


Current Facts

Mission grapes are a very old variety of Vitis vinifera, first brought to the New World by Spanish missionaries. The grapes grow on very hardy, drought-resistant vines that can reach tremendous lengths and can live for over one hundred years. Today, Mission grapes are mostly a forgotten grape, but it has great historical significance to the wine industry in California. Mission grapes are the oldest cultivated vinifera species in the United States. They were named for their association with the Catholic missions and the clergy, who used the black grape to make sacrament wine at missions in Mexico in the 16th century. The grapes are known as Criolla Chica in Argentina, Pais in Chile, and Palomino Negro in the Canary Islands.


Nutritional Value

Mission grapes are rich in vitamins B2, K, and minerals like copper. They are also high in antioxidants and have anti-inflammatory and anti-microbial properties.


Applications

Mission grapes are best suited for both raw and cooked applications such as baking. They have primarily been used for juicing as they are slightly sweet with no acidity. Mission grape juice can be added to other juices that are more acidic like lemon or orange and can be combined with brandy to make 'angelica,' which was once a favorite drink of the fathers at the missions in Mexico and California. Mission grapes have also been used to make sacramental wine. In addition to juicing, Mission grapes can be used in baked goods or other desserts such as ice cream and sorbets and pair well with tart fruits. They will keep up to five days when stored in the refrigerator.


Ethnic/Cultural Info

Mission grapes were originally planted in the United States in what was known as "Alta California," by Franciscan missionary, Junipero Serra to meet the demand for sacramental wine. Spanish ships used to bring the grapes from Mexico to San Diego, but Serra requested that the ships bring a vine cutting in the mid-1700s and insisted that each missionary plant their own grapes to make wine versus paying to have it transported from Mexico. Mission grapes made their way to the missions throughout California and were the first grapes cultivated for wine in what is now America's Wine Country. Today, Mission San Gabriel still has an ancient Mission grapevine that shades most of the mission's grounds.


Geography/History

Mission grapes are native to Spain, but the grape is rare in Spain today as the disease phylloxera wiped out much of the country's vineyards in the 19th century. It is said that Mission grapes were brought to Mexico as common black grapes by Hernan Cortes when he arrived in what is now Mexico in 1520. The grapes were planted at missions for use as sacramental wine for Mass, and the grape made its way south to Chile with the conquistadors and missionaries, where it was first recorded in 1554, and then to Peru, Argentina, and California. The mission grape vines that exist today are wild or grown by select growers, like Gypsy Canyon winery in Santa Barbara, and they use the grapes to make Angelica. Today, Mission grapes are still grown in Chile, Argentina, and in very limited acreage in Southern California.