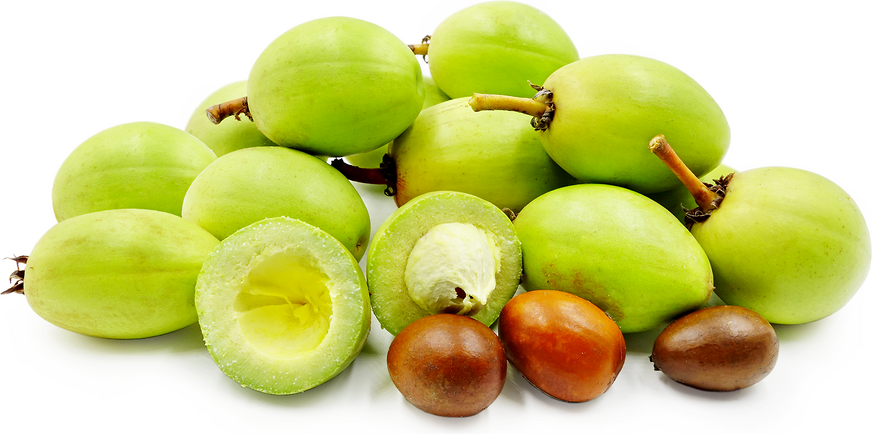 Shea Fruit
Inventory, lb : 0
Description/Taste

Shea fruits resemble green plums and have round and elongated or torpedo-like shapes. They have a smooth green skin that may have slight vertical ribbing. Beneath the skin is a thin layer of yellowish-green pulp that softens as the fruits ripen. In the center is a large, smooth brown, nut with a rough spot the size of a thumbprint. The pulp is mildly sweet with the texture of a ripe pear. Shea butter offers a mild, nutty flavor.


Seasons/Availability

Shea fruit is available during the rainy summer months.


Current Facts

Shea fruits grow on the African Shea tree, also called the Shea butter or Shea nut tree. Botanically classified as Vitellaria paradoxa, Shea trees can live for up to 300 years. They take 20 to 30 years to reach maturity and to begin producing fruit, once they do, they can produce fruit for the next 200 years. The fruits contain a relatively large and oily kernel, or nut, used to make Shea butter. Shea fruit are typically gathered and processed by locals and provide an important source of income for the people of the African sub-Saharan savanna. They are known locally as "green gold."


Nutritional Value

Shea fruits are rich in carbohydrates, protein and fat as well as potassium and antioxidant phenols. They also contain vitamin C, calcium, phosphorus, sodium, magnesium and zinc. The oil from the kernel contains nearly 50% fat, both vitamins A and E, cinnamic acid (which provides UV protection), and has demonstrated both anti-microbial and anti-inflammatory properties.


Applications

Shea fruit is harvested primarily for the oil within its kernel, an extraction process that can take up to 8 hours and involves multiple steps. The fruit pulp is primarily consumed by the people who live within the geographical area known as the Sahel. The thin green layer of pulp surrounding the inner kernel can be eaten raw or cooked. It is used to make jams and jellies and added to baked goods. The pulp is also made into wine. The kernels are boiled, sun dried, crushed and roasted before being milled and then kneaded, boiled and filtered before being cooled into a solidified mass. The resulting butter is used as a cooking oil for frying, a baking fat, a taste enhancer for a local porridge known as "to," and other dishes. Shea fruit will store for a few days if kept refrigerated. Shea butter will keep for several months when stored in an airtight container and refrigerated.


Ethnic/Cultural Info

Africans have been consuming both the fruit and the nut of the Shea tree for centuries. Europeans discovered the properties and benefits of Shea and began importing the nut and its products. Both farmed and wild trees are subject to the collection of the fruit and the nuts. Typically the nuts are gathered and processed by women and children in rural areas, providing an important source of income for these otherwise underserved populations.


Geography/History

Shea trees are native to the dry, woodland savannas of sub-Saharan West Africa. They grow in an area called the Sudanian Region that stretches from the interior of Senegal to Nigeria and east to Ethiopia on the Red Sea. People in this part of Africa have been using both the fruit and the nut of the Shea tree for centuries. Europeans discovered the properties and benefits of Shea butter and began importing the nut and its products. Shea fruit are harvested from wild trees as attempts to cultivate them have been a challenge to researchers for decades. Shea butter is increasingly in demand for use in skincare and as a substitute for cocoa butter in chocolate, putting Shea trees on the International Union for Conservation of Nature's Red List of Threatened Species. Shea fruits are most likely spotted at markets in Western Africa.