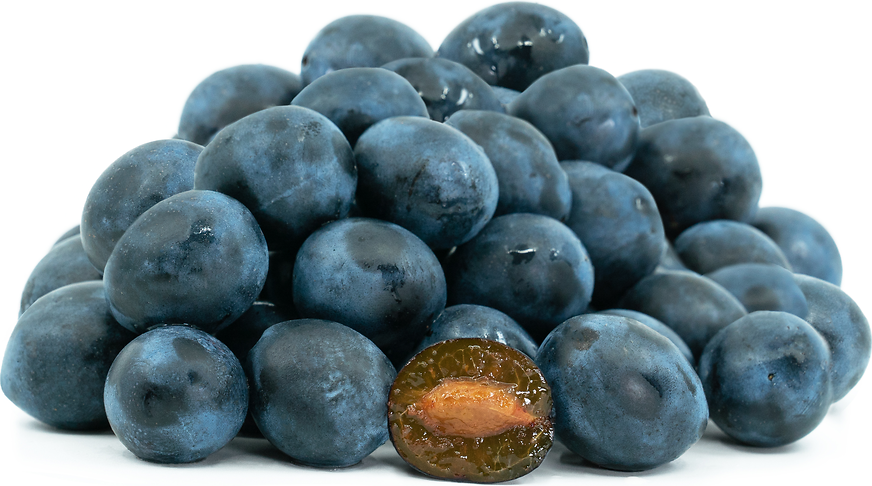 Blue Damson Plums
Inventory, lb : 0
Podcasts
| | |
| --- | --- |
| Food Buzz: History of Plums | Your browser does not support the audio element. |
| Food Fable: Plums | Your browser does not support the audio element. |
Description/Taste
Blue Damson plums are small to medium-sized stone fruits, typically around the same size as a large cherry, and have a round to oval shape, sometimes slightly pointed at one end. The plums have a semi-thick, smooth, and taut, dark blue to red-purple skin, covered in a powdery bloom, which is a natural, protective barrier against bacteria, insects, and moisture loss. Underneath the surface, the flesh ranges in color from golden to yellow-green and has a semi-dry, somewhat fibrous, and dense consistency, encasing a large and light brown clingstone pit. Blue Damson plums are high in astringency and sugar, bearing a tart, sour, and subtly sweet flavor. The plums are generally considered too acrid for fresh consumption and are primarily utilized in cooked preparations. When cooked and mixed with additional sweeteners, the plums develop a soft and tender consistency and have a rich, sweet, and distinct, spice-filled, fruity flavoring.
Seasons/Availability
Blue Damson plums are available in the late summer through the fall.
Current Facts
Blue Damson plums, botanically classified as Prunus insititia, are an heirloom species of small fruits belonging to the Rosaceae family. The plums grow on trees that can reach up to six meters in height, and recently, growers have also developed a dwarf variety for home gardens that reaches only three meters. Blue Damson plums are late-season fruits that naturally have a bittersweet flavor, not commonly consumed fresh. The fruits are popularly incorporated into cooked preparations, and when combined with added sweeteners, they develop a distinctly fruity and spice-filled, pleasant flavoring. Specialty growers and plum enthusiasts value Blue Damson plum trees for their self-fertile, hardy nature, cold tolerance, and high productivity. The trees are also planted in home gardens for their ornamental nature, producing showy white flowers in the late spring and vibrant fruits in the late summer. There are several varieties of Damson plums found in various skin tones, including blue and yellow, with the purple-blue skinned types being the most popular. Blue Damson plums are not commercially cultivated and are challenging to find as they are only grown through select specialty orchards.
Nutritional Value
Blue Damson plums are a source of vitamin K to assist in faster wound healing, vitamin C to strengthen the immune system, and fiber to regulate the digestive tract. The plum's pigmented skin also provides antioxidants that protect the cells against free radical damage, calcium to build bones and teeth, potassium to balance fluid levels within the body, and lower amounts of copper, iron, manganese, phosphorus, and magnesium.
Applications
Blue Damson plums are edible when fresh, but the fruits have a sweet-tart, bitter flavor that is often considered unpalatable when raw. Despite their astringent nature, Blue Damson plums are famous for their use in cooked applications, combined with added sweeteners. The plums are popularly simmered into jams, jellies, compotes, and chutney, and in some European recipes, the fruits are cooked down into a thick paste, similar in appearance and texture to quince paste. The paste is traditionally molded into intricate shapes and served with fresh cheeses as an appetizer or accompaniment to afternoon tea. Blue Damson plums can also be baked into pies, cakes, tarts, crumbles, and other pastries, stewed in a sugary syrup or cooked into a sweet topping for ice cream, crepes, and waffles. In addition to culinary preparations, Blue Damson plums are also sometimes infused into liqueurs or used to flavor wine. Blue Damson plums pair well with bay leaves, rosemary, ginger, honey, meats such as pork, poultry, and duck, fruits including blueberries, strawberries, and cherries, parmesan, and nuts such as hazelnut, almonds, pistachios, and pecans. Whole, unwashed Blue Damson plums should be ripened at room temperature away from direct sunlight. Once soft, the fruits can be stored for 3 to 4 days when kept in the refrigerator. Blue Damson plums can also be dried or canned for extended use.
Ethnic/Cultural Info
Damson plums were notably used in commercial jam-making in Europe in the 19th century before World War II. The plums were highly favored for their spice-filled, sweet-tart flavor, vibrant coloring, and natural pectin content, developing a smooth and spreadable, magenta-hued jam. Damson plum jam was traditionally spread over toast, served with fresh cheeses, or layered into baked goods. Damson plum trees were also widely planted in British orchards as the variety is hardy, resistant to strong winds, cold weather, and soil conditions. Damson plum trees were especially popular as a windbreak and were planted as a protective barrier for more delicate trees in orchards. In the 1850s, in the Lyth Valley, a region near Cumbria, England, there were orchards comprised entirely of Damson plum trees, cultivated for their astringent fruits. The valley provided an ideal climate for the plum trees, and the fruits were sold commercially for jams and preserves. In the modern-day, Damson plum production has almost disappeared entirely due to the rise of other commercially favorable varieties, but there are still some growers in the Lyth Valley that are preserving the heirloom plum trees. Residents of Lyth Valley even established Damson Day, a celebration dedicated to promoting the Damson orchards through orchard tours, baked goods, jam sampling, educational talks, and live entertainment. The festive event also features friendly competitions, selecting the best homemade Damson wine, gin, preserves, and jams.
Geography/History
Damson plums are native to the Middle East, specifically modern-day Syria, where the fruits have been cultivated since ancient times. The plums were believed by experts to have been discovered in Damascus, the capital city of Syria, and the name Damson is derived from "damas cene," a derivation of the city's name. Damson plum seeds have also appeared in Mesopotamian ruins, and the plums were mentioned in poems dating back to Ancient Greece. Over time, Damson plums were spread along trade routes through the Roman Empire and were introduced across Europe, widely established in Italy and later in Great Britain. Damson plums were also brought to America with English settlers, planted in home gardens. The plum trees eventually escaped cultivation and grow wild in some parts of the Eastern United States. Today Damson plums are rare fruits that are not commercially cultivated. The plums are grown through specialty orchards in Europe, especially in the United Kingdom, and are also found in small quantities in California. When in season, Damson plums are sold through farmer's markets and distributors.
Recipe Ideas
Recipes that include Blue Damson Plums. One

is easiest, three is harder.